I know the site is looking for some college football bloggers, so I wanted to try and get some college football talk going.  During the next week I will be giving you my predictions and player rankings for every conference in college football.  The point of these entries is to again generate some college football exposure and to get your opinions and thoughts.  Feel free to comment below, I'm interested to see how everyone thinks the year will play out.
ACC Predictions
ATLANTIC
Florida State-             

8-5  (6-2)

Boston College-           8-4  (4-4)

Clemson-                     6-6  (4-4)

NC State-                    6-6  (3-5)

Maryland-                    

6-6  (3-5) 

Wake Forest-               3-9  (2-6)
COASTAL
Miami-

                        

9-4  (6-2)

North Carolina-           9-3  (6-2)

Virginia Tech-             9-3  (6-2)

Georgia Tech-            8-4  (5-3)

Duke-                         4-8  (2-6)

Virginia-                     4-8  (1-7)
ACC CHAMPIONSHIP- Miami vs Florida State (Mia- 30-24)
Offensive Player of the Year- Christian Ponder (FSU)
Defensive Player of the Year- Robert Quinn (UNC)
Top 5 Quarterbacks
Christian Ponder (FSU)                       

Tyrod Taylor (VT)
              (Christian Ponder)
Top 5 Running Backs
Ryan Williams (VT)
             (Ryan Williams)
Top 5 Wide Receivers  
Leonard Hankerson (Mia)

Donovan Varner (Duke)

Torrey Smith (MD)

Bert Reed (FSU)

Jarret Boykin (VT)
              (Leonard Hankerson)
Top 2 Tight Ends 
George Bryan (NcSt)

Zack Pianalto (UNC)
               (George Bryan)
Top 5 Offensive Linemen 
T- Anthony Castonzo (BC)

G- Rodney Hudson (FSU)

C- Sean Bedford (GT)

T- Chris Hairston (Clem)

T- Orlando Franklin (Mia)
            (Anthony Castonzo)
Top 5 Defensive Linemen 
DE- Robert Quinn (UNC)

DT- Marvin Austin (UNC)

DE- Da'Quan Bowers (Clem)

DE- Allen Bailey (Mia)

DT- Jarvis Jenkins (Clem)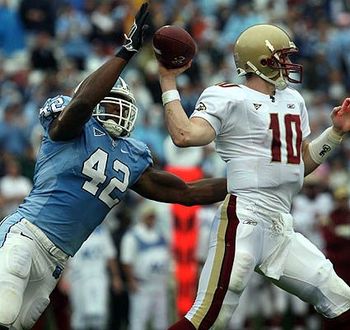 (Robert Quinn)
Top 5 Linebackers 
OLB- Quan Sturdivant (UNC)

OLB- Mark Herzlich (BC)

OLB- Bruce Carter (UNC)

ILB- Alex Wucjciak (MD)

ILB- Luke Kuechly (BC)
              (Quan Sturdivant)
Top 5 Defensive Backs 
S-DeAndre McDaniel (Clem)

CB- Ras-I Dowling (Virg)

CB- Brandon Harris (Mia)

CB- Kendric Burney (UNC)

S- Deunta Williams (UNC)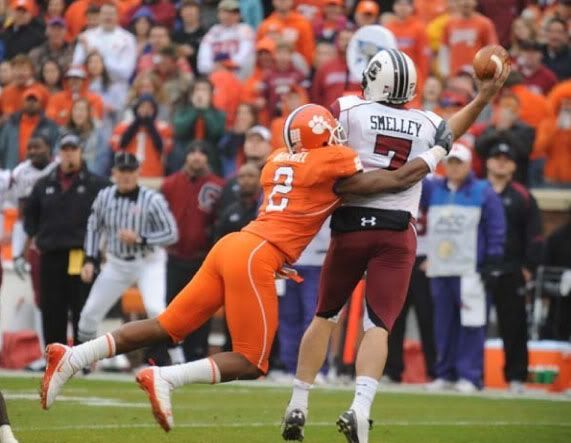 (DeAndre McDaniel)
About the Author
Subscribe to author's RSS feed
Written by Adrian Fedkiw
I currently work for the Sports Network. It's the best job ever! I am a 2010 graduate of Temple University where I majored in broadcast journalism, I LOVE SPORTS! That's why I am here. I have a vast knowledge and want to share my athletic intelligence with the world. Some people like to spend their time shooting down aliens in Halo; I like to spend my time watching sports, current and old. It's my passion! I got asked one time how I can watch a game over again when I already know the outcome. 5 minutes later, he's watching Happy Gilmore reciting all of the lines from the movie. Hypocrite! As for my favorite sports teams, I've been a lifelong Philadelphia sports fan. My favorite athlete is Allen Iverson. He didn't like practice that much, but when it came to gametime, no one let it all out on the floor like Iverson. He is absolutely beloved in the city of Brotherly Love. For college athletics, obviously I pay close attention to Temple. (Yes, football too) Even before I stepped foot on Temple's campus for the 1st time in 2005, I was a fan. Oh the good old days of John Chaney! Some other tidbits about myself, I love cheesesteaks, I hydrate myself with Welch's Grape Juice and Snapple. I love the HBO show Entourage. Also, when is Kenny Powers making his much anticipated return in Eastbound and Down!