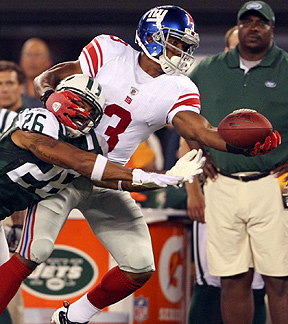 Two of the greatest franchises in all of sport will match up for a meaningless game at "The New Meadowlands Stadium" (anyone else bothered that we don't call this one Giants stadium?) Saturday night at 7PM EST. The Giants (2007) and the Steelers  (2008) have won two out of the last three Super Bowls and always produce championship/playoff caliber football year in and year out doing it their way. The Steelers are famous for paying low and walking away from the negotiation table for their star athletes when they become "Revis like" and want more. I have always admired this philosophy; that no one is bigger than the team and that they are confident that they will get another great talent to fill the shoes and produce. The Giants have been a little more flexible than that, but they rely on their core strengths of scouting talent and mixing in team guys worthy of wearing the blue uniform. With that all in mind, this game has a few interesting storylines as the proud Steelers franchise has dealt with a lot of off the field antics by their biggest star QB Ben Roethlisberger who has been mired in personal integrity issues and will have to sit out at least  the first month of the regular season. Not this game though, so you will be able to see Big Ben throw the rock around to some new faces that are emerging for the Steelers such as Mike Wallace who burst on the scene last year with 39 catches for 756 yards and 6 TD's, or look for Limas Sweed the University of Texas phenom who will take a more active role this year. Some familiar faces are still there for Ben such as Hines Ward who in his 13th year is still getting it done with last year stats of 95 receptions for 1,167 yards and 6 TD's. Look who's back- Antwaan Randel El who had 50 catches , but no touchdowns last year for the Skins.
The Steelers fans need to take note of a few things for this game as their season lies in the balance of how they get out of the gates with the key loss to their star, so look for Charlie Batch and Byron Leftwich to get extended looks as one of them will be taking the reigns opening day and should they falter; so too could the Steelers season before Big Ben ever laces up. The emergence of RB Rashard Mendenhall with 242 carries  for 1,108 yards and 7 TD's last year needs to be closely monitored as the Steelers this week in practice focused on ball control due to a "little fumble-itis" in the Steelers first pre season game where both Mendenhall and Mewelde Moore coughed one up. The Steelers are known for their defense and there isn't anyone better in the league to watch then safety Troy Polamalu, when he is in the lineup teams have to account for his whereabouts. He missed 11 games due to injuries last year and his presence is needed for the Steelers to get through the turmoil at the QB position.
As for the Giants, even though they won the battle of NY last week it was apparent that a few things need to change for them to get back to winning football. It all starts up front with the offensive line protecting the QB and opening up holes for the running game. The running game was abysmal with the two starting RB's Bradshaw and Jacobs combining for a total of 1 rushing yard from scrimmage. Once again due to injury, we will not see G Chris Snee in this game rather a stronger look at back ups Kevin Boothe and Mitch Petrus at the guard spot. The continual evaluation of  veteran Rich Seubert will take place as he must bounce back from his hand injury that sidelined him for the game against the Jets and with 10 years in the league his starting status has been questioned by most to see if he still has it or not.  Adding depth to the O line, the Giants signed two time Eagles pro bowl tackle Shawn Andrews who has not played since 2008 because of a back injury. The real story of this game is at the QB position where neither starter Eli Manning nor backup Jim Sorgi will play because of injuries. Manning due to the 12 stitches in the head suffered by the miscue in the Jets game, Eli will not see action until he can put a helmet on his noggin and Sorgi due to a shoulder issues from his TD pass to Cruz which will now keep him out 2-3 weeks. So it will be the Rhett Bomar show who this week took all the snaps at practice. Bhomar is an interesting prospect out of Sam Houston State by way of Oklahoma. The Giants 2009, 5th round selection, this kid has a rare ability of speed and arm strength starting as a freshman for Oklahoma. Last week against the Jets, he looked impressive on a 22 yard scramble and went 6 for 7 for 67 yards.  He will most likely have to go the entire game as the only other QB option is Dominic Randolph who was signed Wednesday and is a familiar name from spring training camp out of Holy Cross. Randolph won't scare anyone and is in camp just because of the QB shortage don't look for him to hang on once Eli and Jim get back. 
The Steelers game will give Giants fans a good look at some veterans who must contribute in 2010; all back from injuries for this game are Keith Bulluck, Kenny Phillips, Steve Smith, Kevin Boss, Corey Webster, Rich Seubert, Sinorice Moss and Travis Beckum. I am most excited to see if rookie WR Victor Cruz can do it again and have another breakout game like he did against the Jets (3TD's for 145 yards) and a spectacular one handed catch. Cruz was magnificent and may have earned a spot on the depth chart, even Lebron James was tweeting about this rookie out of Massachussets. For years, I have been saying that the Giants are not upgrading the WR squad if Sinorice Moss remains on the team and the emergence of Cruz might say sayonara Sinorce when the Turk comes calling for the play book. Should be a fun one for these two storied franchises who don't see each other all that often.The last one coming in the 8th game of the 2008 season a win by the Giants 21-14 at Heinz field. In 75 games, the Giants hold a lifetime record of 44-28-3 over the Steelers.
About the Author
Subscribe to author's RSS feed
Written by Dennis Napoliello
Graduate of Providence College with a BS degree in Business Administration. While at Providence College, I co hosted the #1 radio program titled "The Sports Page". I make my living in the fitness industry as National Vice President of Sales at David Barton Gym located in New York City. On a personal note, I have been a long standing Giants fan as my family has held season tickets since the opening of Giants Stadium in 1976. I now own the tickets and enjoy going to the game with my three children (Peyton, Trevor and Camryn), wife (Michelle), Dad (Al) and brother in law (Chris). Other than college, I have lived my entire life in NJ and currently reside in Roxbury, NJ. My objective with this blog is to have fun writing, along with my two sons, about the team we love, and to be as objective as possible always trying to give you the fans point of view,