The Big 12 is an interesting conference heading into the season.  3 players from the 3 best teams within the conference are gone; Colt McCoy of Texas, Sam Bradford of Oklahoma and Ndamukong Suh of Nebraska.  With that being said, will one of these 3 hold the Big 12 crown at season's end, or will a Texas A+M, Missouri or Texas Tech emerge.  The Big 12 South has claimed the Big 12 title every season since 2003 when Darren Sproles and Kansas State upset Oklahoma in the Big 12 Championship Game.  This is Nebraska's final year within the conference, and a Big 12 trophy is a realistic possibility before they bolt to the new Big 12 (Big 10).  Not so much for Colorado who heads to the Pac 10.
Big 12 Predictions
Big 12 North
Nebraska-         

12-1  (7-1)

Missouri- 

            8-4  (4-4)

Colorado-            5-7  (3-5)

Kansas-               

5-7  (3-5)

Iowa State-         

4-8  (2-6)

Kansas State-      

6-6  (2-6)
Big 12 South
Oklahoma-         

11-2  (7-1)

Texas-                  

9-3  (5-3)

Texas A+M-          

8-4  (5-3)

Texas Tech-         

8-4  (4-4)

Baylor-                  

6-6  (3-5)

Oklahoma State-  

5-7  (2-6)
BIG 12 CHAMPIONSHIP-  Nebraska vs Oklahoma (Neb- 16-10)
Offensive Player of the Year-  DeMarco Murray (OU)
Defensive Player of the Year-  Prince Amukamara (Neb)
Top 5 Quarterbacks
(Jerrod Johnson)
Top 5 Running Backs
(DeMarco Murray)
Top 5 Wide Receivers
(Ryan Broyles)
Top 2 Tight Ends
(Mike McNeil)
Top 5 Offensive Lineman
(Nate Soldier)
Top 5 Defensive Lineman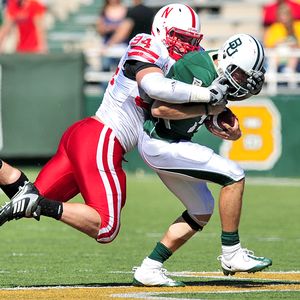 (Jared Crick)
Top 5 Linebackers
(Von Miller)
Top 5 Defensive Backs
CB- Prince Amukamara  (Neb)

CB- Aaron Williams  (Tex)
(Prince Amukamara)
About the Author
Subscribe to author's RSS feed
Written by Adrian Fedkiw
I currently work for the Sports Network. It's the best job ever! I am a 2010 graduate of Temple University where I majored in broadcast journalism, I LOVE SPORTS! That's why I am here. I have a vast knowledge and want to share my athletic intelligence with the world. Some people like to spend their time shooting down aliens in Halo; I like to spend my time watching sports, current and old. It's my passion! I got asked one time how I can watch a game over again when I already know the outcome. 5 minutes later, he's watching Happy Gilmore reciting all of the lines from the movie. Hypocrite! As for my favorite sports teams, I've been a lifelong Philadelphia sports fan. My favorite athlete is Allen Iverson. He didn't like practice that much, but when it came to gametime, no one let it all out on the floor like Iverson. He is absolutely beloved in the city of Brotherly Love. For college athletics, obviously I pay close attention to Temple. (Yes, football too) Even before I stepped foot on Temple's campus for the 1st time in 2005, I was a fan. Oh the good old days of John Chaney! Some other tidbits about myself, I love cheesesteaks, I hydrate myself with Welch's Grape Juice and Snapple. I love the HBO show Entourage. Also, when is Kenny Powers making his much anticipated return in Eastbound and Down!