Over recent years, September has been a nice month for the Phillies, especially for 1B Ryan Howard.  During the final leg of the regular season Howard can carry the Phillies offensively all by himself.  I am officially giving the "Big Bear" the dubious distinction of Mr. September.
His September surge began in 2006, his 2ndseason in the Bigs.  Howard edged out Albert Pujols for the National League MVP.  He single-handidly won the award from September on.  He batted .385 with 9 hr and 21 rbi.  He finished the year with a .313 batting average, 58 hr and 149 rbi. Here were the final MVP voting tallies. Howard received 20 1st Place votes, 12 2nd's to accumulate 388 points compared to Pujols who had 12 1st's and 19 2nd's for a total of 347 points.  Howard became the 2ndplayer in MLB history to follow up a Rookie of the Year award with a MVP the following year.  Cal Ripken Jr. was the 1stwhen he won the Rookie of the Year in 1982 and won the MVP in 1983.  I guess there's no such thing as a sophomore jinx for these 2.  Fred Lynn and Ichiro are the only 2 players to win the Rookie of the Year and MVP in the same season.  Lynn did it in 1975, while Ichiro did it in 2001.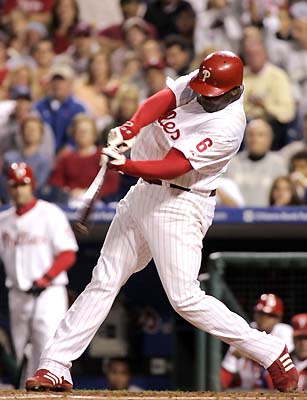 The following year in 2007, Howard was a key component when Philadelphia overcame a 7 game deficit with 17 games to play against the New York Mets.  From September on, Howard belted 11 hr's and 26 rbi's.  In 2008, Howard finished the season batting just .251.  In September, Howard batted .352 with 11 hr and 32 rbi's, the most homeruns and rbi's in a single month that season.  Once again, the Phillies overcame a margin over the Mets for the Division Crown and won their 1stWorld Series since 1980.  Although he batted just .251, Howard still finished 2nd in NL MVP  voting.  Last year, Howard once again flourished down the stretch hitting .303 with 8 hr and 30 rbi's.  He finished 3rd in NL MVP voting. 
Howard comes off a disastrous August where he battled injuries and strikeouts.  He had just 1 hr during the month, and that came last night.  For four consecutive seasons, Howard has owned the month of September.  Will he reign supreme once again?  We shall see.
About the Author
Subscribe to author's RSS feed
Written by Adrian Fedkiw
I currently work for the Sports Network. It's the best job ever! I am a 2010 graduate of Temple University where I majored in broadcast journalism, I LOVE SPORTS! That's why I am here. I have a vast knowledge and want to share my athletic intelligence with the world. Some people like to spend their time shooting down aliens in Halo; I like to spend my time watching sports, current and old. It's my passion! I got asked one time how I can watch a game over again when I already know the outcome. 5 minutes later, he's watching Happy Gilmore reciting all of the lines from the movie. Hypocrite! As for my favorite sports teams, I've been a lifelong Philadelphia sports fan. My favorite athlete is Allen Iverson. He didn't like practice that much, but when it came to gametime, no one let it all out on the floor like Iverson. He is absolutely beloved in the city of Brotherly Love. For college athletics, obviously I pay close attention to Temple. (Yes, football too) Even before I stepped foot on Temple's campus for the 1st time in 2005, I was a fan. Oh the good old days of John Chaney! Some other tidbits about myself, I love cheesesteaks, I hydrate myself with Welch's Grape Juice and Snapple. I love the HBO show Entourage. Also, when is Kenny Powers making his much anticipated return in Eastbound and Down!