Quick Recap of Villanova
I was really busy last week (had some job interviews to prepare for) so I wasn't able to truly watch and study this game until this morning.  If you didn't know, Temple won 31-24 with a last second field goal with 2 seconds left. (They scored a touchdown on the next kickoff after Nova failed with their laterals).  Basically, the summary of the game was special teams.  Temple's kicker, Brandon McManus was 4/5 (including a 53 yarder, 2ndin Temple history), while the Nova kicker Nick Yako was just 1/3.  McManus earned the MAC Special Teams Player of the Week Award for his outstanding game.
Temple used it's two-headed running game to accumulate 154 total yards on the ground.  Bernard Pierce ran for 79 yards, while Matt Brown ran for 57 yards.  Michael Campbell led all receivers with 8 receptions for 127 yards.  As for the quarterback position, I felt that Chester Stewart looked pretty good.  The expectations of him weren't all that high.  He wasn't accurate on all his throws, but he made some nice reads and had some good zip on the ball.
As for Villanova, I came away really impressed with Matt Szczur.  He reminded me of Nova alumn Brian Westbrook.  He played quarterback, running back, wide receiver and returned punts.  If only he could kick field goals.  Apparently, the guy plays baseball too.
Central Michigan Preview
We can all exhale Temple fans, there's no more Dan LeFevour.  LeFevour was the best quarterback in the MAC the last 4 years, and the main reason why Central Michigan has dominated the MAC the last 4 years.  The offense was ranked 13thnationally in scoring last season, putting up 33.9 points per game.  LeFevour hurt all MAC teams with his dual threat ability.  LeFevour was taken in the 6th round by the Chicago Bears in the NFL Draft.  He's now on the Bengals roster.
Also gone is head coach Butch Jones.  Jones moves on to Cincinnati as Brian Kelly took the Notre Dame job.  Coincidentally, Kelly was also a Central Michigan head coach.  Dan Enos takes over the reigns as the headmaster.
Onto the game.  Temple is mainly a one-dimensional offensive football team as they like to ground and pound.  They line up two tight ends in the backfield and challenge defenses to stop their running game.  The offensive line is mammoth.  Every member is 300+ pounds.  RG Colin Madison and RT Darius Morris are the best run blockers on the team.  Temple ranked 23rdnationally last season rushing the football (187 ypg). 
Here's the thing, Central Michigan's defense is pretty good.  They ranked 33rdnationally defending the run (122.9 ypg).  Their defense is led by their linebackers; 2 of the 3 starters return.  MLB Nick Bellore is the best of the bunch.  He led the Chippewas with 132 tackles last season.  He also added 3 sacks, 2 picks and 13.5 tackles for loss.  The other returning starter in the linebacking core is WLB Matt Berning.  He had 108 tackles last season.  DT Sean Durnane will try to disrupt the offensive line in the trenches.  He's a Preseason 1st Team All-Mac Defensive Lineman.  Overall, the Central Michigan defense is a hit you in the mouth, sure tackling defense.
(Nick Bellore)
The Chippewas offense is led by a new quarterback, sophomore Ryan Radcliff.  I saw Radcliff play in some mop-up duty last year and came away impressed.  He has good size and a quick realease.  He went 20/34 for 242 yards last week, but that was Hampton.  I'm sorry, that doesn't really count.  The offensive line is solid and will give Radcliffe time to operate.  The line is led by C Colin Miller.  He's smart, and makes all the right line calls at the line of scrimmage.  Kito Poblah is the lone returning wide receiver.
The key matchup will be Central Michigan's offensive line vs Temple defensive line.  Temple's defensive line makes plays.  LDE Adrian Robinson had 13 sacks last season and was named the MAC Defensive Player of the Year.  Central Michigan's RT Rocky Weaver will have a tough task on his hands.  Waiting in the secondary for any possible Radcliff errant throws will be FS Jaiquawn Jarrett.  Jarrett is simply a ball hawk.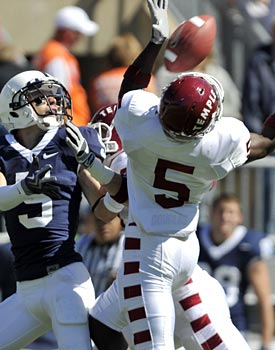 (Jaiquawn Jarrett)
ESPNU will televise the game nationally tomorrow (Thursday) at 7:00 PM.  I will be at the game live with all my Phi Kappa Theta brothers so holler if you see me.
PREDICTION- 24-17 TU
For Temple's sake, I like the fact that they get the Chippewas early on in the year.  I think the Dan LeFevour aspect is huge.  This will be Radcliff's 1stcareer MAC start, and it's not like he gets Eastern Michigan.  They are attrocious by the way.  This is a big game for Temple's psyche.  The MAC  is seeing a possible shift in power.  With a win by the Owls, they will solidify themselves as the best team in the MAC for now. 
About the Author
Subscribe to author's RSS feed [1]