(I'm now on twitter, you can follow me @AdrianFedkiw, don't be afraid to ask me anything)
Heading into regular season play three teams stood out in the MAC; Temple, Central Michigan and Northern Illinois.  The Owls already took out the Chippewas in a 13-10 overtime brawl.  Central Michigan went on and lost another game in the MAC to go to 1-2 in conference play.
Northern Illinois is a very impressive football team.  They're currently 3-2 (1-0) on the year, which includes a win over Minnesota on the road 34-23.  Grant it, Minnesota isn't a Big 10 powerhouse, but they're still a major conference team.
The Owls have struggled against the run all season long, and it doesn't get easier for the Owls this week.  The Huskies have a bug of their own in 5'9 tailback Chad Spann.  He ran for 1,038 yards last season and 19 touchdowns, averaging 5.8 YPC.  The Huskies currently rank 12th in the country averaging 241.6 yards a game on the ground.  Spann is 13th in the nation with 542 yards on 82 carries, averaging 108.4 YPG and 6.6 YPC.  This will be the 2nd highest rusher that Temple will have faced so far this year.  Connecticut's Jordan Todman is 4th in the country.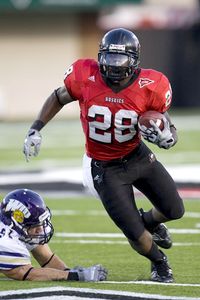 (Chad Spann)
At quarterback the Huskies possess a reliable field general in junior Chandler Harnish.  He's a very accurate passer who can throw well on the move.  Harnish is currently completing 69.0% of his passes.
Northern Illinois has a pair of solid receivers in Landon Cox and Martel Moore.  Cox is the vertical threat to complement the possession receiver Moore.  Cox can go get it.  He's strong and has good leaping ability.
On defense the Huskies have a safety that reminds me of Temple's Jaiquawn Jarrett in Tracy Wilson.  Like Jarrett, Wilson isn't afraid to lay the lumber.  Alex Kube is the team's best linebacker.
Let's talk about Temple.  They're currently 4-1 and playing well.  They do need to start getting off to better starts.  Besides the Penn State game, the Owls have looked sluggish to start out in basically every game.  Obviously, on the other hand, you have to love that Temple is learning how to win and close out games.
Hopefully you guys read my article on the tandem of Matt Brown and Bernard Pierce.  If not, you can check that out here [1].  Brown currently leads the team in rushing with 384 yards.  Pierce missed last week's game with an ankle sprain.  I'm not quite sure if he's playing or not. 
It seems like Temple has found something in wide receiver Michael Campbell.  He's primarily a vertical threat.  Campbell has 266 yards on 15 receptions, good for a whopping 17.7 YPR.
PREDICTION- TU 37-34 OT
I'm not overly confident about this game.  Northern Illinois is a good football team and they play right to our weaknesses.  It should be a good one tomorrow.  If your in Philly the game will be on ABC at noon. (Temple fans, don't drink too much tonight)  If not, you can check out the game on espn3.com.   
About the Author
Subscribe to author's RSS feed [2]