The Bengals are in shambles.  They've lost four in a row. The defense has been a huge disappointment this season.  The front seven is generating no pass rush whatsoever, and the injury bug has hit most of the secondary.  The offense has not been able to use a balanced attack because they always seem to be down 14 points.
But, this is a Monday Night game against an AFC North rival. What I stated above, you can kind of throw that by the wayside.  Atleast for one game. 
I've been kind of stressing this all year, and I'll say it again.  I think the Bengals have to try and run the ball more.  I know the Steelers are 1st against the run, but I think if they can run the ball with some success, it sets up the rest of the offense.  Of course, it's tough to run when the offense seems to be always trailing. 
While I think running the ball on a consistent basis is a key to this game, you can't overlook the Bengals passing game against the Pittsburgh passing defense.  Pittsburgh is ranked 5th in the NFL in total defense, but have struggled with its pass defense.  They are 25th against the pass.  If the Cincinnati offensive line can protect the Steelers pass rush, I believe the Palmer can do well throwing the football.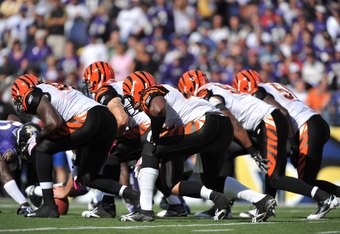 (The Bengals offensive line may be the key to this game)
On the other side of the spectrum, the Steelers passing attack should be able to shred the Bengals secondary.  I've already noted the reasons why.
It seems to me that Pittsburgh is not playing as well as they did early on in the season.  They've hit a bit of a lull.  They're still 5-2 however.
The Bengals won both confrontations last year, 23-20 and 18-12 respectively.  Pittsburgh swept the season series in 2008.
Prediction- 23-20 Cincinnati
I've been picking against Cincinnati all year, but I have a gut feeling about this one.  The key for the Bengals is to keep the game close early.  They can't afford to play from behind like they've been doing for most of the season.  The offensive attack has to be balanced.
I just feel that Pittsburgh should be playing better than they are.  I'm just referencing the last 2-3 weeks.  Especially if people are proclaiming them as this year's best NFL team.  I thought they played much better the first four weeks of the season.   
About the Author
Subscribe to author's RSS feed [1]