The Temple basketball program is slowly returning to the success it had during the John Chaney days. The next step is to win an NCAA Tournament game. In 2008, the Owls lost to 5th seeded Michigan State. Temple lost to 6th seeded Arizona State in 2009, and last year they got upset by 12th seeded Cornell.
This is the first year that the Owls head into the season as the clear favorite in the Atlantic 10 in about a decade. They were supposed to take a step back last season after the departure of Dionte Christmas; but underclassmen such as Lavoy Allen and Juan Fernandez really stepped up. They really put themselves on the map after a non-conference home win against Villanova. They finished last season's campaign ranked 12th nationally.
(Juan Fernandez)
The only question that I have is who will step up and be that shutdown defender in the backcourt. Ryan Brooks and Luis Guzman were fantastic on the ball defenders. Temple wins by shutting down the opposition. They led the A-10 in scoring defense, allowing just 56.8 points a contest. They held ten of their opponents to 50 points or less.
FRONTCOURT
F/C Michael Eric (6-11 225 Jr.) – 5.9 ppg 3.1 rpg .6 apg 51.6 %
Eric is solid defensively around the basket area. He doesn't really have a lot of range on his jump shot.
F Lavoy Allen (6-9 225 Sr.) – 11.5 ppg 10.7 rpg 2.4 apg 53.6 %
Allen is a guy that I've seen grew since his high school Pennsbury days. He's transformed from a very skinny high school kid to a mammoth. I will never forget his first half performance he had against Harry S. Truman, the school where former Niagara guard Tyrone Lewis attended. Allen blocked 10 shots in the half. He was all over the place. He's brought his smart defensive instincts to Temple.
Allen averaged a double-double last season; the first Owl to do so since 1970-1971. He's as good a passing big man as any big man in the country. He's as fundamental as they come.

If there is a complaint about Lavoy, he can be a bit too unselfish. He can routinely knock down mid-range jump shots if he wants to, but he continually gives up those shots. I'd like to see him more assertive on the offensive end. Especially now as a senior.
G/F Rahlir Jefferson (6-6 200 So) – 3.9 ppg 2.6 rpg .6 apg 39.8%
Jefferson looks like the guy that will take over Brook's defensive duties. He can cover both guards and forwards. The Chester grad showed some promise last year, but will he be able fill a bigger role on the team this season?
BACKCOURT
G Ramone Moore (6-4 180 Jr.) – 7.6 ppg 3.1 rpg 1.5 apg 47.9%
Moore won the A-10 Sixth Man of the Year Award, but he really came on halfway through the year. While Jefferson looks to step in and be the defensive stopper that Brooks was, Moore looks to be the scorer.
(Ramone Moore)
Moore consistently gets to the tin, and when a defender plays a bit off, he can step up and knockdown an open jump shot.

G Juan Fernandez (6-4 180 Jr.) – 12.6 ppg 2.4 rpg 3.6 apg 45.3% 3
Temple basketball historians proclaim Fernandez to be Pepe Sanchez with a jump shot. I understand the comparisons. They're both from Argentina, but I think they're games are different. Sanchez was more of a pure passer, and was a very reliable defender. He didn't shoot the jumper extremely well, but he seemed to hit it when it counted. He always played under the control and took care of the basketball. Fernandez is a bit of a liability on the defensive end. Offensively, Fernandez can do a bit of everything. Unlike Sanchez, Fernandez can create his own shot. They both have high basketball IQ's; they're always a step ahead of the defense.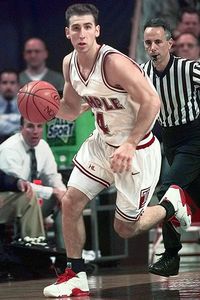 (Pepe Sanchez)
BENCH
F Craig Williams (6'9 240 Sr.) 3.8 ppg 1.8 rpg .4 apg 32.6% 3
Williams is a big man that can knock it down from beyond the arc. Considering his size, he should be a better rebounder than he is.
F Scootie Randall (6'6 205 Jr.) 1.9 ppg 1.4 rpg .2 apg 41.9% 3
Randall is a guy, despite his size, who can get the job done inside.
G Aaron Brown (6'4 180 Fr.) FRESHMAN
Fran Dunphy usually doesn't play freshman that much, but Brown can be an exception. He comes from St. Benedict's Prep, an established program in New Jersey.
G T.J. Dileo (6'2 195 So.) 1.1 ppg .8 rpg .3 apg 27.8%
Dileo is a scrappy guard who hustles on every play. He's a Luis Guzman clone.
F Chris Clarke (6'8 200 So.) REDSHIRT
Clarke red-shirted last year after transferring from Pensacola (FLA) Junior College.
ANALYSIS

Juan Fernandez and Lavoy Allen are Atlantic 10 Player of the Year candidates. I want to see Allen be more aggressive.
The guy that I'm going to keep my eye on is Ramone Moore. I expect him to break out and have a huge year.
I'm curious what kind of production the Owls will get off the bench. Craig Williams is the only senior off the bench. Aaron Brown has been hyped, but how many minutes will Fran Dunphy play him.
Obviously, the expectations on Broad Street are high. A sweet 16 appearance is possible, but the Owls have to win a game in the NCAA Tournament first. I think the Owls will win their fourth consecutive Atlantic 10 crown, and get a four seed in the NCAA Tournament.
About the Author
Subscribe to author's RSS feed
Written by Adrian Fedkiw
I currently work for the Sports Network. It's the best job ever! I am a 2010 graduate of Temple University where I majored in broadcast journalism, I LOVE SPORTS! That's why I am here. I have a vast knowledge and want to share my athletic intelligence with the world. Some people like to spend their time shooting down aliens in Halo; I like to spend my time watching sports, current and old. It's my passion! I got asked one time how I can watch a game over again when I already know the outcome. 5 minutes later, he's watching Happy Gilmore reciting all of the lines from the movie. Hypocrite! As for my favorite sports teams, I've been a lifelong Philadelphia sports fan. My favorite athlete is Allen Iverson. He didn't like practice that much, but when it came to gametime, no one let it all out on the floor like Iverson. He is absolutely beloved in the city of Brotherly Love. For college athletics, obviously I pay close attention to Temple. (Yes, football too) Even before I stepped foot on Temple's campus for the 1st time in 2005, I was a fan. Oh the good old days of John Chaney! Some other tidbits about myself, I love cheesesteaks, I hydrate myself with Welch's Grape Juice and Snapple. I love the HBO show Entourage. Also, when is Kenny Powers making his much anticipated return in Eastbound and Down!