Part five.
Depending on your view on how to build a successful team in the NHL, Marc Staal may be the most important piece the Rangers have now and for the future. If you ask me? You build from the goalie out. Goalie > Defense > Centers > Wingers. If you're of the opinion that defense wins championships, Marc Staal is by far and away the most important player on the Rangers today. The 23 year old has been a staple on the Rangers blue line since he entered the NHL and has already become one of the league's premiere stay-at-home defenseman. Want to learn more about him?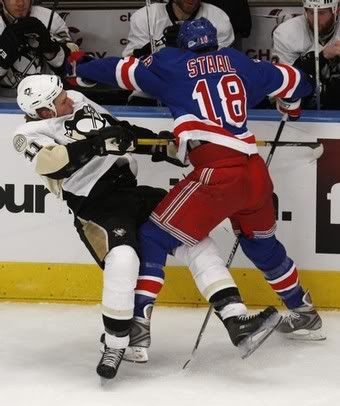 Height: 6'4″
Weight: 208 lbs
Age: 23
Drafted: 1st round (12th overall) 2005 by the New York Rangers
NHL Experience: Currently performing in his 4th NHL season
Before the NHL:
I'm sure you all know the story. Growing up on a Sod farm in Thunder Bay, Ontario. Marc Staal's father loved making an outdoor rink for his kids in the cold winters that Canada faces. Marc and his brothers (NHLers) Eric and Jordan, as well as (AHLer and Hurricanes property) Jared would spend countless hours on the homemade rink playing each other. It was always Eric and Jared VS Marc and Jordan, but it depends on who you ask to find out who won majority of the games. I could give you the whole Rangers Player Profile #18 Marc Staal as I've seen it about a dozen times, but I'm gonna try to go in a different direction.
After perfecting his game on his own rink, Staal decided to take himself to the next level and play in the OHL for the Sudbury Wolves. Staal would play four years in the OHL, although many thought he only needed three, the Rangers thought it would be better for his development to play a fourth season; and with the way Staal has turned out so far, can you doubt the Rangers decision there? In his four season at Sudbury (including one as the team captain) Staal was able to record 23 goals and 100 assists in 236 career games with the Wolves. Staal, although he has been developing one nicely, did not gain his successes playing on the offensive side of the puck. His job has always been to shut down the other teams best forwards and he's been doing that.
Sudbury was able to make the playoffs every year Staal was with them, including a 21 game run in his final season in Sudbury where Staal was able to record 5 goals and 15 assists. Further proving that he had nothing left to learn in the OHL, Staal turned pro.
International:
With a plethora of successful NHL dmen from Canada, Staal has yet to crack the lineup at the Olympic games for the Canadian national team, but that hasn't stopped him from representing the team in other tournaments.
Staal has represented Canada four times including last season as a member of the Canadian team during the World Championships (a team put together by GM Mark Messier). Staal appeared in 7 games and recorded 1 assist.
NHL Success:
It's tough to determine the successes of an NHL dman just through the stat page, where Staal has fared quite generously (16 goals 41 assists in 262 games). The only way to truly judge an NHL defensman's play is to watch them play over and over again. As someone whose watched close to every single game Marc Staal has played since joining the NHL, I think with a fair amount of professional ability, I can deem Staal one of the best premiere shut down dmen in the NHL. I can't remember the last time I watched a Rangers game where Staal wasn't matched up against the top line or best player on the opposing team. Constantly shadowing the Ovechkin's, Crosby's, Malkin's, Kane's, and Kovalchuk's of the league; opposing teams that come to play the Rangers know that Staal is on the other side of the ice.
Last season with the coaching change from Renney defense to Tortorella "safe is death" Staal's offensive game experienced it's most successful year as he recorded 27 points in 82 games. And not only is he beginning to rack up points on the stat sheet, he's been an iron man for the Rangers. He played 80 games in his rookie season and has not missed a game since logging 82 in his past two seasons while playing in all 18 games for the Rangers so far this season. This is all the more impressive when it's not a surprising sight to see him log over 25 minutes of time on ice. Last night, for example, he played nearly half the game.
Staal, like Dubinsky, was also on the wrong end of some of Glen Sather's genius negotiating prowess as it seemed that Staal could have missed a part of training camp due to contract troubles. Luckily for the Rangers, Staal and Sather were able to come to an agreement on a five year deal with a very manageable 3.975 cap hit. He's well worth that value now, and when he's in the final years of that contract it is going to be an absolute steal for the Rangers.
Outlook 2010-2011 and Beyond:
So far this season Staal is exactly where he needs to be in terms of his development. With all the success the Rangers, and their fans have seen out of him it's tough to remember that he's still only 23 years old learning the hardest position to learn in the NHL.
But Marc is no different than his brother Eric in the sense that he has extreme superstar potential, that he's hit in Rangerland. Ask any Rangers fan who their best dman is and the answer will unanimously be Marc Staal. With his ability to grind in the corners and get the puck cleanly to make a quick pass and get it out of the zone, play the body, be physical but not overly aggressive, and with the offensive game that is on it's way, Staal is a gem.
In my opinion there is nothing holding Staal back from becoming one of the best Rangers defenseman of all time.
I'm going to end this post with a little bit of action from that Rangers Player Profile: #18 Marc Staal and re-iterate that it was an excellent move by the Rangers trading up to the 12th pick in the 05 draft to nab Staal.
About the Author
Subscribe to author's RSS feed [1]