WR core depleted some more. Nicks out, Clayton in.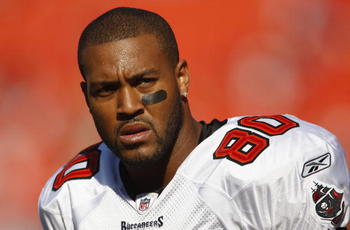 Well if you thought losing the NFC East lead was bad, now we find out that second year WR phenom Hakeem Nicks will be out three weeks with compartment syndrome in his right leg. The loss of Nicks is just one of many at the WR spot for the G Men as they still have Steve Smith (pectoral muscle) out for another two weeks along with Ramses Barden (ankle) and preseason standout Victor Cruz (hamstring) both out for the season.
The loss of Nicks is particularly daunting as he is 2nd in the NFL in 4 major categories (Receptions-62, Yards-800, TD's-9 and 1st downs-41). The G-Men are left with Mario Manningham and Derek Hagan (who was brought back for the Eagles game after being cut by the Giants in training camp) as the projected starters with rookie Duke Calhoun as the only true options at WR.
Understanding their bleak situation, the Giants moved quickly and signed former Buccaneers wide receiver Michael Clayton who comes to them from the UFL after he was cut by Tampa Bay in training camp this year. Clayton has some skills as in his rookie year back in 2004 he had  8o receptions for 1,193-yards receiving and 7 TD's, however hasn't been able to come close to those numbers in the past 5 years. The Giants hope his stint in the UFL wakes him up and brings him back to his rookie form.
The Giants have a big game ahead of them against the Jaguars on Sunday as they need to stop the bleeding from a two game losing streak. Coach Coughlin is hoping Clayton can bring some veteran leadership to calm the WR storm. If he catches the ball and holds on to it they will be way ahead of the game as the eye popping stat of the week is the Giants have 30 turnovers in the past 10 games (an average of 3 turnovers a game). Eventually that will kill you and in the last two weeks it certainly has.
Look for my next blog as I will detail my Q & A session with OL David Diehl where he gives insight into why this year the Giants will not collapse down the stretch along with many other fun topics.
About the Author
Subscribe to author's RSS feed [1]