These early season basketball tournaments are the best way to gauge your team very early on in the year.  You play three games in four days against three different teams in three separate conferences.  Not only do you get an inkling of the strengths and weaknesses of your squad, you also get a sense of how good the conference you play in is.  It's also a perfect way to put some nice looking wins on the resume before March rolls around.
This is the fifth installment of the Old Spice Classic.  There's no stand-out team in this year's field, but five out of the eight teams reached the NCAA Tournament a year ago.  Temple is currently the only team ranked in the top 25.  They're currently ranked 20th.  The games will be played once again in the HP Field House in Orlando, Florida.
SCHEDULE
| | | | |
| --- | --- | --- | --- |
| Date | Time (ET) | Game | Network |
| Thu, Nov 25 | Noon | Game 1: Boston College vs. Texas A & M | ESPN2 |
|   | 2 p.m. | Game 2: Wisconsin vs. Manhattan | ESPN2 |
|   | 7 p.m. | Game 3: Georgia vs. Notre Dame | ESPN2 |
|   | 9 p.m. | Game 4: Temple vs. California | ESPN2 |
| Fri, Nov 26 | Noon | Game 5 | ESPN |
|   | 2:30 p.m. | Game 6 | ESPNU |
|   | 5 p.m. | Game 7 | ESPN2 |
|   | 7:30 p.m. | Game 8 | ESPNU |
| Sun, Nov 27 | 11 a.m. | Game 9 | ESPNU |
|   | 1 p.m. | Game 10 | ESPNU |
|   | 4:30 p.m. | Game 11 |   |
|   | 7 p.m. | Game 12 (Championship Game) | ESPN2 |
THE FIELD
Boston College- Last Year- 15-16 (6-10)
All-time Boston College wins leader Al Skinner is out, and Steve Donahue is in.  Donahue comes over from Cornell who made three consecutive NCAA Tournament appearances and a magical run to the Sweet 16 a year ago.  Donahue and Skinner have two different styles of play.  Skinner had a very precise flex-offense, while Donahue likes to push it a little more and shoot the three.
Projected Starters
F- Cortney Dunn (6-8 Sr)
F- Joe Trapani (6-8 Sr)
F- Corey Raji (6-6 Sr)
G- Biko Paris (6-1 Sr)
G- Reggie Jackson (6-3 Jr)
Bench
G- Danny Rubin (6-6 Fr)
G- Dallas Elmore (6-5 Jr)
G- Gabe Moton (6-2 Fr)
PLAYER TO WATCH- Reggie Jackson
Jackson was a guy held back a bit in Skinner's offense last year.  Thus far this year, Reggie has been able to play more with the ball in his hands and push it.
Texas A&M- Last Year- 24-10 (11-5)
Billy Gillespie came over to Texas A&M in 2004 and completely changed the culture at College Station.  He got the Aggies to the NCAA Tournament for the first time since 1987 in the 2004-2005 season.  Mark Turgeon took over the helm when Gillespie left for Kentucky in 2007.  Turgeon has continued the success as Texas A&M has made the NCAA Tournament every year since 2005.  The Aggies have three key players missing from last year's team in Donald Sloan, Derrick Roland and Bryan Davis.
Projected Starters
F- David Loubeau (6-8 Jr)
G/F- Khris Middleton (6-7 So)
G/F- Nathan Walkup (6-7 Sr)
G- B.J. Holmes (5-11 Sr)
G- Dash Harris (6-1 Jr)
Bench
G- Naji Hibbert (6-6 So)
F- Kourtney Roberson (6-9 Fr)
F- Ray Turner (6-8 So)
PLAYER TO WATCH- David Loubeau
The Aggies don't have a stand out player as all five A&M starters are good, but not great.  Loubeau is the lone starter who is a back-to-the-basket player.
Wisconsin
No matter the roster, head coach Bo Ryan just seems to get the job done.  He gets the maximum potential out of each player on his team year after year.  Even with all the success, frustration is mounting in Madison as the Badgers have lost to a lower-seeded team in the NCAA Tournament in three of the last four years.
Projected Starters
F- Keaton Nankivil (6-8 Sr)
F- Jon Leuer (6-10 Sr)
F- Mike Bruesewitz (6-6 So)
G- Josh Gasser (6-4 Fr)
G- Jordan Taylor (6-1 Jr)
Bench
G/F- Ryan Evans (6-6 So)
G/F- Tim Jarmusz (6-6 Sr)
F/C- Jared Berggren (6-10 So)
PLAYER TO WATCH- Jordan Taylor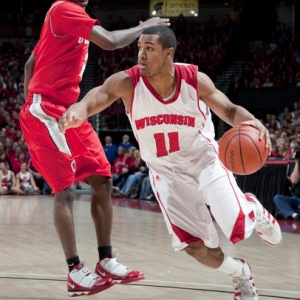 Jon Leuer is the best player, but Taylor may be the most important player.  With the departures of backcourt starters Trevon Hughes and Jason Bohannon, suddenly, Taylor becomes the guys in the backcourt.  Taylor can drive, but he needs to improve his perimeter shooting.
Manhattan
Manhattan and Temple are the only non-BCS teams in this tournament.  The Jaspers have yet to regain the glory since the departure of star guard Luis Flores five years ago.  Unfortunately, Manhattan is once again in rebuilding mode since last year's MAAC leading scorer, Rico Pickett, decided to take his talents overseas.
Projected Starters
C- Djibril Coulibaly (6-9 Jr)
F- Andrew Gabriel (6-6 Sr)
G/F- George Beamon (6-4 So)
G- Kidani Brutus (6-1 Jr)
G- Michael Alvarado (6-2 Fr)
Bench
F- Rhamel Brown (6-6 Fr)
F- Robert Martina (6-8 Jr)
C- Kevin Laue (6-11 So)
PLAYER TO WATCH- George Beamon
The Jaspers are a very young team.  Andrew Gabriel is the team's leading returning scorer, but George Beamon is currently leading the team in scoring through three games averaging 16.7 ppg.
Georgia
Georgia got a lot of preseason hype because of Trey Thompkins and Travis Leslie.  Thompkins was named the SEC Preseason Player of the Year.  The truth is the Bulldogs have only made the NCAA Tournament once in the past five years.  This tournament should answer at least a couple questions about the legitimacy of this team.
Projected Starters
F- Trey Thompkins (6-10 Jr)
F- Jeremy Price (6-8 Sr)
G/F- Travis Leslie (6-4 Jr)
G- Gerald Robinson Jr. (6-1 Jr)
G- Dustin Ware (5-11 Jr)
Bench
F- Connor Nolte (6-7 Sr)
F- Chris Barnes (6-8 Sr)
G- Sherrard Brantley (6-2 So)
PLAYER TO WATCH- Trey Thompkins
Thompkins has missed the first three games of the season due to an ankle injury.  Head Coach Mark Fox is unsure if Thompkins will be ready to go tomorrow.
Notre Dame
The Irish may have lost Luke Harangody and Tory Jackson, but Notre Dame brings back a lot of experienced seniors.  In fact, the entire starting five comprosises of seniors.  When Luke Harangody went down last season with a knee injury, coach Mike Brey installed the "Burn Offense."  Essentially, the team would slow the tempo down and hold the ball until there was about 10-15 seconds left on the shot-clock before attacking.  So far the Irish have been scoring at a high level.  We'll see if they go back to the burn in Orlando.
Projected Starters
F- Tyrone Nash (6-8 Sr)
F- Tim Abromaitis (6-8 Sr)
F- Carleton Scott (6-7 Sr)
G- Scott Martin (6-8 Sr)
G- Ben Hansbrough (6-3 Sr)
Bench
G- Eric Atkins (6-1 Fr)
F- Jack Cooley (6-9 So)
G- Joey Brooks (6-5 So)
PLAYER TO WATCH- Ben Hansbrough
There's a lot of good point guards in this tournament.  Hansbrough is more of a scorer than a point, although he had an excellent 2.4-1 assists to turnover ratio last season.  He'll slide to the shooting guard spot when Eric Atkins comes into the game.
Temple
I did a huge Temple preview before the season began, you can check that out here.  All the lineups and bench players should be there as well.
PLAYER TO WATCH- Juan Fernandez
He may be the most exciting player in this tournament.
California
The Golden Bears lost a lot over the offseason, most notably Jerome Randle and Patrick Christopher.  I don't think anyone knows what to expect from California in this tournament.  I will say this, it looks like smarts, defense and toughness is going to be the recipe for success for Cal.  It was a staple for head coach Mike Montgomery during his early days at Stanford.
Projected Starters
C- Markhuri Sanders-Frison (6-7 Sr)
F- Harper Kamp (6-8 Jr)
G- Allen Crabbe (6-4 Fr)
G- Gary Franklin (6-2 Fr)
G- Jorge Gutierrez (6-3 Jr)
Bench
F- Bak Bak (6-9 So)
G- Brandon Smith (5-11 So)
C- Max Zhang- (7-3 Jr)
PLAYER TO WATCH- Jorge Gutierrez
He may not be Jerome Randle or Patrick Christopher, but the guy can guard with the best of them.
PREDICTIONS
First Round
Texas A&M over Boston College

Wisconsin over Manhattan

Notre Dame over Georgia

Temple over California
Semifinals
Wisconsin over Texas A&M

Temple over Notre Dame
Championship Game
About the Author
Subscribe to author's RSS feed
Written by Adrian Fedkiw
I currently work for the Sports Network. It's the best job ever! I am a 2010 graduate of Temple University where I majored in broadcast journalism, I LOVE SPORTS! That's why I am here. I have a vast knowledge and want to share my athletic intelligence with the world. Some people like to spend their time shooting down aliens in Halo; I like to spend my time watching sports, current and old. It's my passion! I got asked one time how I can watch a game over again when I already know the outcome. 5 minutes later, he's watching Happy Gilmore reciting all of the lines from the movie. Hypocrite! As for my favorite sports teams, I've been a lifelong Philadelphia sports fan. My favorite athlete is Allen Iverson. He didn't like practice that much, but when it came to gametime, no one let it all out on the floor like Iverson. He is absolutely beloved in the city of Brotherly Love. For college athletics, obviously I pay close attention to Temple. (Yes, football too) Even before I stepped foot on Temple's campus for the 1st time in 2005, I was a fan. Oh the good old days of John Chaney! Some other tidbits about myself, I love cheesesteaks, I hydrate myself with Welch's Grape Juice and Snapple. I love the HBO show Entourage. Also, when is Kenny Powers making his much anticipated return in Eastbound and Down!