Temple basketball has a long way to go to reach their desired expectations when March rolls around.  The Owls went 1-2 at the Old Spice Classic including losses in the First Round to Cal 57-50 and to Texas A&M 54-51 in the 5th Place Game.
Hopefully for the Owls sake it was just one of those bad weeks.  The offense looked very stagnant as the Owls just continually settled for jumpshots. 
It seems to me so far that Temple is missing the on-court leadership and scoring from the departed Ryan Brooks.  The Owls need either Juan Fernandez or Lavoy Allen to step up and fill that leadership role.  Neither is really built to lead; both are quiet guys.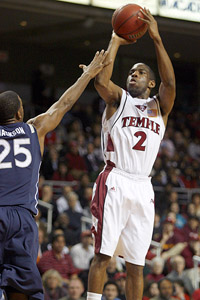 (Ryan Brooks)
In five games so far this season, Temple is shooting 19/80 from three (23.8%).  Juan Fernandez is just 4/23 from downtown as he's yet to get it going.  Ramone Moore is currently the only player averaging double-digits (10.8 ppg).
I'm still waiting for Lavoy Allen to step up offensively.  He needs to stop being so passive.  Allen can score when he wants to.
(Lavoy Allen)
Temple did have some bright spots from Orlando as two players in particular emerged; sophomore guard Khaliff Wyatt and junior forward Scootie Randall.  Wyatt barely saw the floor as a freshman because of his lack of defensive intensity.  During the offseason, Wyatt trimmed down and is playing the defense that Dunphy hoped for.  Randall had a team-high 18-points in their win against Georgia.
(Khaliff Wyatt)
Even with the offense struggling, the defense still shows up every night.  They have yet to allow 60-points in a game so far this season.  They're allowing 54.5 ppg thus far.
All in all, Temple missed out on some quality win opportunities in the tournament to boost their RPI.  They did get the win against Texas A&M.
Hopefully the Owls fixed some of the kinks because the schedule doesn't get much easier.  After a "should be" win against Central Michigan tonight, the Owls go on the road to play Maryland and get Georgetown at home.
About the Author
Subscribe to author's RSS feed
Written by Adrian Fedkiw
I currently work for the Sports Network. It's the best job ever! I am a 2010 graduate of Temple University where I majored in broadcast journalism, I LOVE SPORTS! That's why I am here. I have a vast knowledge and want to share my athletic intelligence with the world. Some people like to spend their time shooting down aliens in Halo; I like to spend my time watching sports, current and old. It's my passion! I got asked one time how I can watch a game over again when I already know the outcome. 5 minutes later, he's watching Happy Gilmore reciting all of the lines from the movie. Hypocrite! As for my favorite sports teams, I've been a lifelong Philadelphia sports fan. My favorite athlete is Allen Iverson. He didn't like practice that much, but when it came to gametime, no one let it all out on the floor like Iverson. He is absolutely beloved in the city of Brotherly Love. For college athletics, obviously I pay close attention to Temple. (Yes, football too) Even before I stepped foot on Temple's campus for the 1st time in 2005, I was a fan. Oh the good old days of John Chaney! Some other tidbits about myself, I love cheesesteaks, I hydrate myself with Welch's Grape Juice and Snapple. I love the HBO show Entourage. Also, when is Kenny Powers making his much anticipated return in Eastbound and Down!