With the win over Tennessee last Sunday, the Colts solidified their ninth consecutive playoff appearance.  Yes, it was a down year.  Yes, there were a lot of injuries.  But, yes, they are back in the postseason once again after winning their final four games.  Surprise, surprise.
Back in 2006, Indianapolis won the Super Bowl as a three seed.  Déjà vu perhaps?
The Jets come in reeling with two very lackluster showings down the stretch.  They got blown out by New England, and lost a head-scratcher at home to Miami.  Which Jets team will show up in Indy?
This may be a rematch of last year's AFC Championship game, in which the Colts won 30-17, but the complexion has changed.  Indianapolis doesn't have some of their main weapons including tight end Dallas Clark and wide receiver Austin Collie.  The Jets brought in key components such as cornerback Antonio Cromartie, wide receiver Santonio Holmes and running back Ladainian Tomlinson.
Let's look at the matchups.
Jets Pass Defense vs Colts Pass Defense 
NYJ- 202.6 (22) vs Ind- 214.6 (13)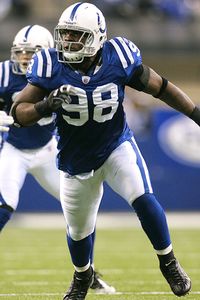 (Robert Mathis)
It's quite simple for the Jets quarterback Mark Sanchez; don't turn the ball over.  Of course on third down passing situations he's going to have to take some chances; because of the other field general standing on the opposite sideline.  You don't want to give Peyton the ball.  Santonio Holmes and Dustin Keller have made the big catches for the Jets this season.
The Colts have the best pair of defensive ends in football in Dwight Freeney and Robert Mathis.  Once again both are Pro-Bowl selections.  Mathis recorded 11 sacks while Freeney spun his way for 10.  Jet tackles D'Brickashaw Fergusen and especially Wayne Hunter.  Hunter is going to need some help with Mathis.
Jets Rush Offense vs Colts Rush Defense
NYJ- 148.4 (4) vs Ind- 127.0 (25)
(Ladainian Tomlinson)
Obviously this has been the Achilles heel for the Colts all decade long; but it seems like they always stop the run when it matters.  Look at 2006 for instance.  Historically, they've always played better defense at home.  The Colts improvement defending against the run was a key contributor to their four game winning streak to close the season.
The Jets though are a different animal.  They're a power, smash mouth football team with two solid running backs in Shonn Greene and Ladainian Tomlinson.  Greene has gotten the bulk of the carries down the stretch, but this is postseason play.  My prediction is that LT will get about 65-70% of the carries.
Colts Pass Offense vs Jets Pass Defense
Ind- 288.1 (1) vs NYJ- 200.6 (6)
(Blair White)
So we know that Reggie Wayne will be taken out of the game by Darrelle Revis.  This is what makes Peyton Manning so good.  Just look at the day Pierre Garcon had in the AFC Championship Game last year, 11 receptions 151 yards and a touchdown, not too shabby.  This means Blair White, Austin Collie's replacement, will be target a bunch as well.  Collie caught seven balls for 123 yards and a touchdown in last year's game.
Tight end Dallas Clark will be missed.  If there is an area of concern on the Jets this year defending the pass, it's how they cover opposing tight ends.  We'll see what Jacob Tamme does.
The Jets safety tandem of Brodney Pool and Eric Smith play a bit soft, they can get beaten deep down the field.  I'm curious to see how many times Peyton will try to exploit that.
Manning should have time to throw, the Jets pass rush isn't quite all that impressive.  In last year's game Manning went 26-for-39 for 377 yards and three touchdowns.
In 2009, the Jets defense allowed eight passing touchdowns.  This season, they've given up 24.
Colts Rush Offense vs Jets Rush Defense
Ind- 92.7 (29) vs NYJ- 90.9 (3)
(Sione Pouha) 
The Colts are clearly outmatched in this facet of the game.  Sione Pouha has done a tremendous job filling in at nose tackle for Kris Jenkins.  Inside linebackers Bart Scott and David Harris lay the lumber. 
Joseph Addai is finally back for Indy, and that makes a huge difference.  The Colts have run the ball much better in their final four contests. 
You have to run the ball once in a while if you're Indianapolis to keep the New York defense honest.
Jets Three X-Factors
Ladainian Tomlinson
Mark Sanchez
Antonio Cromartie
Colts Three X-Factors
Peyton Manning
Robert Mathis
Blair White
PREDICTION- Ind- 23-16
(Peyton Manning)
In all honesty, I think both teams have regressed from last season.  Even though the Jets have two more wins.  Two things if the Jets are going to win.  One they have to run the ball effectively to shorten the game, and two, can Mark Sanchez make the completions in the fourth quarter.
Ultimately, I believe Peyton Manning will play well and the Colts will move on to Pittsburgh.
About the Author
Subscribe to author's RSS feed
Written by Adrian Fedkiw
I currently work for the Sports Network. It's the best job ever! I am a 2010 graduate of Temple University where I majored in broadcast journalism, I LOVE SPORTS! That's why I am here. I have a vast knowledge and want to share my athletic intelligence with the world. Some people like to spend their time shooting down aliens in Halo; I like to spend my time watching sports, current and old. It's my passion! I got asked one time how I can watch a game over again when I already know the outcome. 5 minutes later, he's watching Happy Gilmore reciting all of the lines from the movie. Hypocrite! As for my favorite sports teams, I've been a lifelong Philadelphia sports fan. My favorite athlete is Allen Iverson. He didn't like practice that much, but when it came to gametime, no one let it all out on the floor like Iverson. He is absolutely beloved in the city of Brotherly Love. For college athletics, obviously I pay close attention to Temple. (Yes, football too) Even before I stepped foot on Temple's campus for the 1st time in 2005, I was a fan. Oh the good old days of John Chaney! Some other tidbits about myself, I love cheesesteaks, I hydrate myself with Welch's Grape Juice and Snapple. I love the HBO show Entourage. Also, when is Kenny Powers making his much anticipated return in Eastbound and Down!