At first glance this looks like a Saints rout.  But when you dig a bit deeper, this one may be closer than people think. 
Do the Seahawks belong in the playoffs, record wise, absolutely not, but that's how the current NFL system works.  If you win your division, you're in.  It doesn't matter if you go 16-0, or 7-9, like Seattle.  You just have to be better than the other three teams within your division.
The Saints are 1-1 on the road against the NFC West.  Against Arizona, the Saints fell to the Cardinals 30-20.  On a Monday night game at San Francisco, the Holy Ones squeaked by the 49ers 25-22 on a 37-yard Garrett Hartley field goal as time expired.
Yes, you have to take in account that took place in the first five games of the season.  The Saints have played much better football since then.  They're 8-3 after starting 3-2.
Talent wise, the Saints are the superior team, but the Seahawks are at home; anything can happen at Qwest Field, one of the loudest stadiums in the NFL.  
One more thing, you can't discount experience; Seahawk quarterback Matt Hasselbeck has that.  He may throw interceptions in overtime to cost playoff games, but he's a competitor who doesn't get raddled on the big stage.
Let's look at the matchups.
Saints Pass Offense vs Seahawks Pass Defense
No- 277.6 (3) vs Sea- 249.6 (27)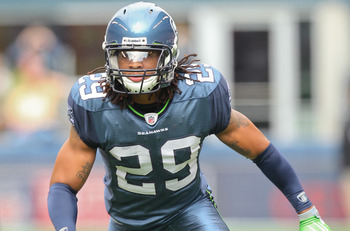 This is where Seattle has to get lucky; they need to force some turnovers.  They are severely mismatched in this aspect of the game. 
Seahawks safety Earl Thomas and Marcus Trufant are fine football players, but it's the other guys in the secondary that are getting exposed.  This is where the depth of the Saint receiving core should flourish.  Guys like Robert Meachem, Devery Henderson, Lance Moore should have huge days.
The Seahawks boast a trio of solid starting linebackers in ouside backers in David Hawthorne and Aaron Curry and middle linebacker Lofa Tatupu.  They should be able to cover tight ends Jeremy Shockey and the suddenly emergent Jimmy Graham.  Reggie Bush is an excellent pass-catcher out of the backfield who is tough to bring down in space.  All three linebackers are solid tacklers but Bush is nifty.
An ex-factor on the Seattle defensive line is Chris Clemons.  He had 11 sacks on the season.  The Saints offensive line is usually fabulous, but they've been a bit off this year.  Brees has made a fair sure of miscues; he has 22 interceptions on the season.
Saints Rush Offense vs Seahawks Rush Defense
No- 94.9 (28) vs Sea- 112.3 (16)
(Reggie Bush)
If New Orleans happen to hold a comfortable lead in the fourth quarter, can they run time off the clock with Reggie Bush, Julius Jones and DeShawn Wynn.  Christopher Ivory and Pierre Thomas are on injured reserve.
This is where Drew Brees comes into play.  The Saints don't necessarily have to hand the ball off.  Brees is accurate enough to throw some screens and short routes.  These are basically extended handoffs for a guy who is one of the most accurate quarterbacks in football.
Seahawks Pass Offense vs Saints Pass Defense
Sea- 208.8 (19) vs No- 93.9 (4)
(Matt Hasselbeck)
Yes, Charlie Whitehurst looked great in the Seahawks NFC West clinching win over St. Louis; but you have to go with the wily old vet.  Matt Hasselbeck has the playoff experience.
New Orleans Defensive Coordinator Gregg Williams loves to bring the blitz, but Hasselbeck quick recognizes a blitz coming and gets the ball off in a hurry.
The Seahawks don't have much to work with at the receiving positions.  Mike Williams has been a great comeback story, but he's average.  Tight end John Carlson is o.k, but that's about all they got.
Safety Malcolm Jenkins is out, and thats most likely means Darren Sharper is starting.  Jenkins is a big loss, but Sharper isn't the worst back up.
Seahawks Rush Offense vs Saints Rush Defense
Sea- 89.0 (31) vs No- 112.3 (16)
(Marshawn Lynch)
Seattle didn't have a runner who rushed for over a 100+ yards all year; the first time 1982, a strike shortened season.
They did pickup Marshawn Lynch from Buffalo earlier on in the year.  Last week, Lynch rushed for a crucial 76 yards in the second half to help clinch victory.
For the Seahawks to have a shot they need to shorten the game and drain clock.  I expect Seattle to utilize the running back tandem of Marshawn Lynch and Justin Forsett immensely.  Again, the issue is whether or not they can average a fair amount of yardage a carry. 
Saints Three X-Factors
Reggie Bush
Drew Brees
Receiving Depth
Seahawks Three X-Factors
Matt Hasselbeck
Marshawn Lynch
Special Teams
PREDICTION- No- 23-20

(Drew Brees)
I just can't do it.  I guess I don't have the ultimate intestinal fortitude to make such a preposterous prediction. 
I will say this, I think this game can get wacky, but ultimately Brees guides the Saints down the field to set up the game-winning field goal.
About the Author
Subscribe to author's RSS feed
Written by Adrian Fedkiw
I currently work for the Sports Network. It's the best job ever! I am a 2010 graduate of Temple University where I majored in broadcast journalism, I LOVE SPORTS! That's why I am here. I have a vast knowledge and want to share my athletic intelligence with the world. Some people like to spend their time shooting down aliens in Halo; I like to spend my time watching sports, current and old. It's my passion! I got asked one time how I can watch a game over again when I already know the outcome. 5 minutes later, he's watching Happy Gilmore reciting all of the lines from the movie. Hypocrite! As for my favorite sports teams, I've been a lifelong Philadelphia sports fan. My favorite athlete is Allen Iverson. He didn't like practice that much, but when it came to gametime, no one let it all out on the floor like Iverson. He is absolutely beloved in the city of Brotherly Love. For college athletics, obviously I pay close attention to Temple. (Yes, football too) Even before I stepped foot on Temple's campus for the 1st time in 2005, I was a fan. Oh the good old days of John Chaney! Some other tidbits about myself, I love cheesesteaks, I hydrate myself with Welch's Grape Juice and Snapple. I love the HBO show Entourage. Also, when is Kenny Powers making his much anticipated return in Eastbound and Down!