Do you remember the last time these two teams met in the playoffs?  It was that epic fourth and 26 game in the 2003 NFC Divisional Playoff.  Freddie Mitchell came through with a 28-yard reception to keep the drive alive.  David Akers would then kick the game-tying and game-winning field goal in overtime. 
Green Bay's Aaron Rodgers is one of the best quarterbacks in the NFL at this time, but I must pose this question.  How many big games has Rodgers won?  He has all the tools; arm strength, accuracy, you name it, but what has he won?
Five of the Packers six losses have come on the road this season.  They always seem to lose tight games.
Even going back to 2008, how many opportunities did the Pack get to win close games.  They wound up missing the playoffs that year with a 6-10 record.  Seven of those losses were defeats of less than seven points.
The Eagles had a shot at a two seed, but the week 16 loss to Minnesota at home proved to be the demise to earning a bye.  With the loss, the Eagles essentially had a bye in week 17.
Let's look at the matchup.
Packers Pass Offense vs Eagles Pass Defense 
GB- 257.8 (5) vs Phi- 216.8 (15)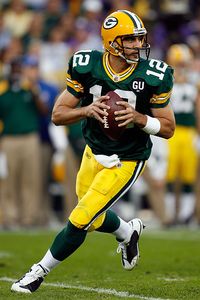 (Aaron Rodgers)
The Eagles love to bring the pressure; but that's where Packer quarterback Aaron Rodgers is at his best.  He gets the ball out very quickly and accurately.  He seems to always make the correct pre-snap decisions.
Eagles defensive end Trent Cole has had another dominant year, posting 10 sacks.
Cornerback depth has been a problem for Philadelphia all season long.  Asante Samuel is a stud, but lately, the opposing signal callers have avoided throwing the ball his way.  Since Ellis Hobbs' injury, the Eagles have yet to find a suitable corner to start opposite of Samuel.  Dimitri Patterson has been picked on mightily the last couple of weeks.
The Packers like to use three to four wide receiver sets.  This should exploit the depth of the Eagles cornerbacks.  Philadelphia defensive coordinator Sean McDermott is going to have to do a fantastic job of disguising his coverages.
The Eagles have the worst red-zone defensive percentage (76.7) in the last 22 years in the NFL.  The Pack own the sixth best red-zone offense
Packers Rush Offense vs Eagles Rush Defense
GB- 100.4 (24) vs Phi- 110.4 (15)
(Stewart Bradley)
The loss of Green Bay running back Ryan Grant in week one may be the biggest loss of the season for the Pack.  They've tried a plethora of backs, but none seem to want to step up.  This will be a factor down the stretch if Green Bay has a lead.  Brandon Jackson is the leading rusher, but they've tried out guys like John Kuhn, Dmitri Nance and James Starks.
On the Eagles defensive front; defensive tackle Antonio Dixon has been a nice find.  He took over for an injured Broderick Bunkley.  The other question that remains is if Eagle middle linebacker Stewart Bradley is able to start.  Seventh round rookie Jamar Chaney has done an admirable job in his absence. 
Eagles Pass Offense vs Packers Pass Defense
Phi- 244.1 (9) vs GB- 194.2 (5)
(Charles Woodson)
If you thought Antoine Winfield did a remarkable job bringing the cornerback blitz against Eagles quarterback Michael Vick, wait till you see Charles Woodson.  He's arguably the best cornerback blitzer in the game.  How will the Eagles protection handle Woodson when he blitzes.
The other x-factor is Clay Matthews.  He too loves to bring the heat. 
The Eagles offensive line has been suspect at best.  They must get their act together; especially against the aforementioned Woodson and Matthews.
If the offensive line can give Vick time to throw, then DeSean Jackson and Jeremy Maclin can go to work deep.
What Jackson and Maclin must improve upon is their blitz recognition.  If the pressure comes, they have to cut off their routes.
Eagles Rush Offense vs Packers Rush Defense
Phi- 145.2 (5) vs GB- 114.9 (18)
(LeSean McCoy)
Eagles head coach Andy Reid is stubborn when it comes to running the football.  He believes in throwing the ball to get the lead, and running it to secure the lead. 
LeSean McCoy has been absolutely explosive for the Birds so far this season.  He has to get the ball, whether he's carrying it or catching screen passes. 
Packers Three X-Factors
Charles Woodson 
Clay Matthews 
Aaron Rodgers
Eagles Three X-Factors
LeSean McCoy
Michael Vick
Offensive Line
PREDICTION- Phi- 27-24
(Michael Vick) 
This is by far the best game of Wild-Card weekend in my opinion.  In my humble opinion, the winner of this game will represent the NFC in the Super Bowl.
I like the Packers defense a lot, but the Eagles got that extra week of rest which benefited Vick greatly.
Something tells me that Vikings performance woke the Eagles up.
I think Vick and Rodgers have a duel for the ages, but the leading point scorer in Eagles history, David Akers, comes through with a game-winning field goal.
One last thing, the Packers struggle with covering punts.  DeSean Jackson is one of the most electrifying punt-returners in the game.  How much of a role will this play?
RELATED ARTICLE: EAGLES-PACKERS NOT A RE-MATCH  http://prosportsblogging.com/nfl-football/philadelphia-eagles/eagles-packers-not-a-rematch/
CPR 1-8-2011
About the Author
Subscribe to author's RSS feed
Written by Adrian Fedkiw
I currently work for the Sports Network. It's the best job ever! I am a 2010 graduate of Temple University where I majored in broadcast journalism, I LOVE SPORTS! That's why I am here. I have a vast knowledge and want to share my athletic intelligence with the world. Some people like to spend their time shooting down aliens in Halo; I like to spend my time watching sports, current and old. It's my passion! I got asked one time how I can watch a game over again when I already know the outcome. 5 minutes later, he's watching Happy Gilmore reciting all of the lines from the movie. Hypocrite! As for my favorite sports teams, I've been a lifelong Philadelphia sports fan. My favorite athlete is Allen Iverson. He didn't like practice that much, but when it came to gametime, no one let it all out on the floor like Iverson. He is absolutely beloved in the city of Brotherly Love. For college athletics, obviously I pay close attention to Temple. (Yes, football too) Even before I stepped foot on Temple's campus for the 1st time in 2005, I was a fan. Oh the good old days of John Chaney! Some other tidbits about myself, I love cheesesteaks, I hydrate myself with Welch's Grape Juice and Snapple. I love the HBO show Entourage. Also, when is Kenny Powers making his much anticipated return in Eastbound and Down!