Green Bay and Atlanta met at the Georgia Dome in week 12 with the Falcons narrowly prevailing 20-17 on a game-winning 47-yard field goal by Matt Bryant with nine seconds left.
Atlanta has the Georgia Dome factor, they were 7-1 there this year.
The Packers beat the Eagles 21-16 last week in the Wildcard Playoff.
Packers Rush Offense vs. Falcons Rush Defense
GB— 100.4 (24th) vs. Atl— 105.9 (10th)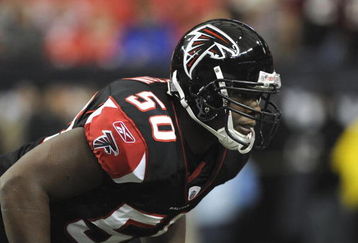 (Curtis Lofton)
I think the Packers finally found a running back in James Starks.  He carried the ball 23 times for 123 yards.
Mike McCarthy likes to keep a balanced offensive attack 50/50.  With balance in the running game, this allows Rodgers to convert on managable third down situations.
Starks, the rookie from Buffalo, just follows his blocks and runs hard; nothing fancy in Green Bay's full-house backfield.  John Kuhn is a huge asset because of his blocking, running and pass catching skills.
The Packers always seem to find a back, average, but productive by the end of the season.  Here's a couple names over the last couple of years; Samkon Gado (06), Ryan Grant (07), and now James Starks.
The Falcons have an underrated rushing defense.
Curtis Lofton is one of the most underrated middle linebackers in football.  He plays with great insticts, and possesses great tackling ability. 
Packers Pass Offense vs. Falcons Pass Defense
GB—257.8 (5) vs. Atl—226.6 (22)
(Greg Jennings)
Let's face it, the Green Bay running backs aren't pro-bowlers, but with a guy like Aaron Rodgers at quarterback, you're using the running game to set up those managable third down situations that Rodgers is so good at.  He has a quick release, throws a tight spiral, and is extremely accurate on those hitch routes the Packers like to run.
Atlanta though, is third best in the NFL in third-down conversion percentage.
Atlanta's depth in the secondary is a problem.  The Packers have four talented receivers in Greg Jennings, Donald Driver, Jordy Nelson and James Jones. 
Falcons Rush Offense vs. Packers Rush Defense
Atl—118.2 (12) vs. GB—114.9 (18)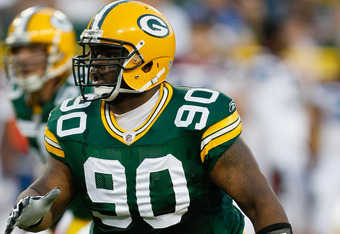 (B.J. Raji)
Atlanta uses a lot of 22 personel (two backs, two tight ends) with Michael Turner, one of the most powerful runners in the game.  He has such great leg strength with his mammoth, tree trunk sized thighs.
Green Bay nose tackle B.J. Raji is huge in this game.  He needs to occupy two to three blockers to free up space for the linebackers to make tackles.
Charles Woodson plays the run well when he lines up as a slot corner.
Falcons Pass Offense vs. Packers Pass Defense
Atl—222.9 (15) vs. GB— 194.2 (21)
(Matt Ryan)
Atlanta though, is third best in the NFL in third-down conversion percentage.
Green Bay and Atlanta both have the same philosophies, run the ball and move the chains with third down conversions.
They both run the ball in different ways, but the game-plan is the same.
Matt Ryan is an Aaron Rodgers clone.  That's all that needs to be said.
The Green Bay secondary is better than Atlanta's.  Cornerback Charles Woodson and free safety Nick Collins are in the Pro-Bowl every year.  Tramon Williams is an underrated corner.
The Packers generate tons of pressure led by 3-4 outside linebacker Clay Matthews.  He's my Defensive Player of the Year.
Packers' Three X-Factors
Aaron Rodgers   
B.J. Raji 
Clay Matthews
Falcons Three X-Factors
Matt Ryan
Curtis Lofton
Michael Turner
PREDICTION: Packers 24 Falcons 19
To me it comes down to who converts more third downs.  Atlanta is third in the NFL on third down, while Green Bay is eighth.  Aaron Rodgers vs Matt Ryan, who's going to make more conversions?
Roddy White vs Greg Jennings; who picks up more third down receptions?
The Falcons must run the ball extremely well, because I like the Packers chances in pass rush situations against Atlanta.
About the Author
Subscribe to author's RSS feed
Written by Adrian Fedkiw
I currently work for the Sports Network. It's the best job ever! I am a 2010 graduate of Temple University where I majored in broadcast journalism, I LOVE SPORTS! That's why I am here. I have a vast knowledge and want to share my athletic intelligence with the world. Some people like to spend their time shooting down aliens in Halo; I like to spend my time watching sports, current and old. It's my passion! I got asked one time how I can watch a game over again when I already know the outcome. 5 minutes later, he's watching Happy Gilmore reciting all of the lines from the movie. Hypocrite! As for my favorite sports teams, I've been a lifelong Philadelphia sports fan. My favorite athlete is Allen Iverson. He didn't like practice that much, but when it came to gametime, no one let it all out on the floor like Iverson. He is absolutely beloved in the city of Brotherly Love. For college athletics, obviously I pay close attention to Temple. (Yes, football too) Even before I stepped foot on Temple's campus for the 1st time in 2005, I was a fan. Oh the good old days of John Chaney! Some other tidbits about myself, I love cheesesteaks, I hydrate myself with Welch's Grape Juice and Snapple. I love the HBO show Entourage. Also, when is Kenny Powers making his much anticipated return in Eastbound and Down!