What an inconsistent schedule. Feels like forever since the Rangers last game, a win over Pittsburgh on Sunday. But don't get used to that as the Rangers start tonight 3 games in 3.5 days with back to backs tonight against the Kings and tomorrow in New Jersey and the Sunday matinee game against the Flyers.
But for today we focus on tonight. Other teams are gaining ground on the Rangers while the teams ahead of them pull away. It's time that the Rangers start taking 2 points from every game. Every game is a game 7 and losing now could be the difference between playing in that second season and sitting on the sidelines watching.
Judging by the optional skate this morning it seems as if Tortorella is going with Henrik in net tonight. A bit odd if you ask me with the clustered schedule coming up, but I think the more work he gets the better he plays and Henrik has had enough rest so far this week to handle the load that should be coming his way. I see no reason to put Marty in net against the surging Devils as well as no reason to put Marty in net against the Flyers. In my opinion tonight was the logical place to give Marty a start, and again he may start as Torts has neither denied nor confirmed Lundqvist being in net. That word I'm sure we'll get when he meets the media at 5 so keep checking twitter for those updates.
From the morning optional Wolski also said that he'd be ready to go tonight but ultimately that falls on Torts and I think he's going to stick with Newbury for tonight and not risk losing Wolski early in the game and playing a forward short.
If I had to take a shot at lines…
Dubinsky-Prospal-Gaborik
Avery-Anisimov-Stepan
Zuccarello-Christensen-Newbury
Prust-Boyle-Callahan
But again just my thought, no sure bet on those either.
As far as tonight however the Kings come into the Garden absolutely on fire. 8-0-2 in their last ten and on a three game winning streak they're a tough team to handle right now, and they're hungry. The Western Conference is an absolute crapshoot right now. Teams placed 4th through 8th are all tied with 68 points. The Kings sit in 9th with 67 points, only two points out from making the jump from 9th in the conference to third with the Pacific Division lead so you know what's going to be on their mind tonight.
Kings also played last night in Columbus so usually how this works out is that the team that played the night before comes out hard, so the Rangers need to be ready for that and handle the storm that comes their way in the first period. Hopefully after that the Rangers can grind out a good effort and walk away with 2 points, whether it comes in regulation or OT tonight doesn't matter as giving the Kings a point won't hurt the Rangers playoff chances (obviously).
Here's a quick shot of the standings before the games tonight…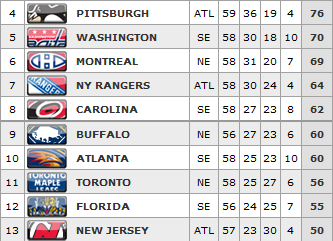 Standings 2/17
Puck drops at 7pm on MSG and NHL network (hoping for a Rangers feed here).
If you're watching the scoreboard too the Rangers need..
Coyotes over the Thrashers
Oilers over Canadiens
Sharks over Capitals
Enjoy the game everyone!
About the Author
Subscribe to author's RSS feed
Written by Adam Gavriel