God, the titles I come up with…seriously, I'm a genius.
Post-game last night Tortorella came up with what may be the quote of the season, what may be the quote of the since he asked Brooksie if he was beat up at the bus stop as a kid. Simply put, Tortorella said that "this team has balls" and in certain aspects he's right, but in other aspects I'd have to disagree with the coach. Hopefully with the summation of the game you read below you'll be able to figure out where I agree and where I do not.
In recent games including their losing streak, and now new winning streak, the Rangers have seemed to have an impossible ability in holding a lead. Last night was no different. In the game the Rangers took a 2-1 and 3-2 lead and relinquished both of them allowing the Kings to grab a point and have the ability to steal 2 on the road as we've watched the Rangers successfully accomplish 17 times this season.
Gaborik makes it 2-1, and the Rangers give away the lead 1:40 later. Anisimov makes it 3-2, Kings come back and tie it 47 seconds later. This third goal coincidentally is the only goal I'm going to blame on Henrik last night. He seemed to lose focus of where the puck was at a very inopportune time and we as fans had to watch Dustin Brown bank it off of Hank behind the net and into the goal. It was a terrible thing to see, so late in the game after such a huge goal by Anisimov. Also, not exactly sure why that goal is being credited to Anisimov as he clearly never touched the puck, Dubinsky robbed of his 20th goal. But back to Hank. Had a pretty heated debate with my brother during the game about the thoughts of goalies and deflections where we disagreed completely. He was blaming Hank for being weak on deflections all year and I think more deflections that end up saved are luck rather then the goalie being able to anticipate and react. The dude is human, it's impossible to react to that kind of directional change at that pace. Especially on the Kings third goal last night. A point shot from Matt Greene who hadn't scored in 73 games before tonight. Henrik has the shot lined up and there are no LA players in the lane. However there are two Rangers in the lane, Boyle and Avery, and they both get lazy and throw their sticks into the shooting lanes to try and block the puck. Now if I'm Lundqvist here the last thing I am anticipating is a deflection when only my guys are in the shooting lane. I'm expecting them to either put their bodies in front of it or get out of the way so I can see it, not throw their stick at it (not sure if it hit Aves or Boyle) and deflect it right by me.
Yes Henrik is slumping, but no he has not relinquished his elite status in the NHL. He's gonna be a huge part of the Rangers push to the playoffs.
Onto some other stuff from the game…
I don't like Stepan on the wing…I don't, he's going to be a center in this league as he has the two way game that compliments that position perfectly, he's not built for the wing and it's detrimental in my opinion to keep switching him up.
I also don't like Zuccarello being wasted. Every shift he's out there you notice him so I'm not sure why his minutes have dwindled although it does speak to the fact that a lot of Rangers forwards are going and going well right now.
Avery aside from the laziness in the defensive end that led to the Kings third goal was really going last night too. As I tweeted yesterday the FSN LA cameras panned to Avery as he was yelling down the bench when the Rangers were down 1-0 to wake up and start playing. At first I thought he was yelling at someone specifically but I think it makes more sense if he was yelling at the whole bench. Not too surprisingly the Rangers tied the game shortly after that.
Everyone still want to trade Gaborik? Didn't think so.
I think Prospal's speed, or lack thereof, is becoming a problem on the Rangers forward corps. A lot of the time it looks like he just can't keep up with the likes of Dubi and Gabby on his wings. However I think this is due to him still trying to get his legs under him and get back up to speed. I'm not worried about Prospal. Speaking of Dubi though, he's been taking some pretty terrible penalties lately, he needs to stay aggressive but he needs to do it the right way. Every other part of Dubi's game is going right now but he needs to know how to be aggressive the right way.
Callahan has been an absolute animal recently. Soon when you think Rangers, and you think how the Rangers want to portray themselves, the type of game the Rangers want to play you're going to think of Ryan Callahan. Want to make the NHL? Watch a DVD of Callahan highlights.
Zuccarello and Christensen are insane in the shootout. Christensen pulling of the Forsberg and Zucc doing his thing. They're fun to watch in that part of the game as much as that part of the game sucks. Where was Zuccarello in Philadelphia last season?
Del Zotto – Gilroy maintains their status as the worst defensive pairing in the NHL.
McDonagh – Sauer continues to become a fantastic middle pairing for the Rangers as it becomes more…and more…and more obvious as I have been preaching here on wordpress that the Rangers need for another veteran defenseman is monumental. Kaberle was dealt to Boston today, so he's off the list. My list of the Rangers trade deadline targets is…McCabe and Montador. McCabe is a good veteran presence and not afraid to shoot which will help the PP. Montador would be a great steady presence to have on a third pairing.
It was great to see the Rangers show off their balls last night and come away with two points and get a streak going as they march into New Jersey tonight.
—————————————————————
Going to be Hank VS Hedberg tonight, no Brodeur for the surging Devils as he is injured (again) and not able to start. Marty will be on the bench to back up Hedberg tonight though as far as I know.
Same thing goes for the Devils as for the last time the Rangers faced off against them. They're the same Devils that we all know and hate, not the Devils from earlier this season. To make the playoffs the Devils are going to need to pull off some crazy record in their last 25 games like 20-5. It would be a great, and I mean a GREAT feeling to be able to dish the Devils a loss here and put them 20% closer to missing the playoffs for the first time in forever. Also wouldn't hurt to start pulling away from the pack here with 2 more points in the Rangers pocket.
I love the fact that Torts is going right back to Hank tonight, especially against a team who he has absolutely dominated in his young career. If Hank can come in to tonight's game and play the way he plays, maybe he gets a little confidence going and gets off the "slump" he's experiencing right now.
It's also going to be great to watch hank respond to the Devils as the last time the Rangers played them (a 3-2 loss) Hank was yanked in the second period after giving up all 3 goals on just 12 shots. I think we're in for a goaltending treat tonight.
Here's a shot of the standings before tonight's games…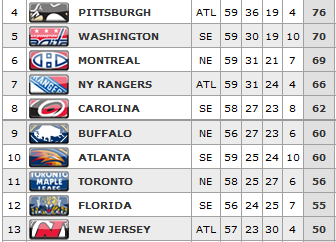 On the scoreboard the Rangers could use a Flyers win over the Hurricanes
Blues over Sabres
Red Wings over Panthers
Of course, none of that matters with two points in New Jersey tonight!
Puck drops at 7 pm in Jersey on MSG, enjoy the game everyone
About the Author
Subscribe to author's RSS feed
Written by Adam Gavriel