Even further, that's exactly what classic Devils Rangers looked like.
Even further, that's exactly what a system like Jaque Lemaire's can make a goalie look like. This defensive trap, four in the neutral zone is going to earn Marty Broduer best goalie ever honor's while goalie's like Scott Clemmenson and Johan Hedberg can step into the system and face 15 shots for the easiest shutout of their career.
It was a joke watching the game yesterday towards the end when the Devils were playing dump and chase and falling into a formation that looked sort of like this…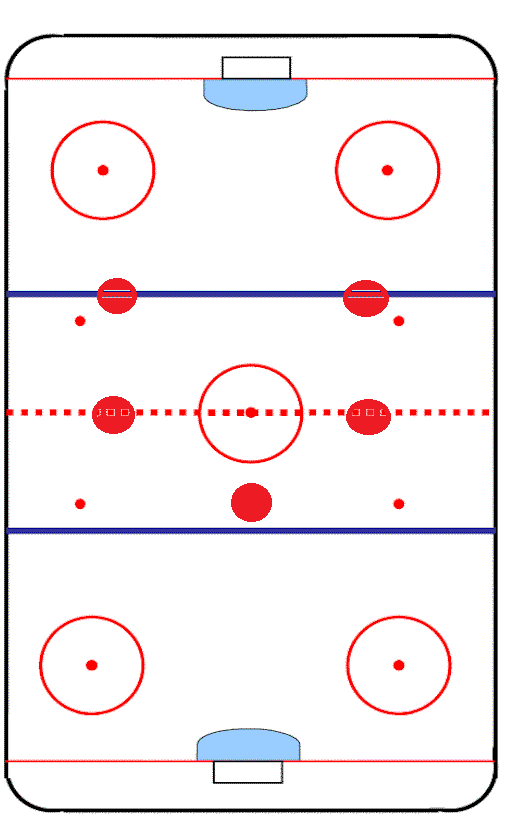 Wow I think that's a much bigger picture then I wanted…
But hey, I'm not here to fault the guy who has developed a system so perfect for winning hockey games that the Devils are 15-1-2 in their last 18 and surging back into the playoff race making it look easy.
I'm here to fault the guy that never seems to have a gameplan to match other teams. The guy whose so stubborn that he can't adjust his game to another team and it ends up costing the Rangers 2 big points in the standings.
It's not like it was a surprise what the Devils were trying to do last night. Wait for the Rangers to make a mistake, capitalize, get a goal and shut it down the rest of the way. I knew it, you knew it, every Rangers fan who had ever watched a Rangers Devils game knew it…so what was Tortorella thinking?
Thanks to the lockout the trap is beatable, in many ways the trap is beatable. But what the Rangers on the ice were trying to accomplish last night was not the right way to beat the trap.
For example, you can carry the puck through the neutral zone in layers which opens up passing lanes and make quick decisions and passes to get past the "forecheckers" and carry it into the d-zone. The Rangers did not do this yesterday.
Or, you could dump it in and bang bodies hard, now this makes sense because that's what the Rangers have been doing all season and it is doubly effective against the trap. Dump it in and bang bodies, wear the defenseman out, grind hard behind the net and try to get ugly goals. You know who was doing this last night? Sean Avery. Avery had a shift early in the third period with Gaborik and Christensen and they were really cycling the puck well behind the net and trying to create chances, but after that shift I don't think Avery saw the ice again, and he definitely didn't see the ice again with Gaborik.
Also with Avery, not sure why Tortorella didn't put Sean on the ice to live inside Kovalchuk during the game. That's the matchup in Rangers Devils. Kovalchuk may be Avery's favorite target (behind Fatso) and it's amazing how easily he can get Kovalchuk off of his game and into the box for 2 or more minutes. Don't think I saw Avery and Kovalchuk on the ice at the same time during the game, again a coaching mistake in my mind.
But sometimes you have to kick it up to just being one of those nights, and maybe last night was one of them…but I don't think so. Last night was such a winnable game it's an absolute travesty the Rangers couldn't leave New Jersey with at least a point in their pocket to head into Sunday's matinee against the Flyers.
Remember boys and girls, Renney was fired at 31-23-7. Check the standings, Rangers are 31-25-4 and falling away from a possible playoff berth and facing two straight years of no second season.
—————————————————-
As for the Sunday matinee against the Flyers, well, I'm not too confident.
First off it's an afternoon game and I believe the Rangers are 1-5 in games that start before 5 pm.
It's also a Sunday home game and I don't think the Rangers record in their heritage jerseys is all that great either.
And finally, it's the Flyers, the best team in the east. And not only is it the Flyers, but it's the Flyers who absolutely have the Rangers number so far this season. Rangers are 0-3 so far against the Flyers and have been outscored 11-4 in those games. So again, color me not so confident.
However this could be one of those games that THESE (New) New York Rangers come out firing on all cylinders. If last night is any indication Hank is back as he was absolutely stellar in net. Last night would've been a prime example of a goalie stealing a game for the team.
So what are we going to have tomorrow? Typical NYR let down matinee game, or new NYR coming out hard and banging bodies, getting dirty and clawing their way to two points in the standings…Guess we'll have to wait and see.
Gametime is 12 (so puck will probably drop at 1230) on NBC.
Standings before tonight's games…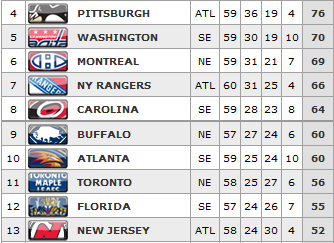 On the scoreboard tonight NYR needs…
Devils over Hurricanes
Oilers over Thrashers
Lightning over Panthers
But like usual, most importantly, the Rangers need to find ways to stack points on their behalf however they can.
About the Author
Subscribe to author's RSS feed
Written by Adam Gavriel