After another two day break from games, well, another two day break that felt like forever, the Rangers head back to work tonight to take on the 6th place Canadiens on home ice. The Habs have 7 more points than the Rangers do at this point in the season which could prove insurmountable. However with a win tonight the Rangers can continue to look ahead of them rather than behind them.
Avery and Gilroy are taking part in the morning skate today so it's no surprise that these two will likely be the healthy scratches tonight. Avery after getting another opportunity played himself out of Tortorella's lineup Tuesday night against the Islanders with three minor penalties. It will be interesting to see when, or even if, Avery is re-inserted into the lineup.
With Avery out expect Wolski to jump back into his spot with Stepan and Zuccarello and all other lines to remain intact.
Also interesting to note tonight is the fact that Lundqvist has yet to win three straight games this season, riding a two game win streak into tonight Henrik will obviously try to eliminate that statistic. Not to mention a win tonight gives Lundqvist his 6th straight 30 win season which would continue to build his NHL record of most consecutive 30 win seasons upon entering the NHL.
The Rangers sit at 37 wins, and with a win tonight will tie their win total of last season with 38.
But more importantly with a win tonight the Rangers nearly solidify the cushion they have over the Hurricanes who are beginning to falter. A win tonight would be huge in the effort in taking over the 6th spot from the Canadiens by ensuring a four point swing in the Rangers favor.
Carey Price got the win yesterday for the Habs while making 35 saves in the process, will be interesting to see if they allow him to go back to back or let Auld try and work another win over the Rangers. My guess is the Habs go with Auld tonight VS Lundqvist.
But most importantly a win tonight to put the Rangers on a 3 game winning continues to show the fans that this squad is for real and they have faith in their abilities to clinch their own destiny and get themselves into the playoffs.
Wouldn't hurt to also have the Canes fall to the Islanders, and if the Capitals beat the Devils tonight it's all but over for New Jersey.
It's the stretch run folks…let's see what this (young) team is made of.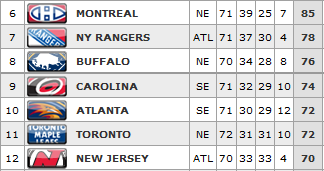 Lundqvist VS Montreal this season: 2 games; 0-2; 2.56 GAA; .937 sv%
Auld VS NYR this season: 1 game; 1-0; 1.00 GAA; .962 sv%
Time to end those struggles against mediocre backups.
Puck drops at 7pm on MSG 2
About the Author
Subscribe to author's RSS feed [1]