For whatever reason, year after year, the Twins get overlooked, yet they always seems to sit atop the AL Central standings by season's end.
Last year they won 94 games, despite the opening day starters missing more than 300 games.  Justin Morneau missed the second-half of the season due to a concussion.
Speaking of Morneau, he plans on starting opening day, but that remains to be seen.
INFIELD
C Joe Mauer: 9.25
1B Justin Morneau: 8.5 
2B Tsuyoshi Nishioka: 7
SS Alexi Casilla: 7 
3B Danny Valencia: 7
Joe Mauer (28) 510 AB .327 BA 88 R 9 HR 75 RBI 1 SB 
Mauer is a hitting machine.  He has a short, quick stroke and hits line drives all over the field.  He's a very good receiver, and has great mobility.  He has a strong and accurate arm.
Justin Morneau (29) 296 AB .345 BA 53 R 18 HR 56 RBI 0 SB
Morneau was on a MVP pace until his concussion cost him the season.  He's selective at the plate.  He gets good leverage with his swing and hits with very good power.  He lacks range at first, but has good hands.
Nishioka played shortstop in Japan, but he'll move to second in the states.  He's hitting .386 so far during the spring.  He's quick and agile in the field. 
Alexi Casilla (26) 152 AB .276 BA 26 R 1 HR 20 RBI 6 SB
Danny Valencia (26) 299 AB .311 BA 30 R 7 HR 40 RBI 2 SB
Valencia has a quick swing and likes to pull the ball.  He's a below-average third baseman, but has a strong arm.
OUTFIELD
LF Delmon Young: 8 
CF Denard Span: 7.25
RF Michael Cuddyer: 7.5
DH Jason Kubel: 7.25
Delmon Young (25) 570 AB .298 BA 77 R 21 HR 112 RBI 5 SB
For a little while, Young was seen as a disappointment.  Then he broke out.  He's aggressive and has very quick hands.  He loves to rip fastballs.  He's below average in left, but has a strong arm.
Denard Span (27) 629 AB .264 BA 85 R 3 HR 58 RBI 26 SB
Span has a two-part swing, but gets to the ball quickly.  He sprays the ball around and makes good contact.  He uses his speed and good jumping ability to track down balls in center.
Michael Cuddyer (32) 609 AB .271 BA 93 R 14 HR 81 RBI 7 SB
Cuddyer is an underrated hitter.  He uses the whole field, and turns on fastballs.  He moves back to right field after playing first last season.  He's a solid fielder with a strong arm.
Jason Kubel (28) 518 AB .249 BA 68 R 21 HR 92 RBI 0 SB
Kubel has an upper-cut swing and pulls the ball with power.  He struggles against lefties.
STARTING PITCHING
Francisco Liriano: 8
Carl Pavano: 7.25
Scott Baker; 7.25
Brian Duensing: 7.25
Nick Blackburn: 7
Francisco Liriano (27) 192 IP 14-10 3.62 ERA 1.26 WHIP 201 K
Liriano has a low to mid-90′s fastballs which has late life.  He throws a tight, late biting slider.  His mechanics have improved, although they remain inconsistent at times.  He also mixes in a changeup.  
Carl Pavano (35) 221 IP 17-11 3.75 ERA 1.19 WHIP 117 K
Pavano saw a resurgence of his career last year.  He saw an increase in velocity in his fastball over recent years.  He also mixes in a slider and a solid changeup.
Scott Baker (29) 170 IP 12-9 4.49 ERA 1.34 WHIP 148 K
Baker is a fly-ball pitcher who mixes speeds with his fastball.  He likes to go up with his fastball to strike people out.  He has solid breaking pitches and changeup.  He has solid command and knows how to pitch.
Brian Duensing (28) 131 IP 10-3 2.62 ERA 1.20 WHIP 78 K
Duensing throws across his body with a low-90′s fastball.  He keeps the ball down in the zone.  He changes the speed and break of his slider.  He also throws a big, looping curveball.
Nick Blackburn (29) 161 IP 10-12 5.42 ERA 1.45 WHIP 68 K
Blackburn pitches to contact.  He has a tailing low-90′s fastball which he commands well.  His secondary pitches aren't great.  Kevin Slower should see some starts during the season.   
BULLPEN
RP Jeff Manship: 7
RP Alex Burnett: 7
RP Jose Mijares: 7
SU Matt Capps: 7.25
CP Joe Nathan: 8 
Jeff Manship, Alex Burnett, Jose Mijares
The Twins lost a lot of depth in their bullpen with the departures of Brian Fuentes, Matt Guerrier, Jesse Crain and Jon Rauch
Matt Capps (27) 73 IP 5-3 42 SV 2.47 ERA 1.26 WHIP 59 K
Capps struggled mightily in 2009, but bounced back nicely last season.  He did a great job as the closer after being acquired from Washington.  He throws a boring, heavy mid-90′s fastball and a tight slider.
 Joe Nathan (36) DNP
Nathan comes back after missing last season due to elbow injury.  He has a loose, over the top delivery.  He locates his fastball well, and freezes batters with his tight, tilted slider.  He'll also mix in a curveball.
Sizing up the Twins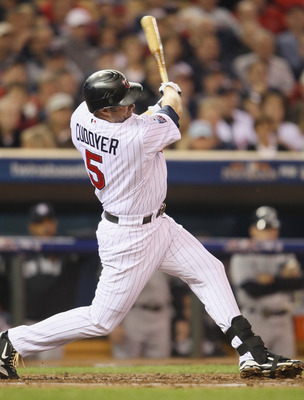 Elsa/Getty Images
Projected Lineup
1. Denard Span: 7.25
2. Tsuyoshi Nishioka: 7
3. Joe Mauer: 9.25
4. Justin Morneau: 8.5
5. Michael Cuddyer: 7.5
6. Delmon Young: 8
7. Jason Kubel: 7.25
8. Danny Valencia: 7
9. Alexi Casilla: 7
Projected Starting Rotation 
Francisco Liriano: 8
Carl Pavano: 7.25
Scott Baker; 7.25
Brian Duensing: 7.25
Nick Blackburn: 7
Bullpen
RP Jeff Manship: 7
RP Alex Burnett: 7
RP Jose Mijares: 7
SU Matt Capps: 7.25
CP Joe Nathan: 8 
Bench/DH
Jason Kubel, Jim Thome, Drew Butera, Jason Repko : 7.25
Manager
Ron Gardenhire: 7.5
INF: 38.75
OF: 22.75
SP: 36.75
RP: 7
CP: 15.25
MISC: 14.75
Hitting: 61.5
Pitching: 59
TOTAL: 135.25
Ten years ago, there was talk of contraction with the Twins.  Since then, Minnesota has averaged 90 wins a season, and have won the AL Central six times.
Prediction: 94-68 1st AL Central
About the Author
Subscribe to author's RSS feed
Written by Adrian Fedkiw
I currently work for the Sports Network. It's the best job ever! I am a 2010 graduate of Temple University where I majored in broadcast journalism, I LOVE SPORTS! That's why I am here. I have a vast knowledge and want to share my athletic intelligence with the world. Some people like to spend their time shooting down aliens in Halo; I like to spend my time watching sports, current and old. It's my passion! I got asked one time how I can watch a game over again when I already know the outcome. 5 minutes later, he's watching Happy Gilmore reciting all of the lines from the movie. Hypocrite! As for my favorite sports teams, I've been a lifelong Philadelphia sports fan. My favorite athlete is Allen Iverson. He didn't like practice that much, but when it came to gametime, no one let it all out on the floor like Iverson. He is absolutely beloved in the city of Brotherly Love. For college athletics, obviously I pay close attention to Temple. (Yes, football too) Even before I stepped foot on Temple's campus for the 1st time in 2005, I was a fan. Oh the good old days of John Chaney! Some other tidbits about myself, I love cheesesteaks, I hydrate myself with Welch's Grape Juice and Snapple. I love the HBO show Entourage. Also, when is Kenny Powers making his much anticipated return in Eastbound and Down!