The Grizzlies head coach, Lionel Hollins, has been accused of losing the last 2 games of the season on purpose to avoid playing the Lakers in the first round. How could you blame the big guy? Looks like he was thinking exactly as I was which shows what an intelligent young man Hollins is.
As I have stated time and time again, The Grizz just don't match up well against the Lakers. They have played the Spurs well throughout the season and have a much better chance at the upset. Memphis has been taking shots for this so called tanking on purpose but you have to give your team the best chance to win and I believe they truly made the right decision. When I have to listen to Rick Reilly saying how you end up cursed for such a move, it just baffles me. Enough Ricky.
It will be easier to go hard in the paint on the Spurs as they lack the necessary "length" to stop it from happening. Andrew Bynum, Pau Gasol, and Lamar Odom possess magnificent "length" and considering Memphis can't shoot 3′s to save their lives it seems to be an impossible quest. Speaking of quests, I was very disappointed with the new film "Your Highness." It was watchable as I have somehow seen it twice already but I was just hoping for an instant classic. Combining funny people using English accents with ancient times is my dream come true. It had it's moments but just didn't come through for me. Another Danny Mcbride bomb. His movie with Will Farrell, "Land of the Lost," was highly disheartening as well for me. No where near "Hall Pass" level.
The Spurs shoot quite a few 3 pointers but if they are at all off on these shots, I can see the Grizz winning in 7. I'm going to say Povavich has a slight coaching advantage over Hollins but the pockmarked old man can't get on the court and play right? Tony Allen will have to continue his stellar play along with some nice bench work from O.J. Mayo, but we all know who the key is. Z-bo da bald headed nut AKA Zachariah Randolph is going to have to come out harder then Ron Jeramy in his latest film for the Grizzlies to take this one home. I'm talking like averaging 28 points and 15 boards a game. I've seen it in my dreams.
It all starts on Sunday. Grizz Nation, get out your old "Big Country" and Damon Stoudamire jerseys, get to your local bar and yell in Spurs fan's faces all night long. Thats what Bryant "Big country" Reeves would want you to do. What a legend………..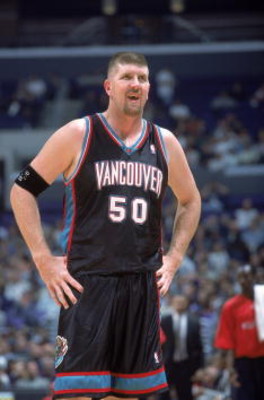 About the Author
Subscribe to author's RSS feed [1]