The Pittsburgh Pirates have 18 consecutive losing seasons, an all-time mark.
As unbearable and agonizing as this is for Pirates fans, the Philadelphia Phillies had a 31-year stretch from 1918-1948 that defied logic.
In those 31 years the Phillies had just one winning season (1932). And even that year they finished just 78-76.
Just think about that for a second… 31 YEARS OF CONSISTENT TORTURE!

They lost 100 games 12 times, and had a five year stretch of 100-plus defeats from 1938-1942.  Remember, they played just 154 games back then.
Their compiled record, 1752-2941, was a winning percentage of just .373.  In today's 162 game schedule, that's an average record equivelance of approximately 60-102.
At least there were two teams in Philadelphia back then for fans to choose from.
10. 1883 Philadelphia Quakers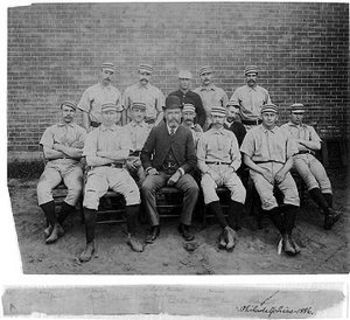 Record: 17-81
The inaugural season in Philadelphia history foreshadowed what would become the most losing franchise in professional sports history.
Grant it, it's tough to be successful in your expansion year, but 17-81 is mind-blowing.
On Aug. 21, 1883, the Quakers fell victim to a 28-0 shellacking by the Providence Grays.
Pitcher John Coleman won 12 of the 17 games.  His record that season….. 12-48!
The Philadelphia A's on the other hand won the American Association pennant.
9. 1996 Phillies

Record- 67-95
The All-Star Game was the only exciting happening of the 1996 season.
After a couple of dismal years after the magical 1993 NL pennant winning year, the Phillies fired manager Jim Fregosi.
Philadelphia went 54-61 in the lockout shortened season in 1994, 69-75 in the 144 game 1995 season and of course 67-95 in 1996.
8. 2000 Phillies

Record: 65-97
There were higher expectations than in the years prior due to the acquisition of Andy Ashby during the offseason. Finally, the Phillies had an ace to back up Curt Schilling.
Or, so they thought.
Instead, Ashby was a huge disappointment. With Philadelphia that year, he compiled a 4-7 record with a 5.68 ERA before being traded to Atlanta before the trade deadline.
The Phillies also traded Curt Schilling to Arizona, and manager Terry Francona was fired.
7. 1988 Phillies

Record: 65-96
The Phillies finished last in their division for the first time in 15 seasons.
After the 1983 World series appearance of the "Wheeze Kids" things went downhill. Due to age and horrible trades such as the Ryne Sandberg and Von Hayes deals by owner Bill Giles, the losing climaxed in 1988.
A year later due to sore knees, legendary third baseman Mike Schmidt retired on Memorial Day weekend with 548 career home runs.
6. 1903 Phillies

Record: 49-86
On Aug. 6, 1903 tragedy struck on a Saturday afternoon in a game with the Cardinals.
On the western boundary of Philadelphia Park a fire broke out on the balcony.  When the balcony gave way, approximately 500 people plunged to the street below.  It was complete chaos on 15th street as the ambulances rushed to the scene.  12 people died, and 232 others were rushed to the hospital with broken limbs and head injuries.
It was said that the iron that supported the balcony had rusted and was unable to withstand all of the pressure.
In other news, 1903 marked the first time that the city rivals Phillies and Athletics played each other.
5. 1969 Phillies

Record: 63-99
The fans and media wanted Gene Mauch fired.  They held him responsible for the epic collapse in 1964.
The fans got their wish as Philadelphia fired Mauch in the middle of the 1968 season.
After the 1964 downfall, the Phillies went 85-76 in 1965, 87-75 in 1966, 82-80 in 1967 and 76-86 in 1968.  Then 1969 happened.
Maybe the Phillies should've kept Mauch around.
4. 1904 Phillies

Record: 52-100
The team was atrocious, but 1904 marked the debut of a 19-year old outfielder named Sherry Magee.
In his first full season in 1905, the Phillies improved by 31 wins and finished 83-69.
Magee hit .299 with 24 doubles, 17 triples and 5 home runs.  He scored 100 runs and stole 48 bags.
The outfield combination of Magee, Roy Thomas and John "Tight Pants" Titus scored 317 runs, the most out of any outfield trio in baseball that season.
3. 1961 Phillies

Record: 47-107
The Phillies set an all-time 23-game losing streak in Gene Mauch's first season as manager.
1961 did mark the first full season of starting pitcher Art Mahaffey.  He won the Rookie of the Year Award the year prior.
On Apr. 23, Mahaffey set a club record with 17 strikeouts in a day game against the Chicago Cubs.  In the 6-0 Phillies win, Mahaffey allowed four hits and one walk in the complete game shutout.  He struck out Ernie Banks three times.
Although he led the NL in losses with 19, Mahaffey was still voted to the All-Star Game.
2. 1972 Phillies

Record: 59-97
Unfathomably Steve Carlton won 27 of the 59 games, an MLB record 45.8-percent of the victories.  He went 27-10 with a 1.97 ERA and 310 strikeouts.
Lefty had 30 complete games, eight shutouts and is one of five pitchers in MLB history to win 20-plus games for a last place team.
It was the first of four Cy Young Awards for the Hall of Fame southpaw.
As it turns out, the acquistion of Carlton from the Cardinals was certainly a wise decision.
1. 1918-1948 Phillies

1942- 42-109
1941- 43-111
1928- 43-109
1939- 45-106
1945- 46-108
The 1917 trade of starting pitcher Grover Cleveland Alexander started a 31-year stretch of appalling baseball.
In tough economic times, the tight-fisted Phillies owner William Baker routinely traded his top players for money.  He was the cheapest owner in the history of baseball.
Baker installed a 20-foot screen on top of the already 40-foot right field wall at the Baker Bowl to cut down on Chuck Klein's power numbers.  Baker felt that if Klein hit more home runs, he'd ask for more cash.
Klein's finest season came in 1930 when he hit .386 with 40 home runs and 170 RBI.  The Phillies still finished 50 games under .500.
The organization even sold office furniture one season to pay for Spring Training expenses.
Some other notable names traded for cash… Lefty O'Doul and Davey Bancroft.  Klein was traded in 1933, the year he won the Triple Crown, but this came after William Baker's death in 1930.
It's still a bit baffling that it was the Philadelphia A's franchise which left Philadelphia during the 1950′s, and not the Phillies.
About the Author
Subscribe to author's RSS feed
Written by Adrian Fedkiw
I currently work for the Sports Network. It's the best job ever! I am a 2010 graduate of Temple University where I majored in broadcast journalism, I LOVE SPORTS! That's why I am here. I have a vast knowledge and want to share my athletic intelligence with the world. Some people like to spend their time shooting down aliens in Halo; I like to spend my time watching sports, current and old. It's my passion! I got asked one time how I can watch a game over again when I already know the outcome. 5 minutes later, he's watching Happy Gilmore reciting all of the lines from the movie. Hypocrite! As for my favorite sports teams, I've been a lifelong Philadelphia sports fan. My favorite athlete is Allen Iverson. He didn't like practice that much, but when it came to gametime, no one let it all out on the floor like Iverson. He is absolutely beloved in the city of Brotherly Love. For college athletics, obviously I pay close attention to Temple. (Yes, football too) Even before I stepped foot on Temple's campus for the 1st time in 2005, I was a fan. Oh the good old days of John Chaney! Some other tidbits about myself, I love cheesesteaks, I hydrate myself with Welch's Grape Juice and Snapple. I love the HBO show Entourage. Also, when is Kenny Powers making his much anticipated return in Eastbound and Down!