Before Roy Halladay's first pitch of the game against Texas on Friday, Chris Wheeler summed it up perfectly;  "He's (Roy Halladay) pitched two straight complete game losses, that's gotta stop."
The last pitcher to have three straight complete games without a win, Steve Carlton in 1973
The lineup has been in a slump, but the starting pitching has done its job.  The Phillies entered Interleague play with a 26-17 record; they've lost five of six.
They still have the best record in the National League.
Texas can really score.  They're aggressive at the plate and on the base-paths.  It's going to be an interesting three-game set, and a potential World Series match-up.
With Victorino on the disabled list, who'll step it up in the outfield?
With the call-up of Dominic Brown, it's a tryout for the starting right field job.
The Phillies need someone to pick up the slack in the two, five and six holes in the batting lineup.
John Mayberry has produced, while Ben Francisco has slumped.  Brown will get an opportunity to play some right field.  With Mayberry's ability to play center, he'll be given playing time.
Philadelphia 76ers youngster Jrue Holliday broke out this year in the NBA, John Mayberry looks like him, maybe that's an omen.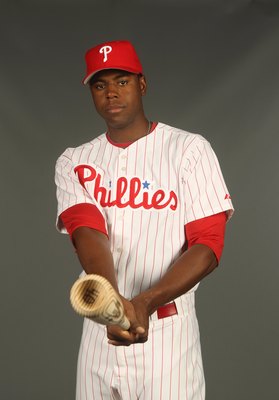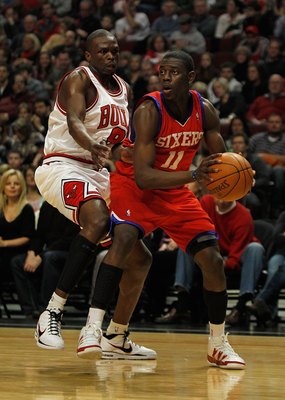 The opposing pitchers are approaching Ryan Howard cautiously, and he's been cold lately.  He's in a 0-for-23 slide.  Pitchers will continue to pitch him cautiously if no one steps up behind him.
It's not a coincidence that the Phillies have lost five-of-six during Howard's slump.   He'll get out of it.
The call-up of  Brown may have fueled Francisco's fire as he launched a two-run home run in the left field seats in the bottom of the second to make it 2-1 Phillies.
Raul Ibanez is an interesting hitter.  He's known to get cold in long stretches, but hot in long stretches as well.  At 39, many have given up on him.  Like 2010, he's gotten off to a slow start, but he picked it up in the second half.  A year prior in 2009, he had an MVP-like stretch in the first half of the season. 
Charlie Manuel sticks with his players, so I expect Raul Ibanez to continue playing left.
He hit a solo shot to deep center to make it 3-1 in the bottom of the fourth.
As for the two-hole that Victorino's occupied for most of the season, Michael Martinez and Wilson Valdez have shared the spot in his absence.  Pete Orr has gotten some starts at second base as well.
Chase Utley continues to progress in Clearwater. 
With the dominant starting pitching, if the offense can muster three runs, they'll have a great chance at winning.
As the Phillies search for production after Howard, Placido Polanco looks like he'll remain third in the order.
Steve Carlton can pop a champagne bottle, his three consecutive no decisions complete games record remains in tact.  Roy Halladay went just eight innings tonight, but the Phillies won 3-2.  Halladay got the win.
Cliff Lee starts game two of the series; that should be fun.
About the Author
Subscribe to author's RSS feed
Written by Adrian Fedkiw
I currently work for the Sports Network. It's the best job ever! I am a 2010 graduate of Temple University where I majored in broadcast journalism, I LOVE SPORTS! That's why I am here. I have a vast knowledge and want to share my athletic intelligence with the world. Some people like to spend their time shooting down aliens in Halo; I like to spend my time watching sports, current and old. It's my passion! I got asked one time how I can watch a game over again when I already know the outcome. 5 minutes later, he's watching Happy Gilmore reciting all of the lines from the movie. Hypocrite! As for my favorite sports teams, I've been a lifelong Philadelphia sports fan. My favorite athlete is Allen Iverson. He didn't like practice that much, but when it came to gametime, no one let it all out on the floor like Iverson. He is absolutely beloved in the city of Brotherly Love. For college athletics, obviously I pay close attention to Temple. (Yes, football too) Even before I stepped foot on Temple's campus for the 1st time in 2005, I was a fan. Oh the good old days of John Chaney! Some other tidbits about myself, I love cheesesteaks, I hydrate myself with Welch's Grape Juice and Snapple. I love the HBO show Entourage. Also, when is Kenny Powers making his much anticipated return in Eastbound and Down!