The Phillies have been very active at the trade deadline the last couple of seasons.  This has many fans speculating that Philadelphia will once again make a big move at the deadline.
I'm not as speculative.
The Phillies already made their big splash by landing Cliff Lee in the offseason.  Due to the signing they are a bit strapped for cash.
If a move is made, it will be nothing drastic like a Carlos Lee, Carlos Quentin or Hunter Pence.
There's no question that the Phillies need a bat, but it won't be a high priced player.
(As a sidenote, I don't consider Domonic Brown a prospect anymore.  He's not going anywhere anyways) 
Jarred Cosart
When Roy Halladay, Cliff Lee and Roy Oswalt become shelves of their former selves, the Phillies hope that a few of their pitching prospects emerge.  And there's a lot of pitching depth out there on the farm.
In my opinion, Jarred Cosart is the best starting pitcher in the organization.
The big concern with him is his arm as he's yet to pitch a full minor league season.
His arm is electric.  He throws hard, has a power curveball and a changeup that's improving.
Brody Colvin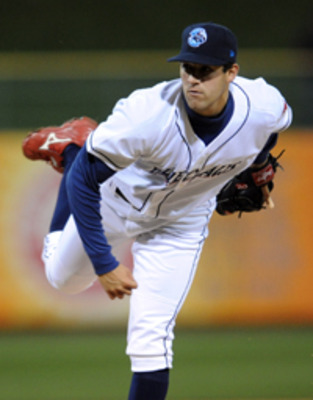 Initially, the Phillies didn't want to part ways with pitcher Kyle Drabek. 
Ultimately, they pulled the trigger to get Roy Halladay because they believed that they had enough young arms in the system.
Brody Colvin is a projected front of the rotation starter. 
He has a power fastball with a tight, slurvy-like breaking pitch.  His changeup is a work in progress.
Jesse Biddle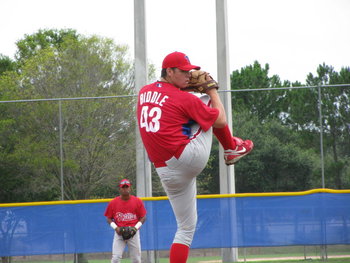 Jesse Biddle is a local kid from Germantown Friends and a 2010 first-round selection.
He's a big kid, about 6'5 225 pounds.
His fastball currently sits in the low-90′s, but should improve as he fills out his frame.
Biddle's mechanics are sound, he just needs to develop and refine his secondary pitches.
So far in Lakewood, Biddle is 3-5 with a 3.99 ERA.  He has 50 strikeouts in 56 innings pitched.
He's the best lefty in the farm.
Jonathan Singleton
It's no secret that the corner outfielders for the big club has been a weakness so far this season.  Although, Domonic Brown has excited the Philly faithful since his call-up a few weeks ago.
Raul Ibanez is gone at the end of the season, and this leaves a hole out in left field.  The plan is to put Jonathan Singleton out there in a few years.  He's still just 19.
Singleton originally played first-base, but because of a certain big bear, the organization decided to put him out in left field.
He's projected as a power hitter with average contact.  He's currently hitting .259 with three homeruns and 19 RBI for Clearwater.
About the Author
Subscribe to author's RSS feed
Written by Adrian Fedkiw
I currently work for the Sports Network. It's the best job ever! I am a 2010 graduate of Temple University where I majored in broadcast journalism, I LOVE SPORTS! That's why I am here. I have a vast knowledge and want to share my athletic intelligence with the world. Some people like to spend their time shooting down aliens in Halo; I like to spend my time watching sports, current and old. It's my passion! I got asked one time how I can watch a game over again when I already know the outcome. 5 minutes later, he's watching Happy Gilmore reciting all of the lines from the movie. Hypocrite! As for my favorite sports teams, I've been a lifelong Philadelphia sports fan. My favorite athlete is Allen Iverson. He didn't like practice that much, but when it came to gametime, no one let it all out on the floor like Iverson. He is absolutely beloved in the city of Brotherly Love. For college athletics, obviously I pay close attention to Temple. (Yes, football too) Even before I stepped foot on Temple's campus for the 1st time in 2005, I was a fan. Oh the good old days of John Chaney! Some other tidbits about myself, I love cheesesteaks, I hydrate myself with Welch's Grape Juice and Snapple. I love the HBO show Entourage. Also, when is Kenny Powers making his much anticipated return in Eastbound and Down!