Just like Matt Stairs stated in his press conference after his moon shot in Game 4 of the 2008 NLCS, he was just looking to get his "ass-hammered." In other words, he was looking for a slap in the behind to signify that he did something good.
In 2008, Greg Dobbs was an important piece to the Phillies World Series run. He hit over .300 that season. Pinch-hitting benchwarmer Matt Stairs single-handidly won Game 4 of the 2008 NLCS. Geoff Jenkins… another solid reserve.  
In the 1980′s Greg Gross accumulated 143 career pinch-hits, 117 with the Phillies. His 143 career pinch-hits ranks fifth on the all-time list.
The Phillies' current bench… OF Ben Francisco, INF Wilson Valdez, RES Michael Martinez, PH Ross Gload and C Dane Sardinha… is not exactly the best.
They need some pop off the pine. There's a reason why a certain game took 19-innings to complete earlier on in the season.
Honorable Mention: Vladimir Guerrero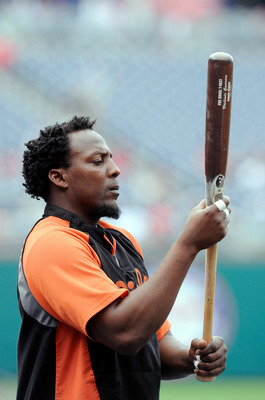 I realize that some may bring up Vladimir Guerrero's name, but that $8 million is too much for a benchwarmer.
And at this point, can he even play the field? Then again, Raul Ibanez isn't exactly the best defensive asset in left.
Jim Thome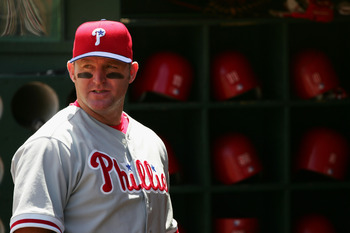 Jim Thome would be the perfect candidate to provide pop off the bench.
The dilemma is that the Twins, despite a rash of injuries all season long, have found their winning ways. They've won six in a row, and eight of their last 10.
At one point this season they were 17-37. Now they're 30-39 and eight games back in the puzzling AL Central.
Thome's been on the DL since June 2 with a sprained left quad. He's seven home runs shy of the highly coveted 600 home run club.
Garrett Jones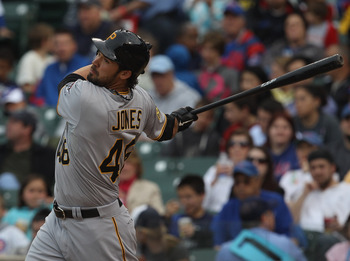 The Pirates have gotten off to a better start than in year's past, but they've always sold at the trading deadline. 
Jones has back-to-back 20-plus home run seasons and is currently hitting .256 with seven bombs and 24 RBI.
He'd be cheap too, having signed a one-year $456,000 contract before the season.
Hideki Matsui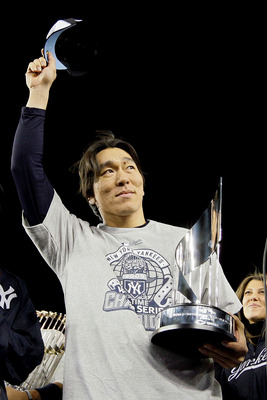 Hideki Matsui's 2009 World Series performance still haunts many Phillies fans.
In the clinching Game 6 of that series, the World Series MVP drove in six of the Yankees' seven runs en route to a 7-3 win.
Matsui became the first Japanese-born player to win the World Series MVP. He went 6-for-14 in the series with three home runs and eight RBI.
Although Matsui's seen a dip in his batting average this year, just .224, he has postseason experience. And, he can still turn on a fastball. That short porch in right would certainly appetize the Godzilla.
There is a "but" here: the $4.5-million he's making this season.
Brad Hawpe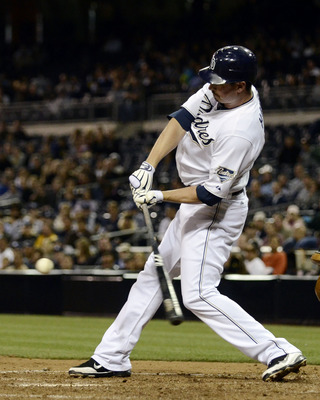 I know, another left-hander on this list.
With the recent call-up of the Padres' No. 2 prospect Anthony Rizzo, Brad Hawpe won't be seeing much playing time at first-base.
Hawpe had a four-year stretch of 20-plus home run seasons from 2006-2009; 22 (2006), 29 (2007), 25 (2008) and 23 (2009). I must note that was when he was with the Rockies.
Hawpe's been struggling this season. He's hitting just .231 with four home runs and 19 RBI.
As the Padres continue to fall further and further back in the NL West, they'll be in selling mode at the deadline.
About the Author
Subscribe to author's RSS feed
Written by Adrian Fedkiw
I currently work for the Sports Network. It's the best job ever! I am a 2010 graduate of Temple University where I majored in broadcast journalism, I LOVE SPORTS! That's why I am here. I have a vast knowledge and want to share my athletic intelligence with the world. Some people like to spend their time shooting down aliens in Halo; I like to spend my time watching sports, current and old. It's my passion! I got asked one time how I can watch a game over again when I already know the outcome. 5 minutes later, he's watching Happy Gilmore reciting all of the lines from the movie. Hypocrite! As for my favorite sports teams, I've been a lifelong Philadelphia sports fan. My favorite athlete is Allen Iverson. He didn't like practice that much, but when it came to gametime, no one let it all out on the floor like Iverson. He is absolutely beloved in the city of Brotherly Love. For college athletics, obviously I pay close attention to Temple. (Yes, football too) Even before I stepped foot on Temple's campus for the 1st time in 2005, I was a fan. Oh the good old days of John Chaney! Some other tidbits about myself, I love cheesesteaks, I hydrate myself with Welch's Grape Juice and Snapple. I love the HBO show Entourage. Also, when is Kenny Powers making his much anticipated return in Eastbound and Down!