Indians Regain Division Lead. Pronk Finally Healthy
The Indians had a tumultuous week, but things may not be all that bad.  They lost the division lead, but since have gone on a 3 game winning streak to regain the lead.
The week started off with losing 3 out of 4 to the Yankees.  Carmona and Tomlin continued their slumps against the Yankees and combined for a 12.00 ERA over their 2 starts.  The bullpen also was somewhat shaky during these few games, though the games were often out of reach when it got to that point.  The other 2 starts claimed a solid performance by Talbot  (3.39 ERA) and a dominant shutout by Carrasco.  Unfortunately, the run support was lousy, only one run in those two games, and they struggled to win even one of those.
The Indians headed into the Detroit series playing for the division lead but unfortunately, the run support could not keep up with the pitching.  The starters (Masterson and Carmona) were adequate, but the Indians run support wasn't there the whole time.  They were able to win 1 out of 3, but the pitching was good enough to win at least 2.  Its understandable (though not adequate) to get shut out by Verlander who has a 2.66 ERA on the season, but they have to score more runs off of Scherzer, for example.  It didn't help that this was the game where Talbot struggled, but the Indians needed to hit these starters better.
While guys like Choo, Hanahan, and Santana have been struggling for a while, you can ad Brantley and Asdrubal (their 2 most consistent hitters) to the list.  Cabrera's power is down this month and he hasn't been drawing walks.  Brantley's average is really starting to slip, he is hitting .250 for the month of June.  To make matters worse, Laporta got injured early in the first game against the Pirates and Sizemore has been ice cold since coming back from injury.  Since coming up, Cord Phelps has also struggled at times.  Thank god Pronk is back.
Ever since Travis Hafner has been called up, the Indians have been doing better.  He has been hitting okay (only 2 games), but his presence makes the Indians hit better.  In the 3 games since Hafner has been back, the Indians' key hitters who had been struggling (Grady, Choo, Santana, OCab) have hit .400.  Whether it is mental (players feeling less pressure), physical (pitchers focusing less on these players), or intangibles (Pronk as a leader in the clubhouse), the effect is significant.  Hopefully, it can keep going and he can stay healthy.  The Indians were able to score 5 runs in every game in the series against the Pirates.  Not only that, but the starting pitching was stellar.  Masterson was his normal self (great outing, no win) and Tomlin may be finally turning it around from his skid.  The starters were able to post a  1.50 ERA and the bullpen effectively held the leads.
The biggest storyline coming out of this series has to be Carlos Carrasco.  Carrasco did not inspire a lot of hope coming off the DL.  He was 1-2 with a 4.97 ERA coming back.  While he had some starts with good ERA, he gave up too many fly balls and his control was off (a pedestrian 1.8/1 K/BB ratio).  He had a rocky first start back from the DL (as many pitchers have).  Since then, he has an ERA of 2.80, a GB/FB ratio of 1.29, a 2.9/1 K/BB Ratio, and a 6-1 record.  These are huge improvements, many of which have beenevenmore noticeable during June.  In June, Carrasco has an era of 1.95 and a GB/FB ratio of 1.54.  To put that ratio into perspective: Masterson, a sinkerballer, posted a 1.36 GB/FB ratio during the first 2 months.  Carrasco has always had the skills, the question has been for him putting it together.  He is recording more strikeouts, less walks, less fly balls, and less runs.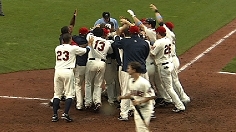 -Cord Phelps also got his first home run of his career today, a walk-off 3-run home run.  Its a nice way to end a game and record your first home run.
-Coming up, the Indians have 3 straight series against NL West teams (Colorado, SF, and Arizona).  This will be tough because they have to go to San Fran and Arizona, however they may luck out in match-ups.  As it stands right now, Lincecum is scheduled to start the day before their series against the Indians so they will not have to face him.  They also will likely avoid facing Ian Kennedy, the Diamondbacks' ace.  While the Indians are 16-19 on the road, it looks like they may not have that bad of pitching match-ups (though they face the top 3 teams in that division)
About the Author
Subscribe to author's RSS feed [1]