I was going to write today about how one of my favorite players of all-time, Roger Clemens scored a minor victory in his upcoming perjury trial over that fraud George Mitchell and his well investigated(yeah right) steroid report. 
     However, I woke up this morning and saw a lot of copy bashing A.J. Burnett after he and the Yanks were beaten last night 4 to 2 by Ubaldo Jimenez and the Colorado Rockies.  Look, is Burnett over paid?  Yes.  Is he a tad erratic?  Yes.  Does he sometimes drive you crazy? Hell yes.  All that being said Burnett is a necessary evil in today's MLB and with this New York ballclub.  A guy with big league stuff who eats up innings and takes the ball every fifth day.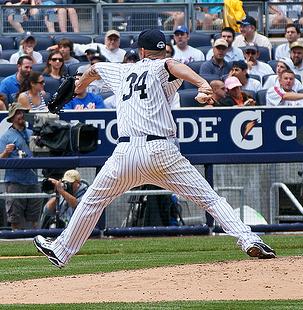 First off, there is no shame in getting beaten by Ubaldo Jimenez, who despite a poor 2-7 record coming into last nights action is a stud.  Second, Burnett has improved on the one area that drove the Yankees and their fans batty last year.  He is not imploding on the mound and getting blown out.  
     Burnett is just 7-6 with a tad high 4.15 era.  On the other hand, he does have 99.2 IP, a great BAA of .226, and 7 of his 16 starts have been quality.  With all the injuries to this Yankee pitching staff that has been a godsend and has played a huge role in keeping New York just a half game behind the Red Sox for first place in the A.L. East.
     What I am saying is, Burnett is not the issue with this team this year.  The offense is.  I don't mean it's ability to score runs as a whole and hit bombs.  I mean it's overall consistency.   Alex Rodriguez is the only guy on this team who goes up to the plate with a plan of attack.  These guys are all pull crazy(especially my favorite whipping boy Mark Teixeira) and the bottom of the lineup can often be inept, lead by Messrs Posada, Swisher and Nunez.
          Let's be honest.  Barring an injury to CC Sabathia or A-Rod the Yankees will be in postseason play where anything can happen.  It's just my humble opinion that they have no chance when they get there.   I just feel that constantly swinging for the downs, attempting to pull everything, and not having quality at bats will not serve you well against the superb pitching they are sure to go up against in a playoff series.
     Yes, AJ Burnett will never be an automatic win but I don't need him to be.  I simply need him to keep doing what he has been doing and that will be just fine.
About the Author
Subscribe to author's RSS feed [1]