No manager in Phillies history platooned his players like Gene Mauch.
They called him the "Little General" because of his phenomenal attention to do detail. At times he'd single-handedly win a game by consistently being one step ahead of the opposing manager. There were also times where he overmanaged and cost his team games.
During the historic 1964 collapse, Mauch panicked down the stretch and started aces Jim Bunning and Chris Short on two days rest three seperate times in September.
A lot of people fault him for the collapse, but his platoon system was one of the main reasons why the Phillies stayed in first place for most of the season.
Frank Thomas, Danny Carter, John Herrnstein, Roy Sievers and Vic Powers all at one point played first base. Ruben Amaro Sr. and Bobby Wine shared duties at shortstop. Cookie Rojas and Tony Taylor flip-flopped at second base. Clay Dalrymple and Gus Triandos shared playing time at catcher. Johnny Briggs and Tony Gonzalez combined to play center field. Wes Covington, Adolfo Phillips and Alex Johnson played left field. 
Six of the eight regulars on the current Phillies are left-handed (Victorino and Rollins are switch-hitters); it's no secret that the Phillies could use a right-handed bat. With Domonic Brown and Raul Ibanez both left-handed, it makes the most sense to get a right-handed corner outfielder. 
7. Reed Johnson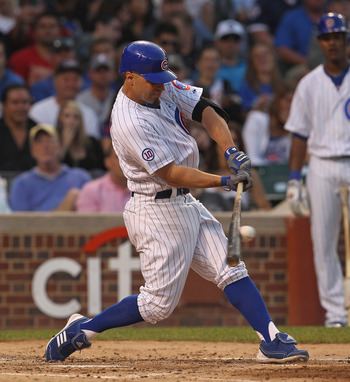 vs LHP 2011: 37 PA .343/.378/.543 1 HR 8 RBI
vs LHP career: 1173 PA .313/.373/.466 24 HR 128 RBI
If the Phillies are looking for a cheap right-handed platoon option, they might take a look at Reed Johnson. He signed a one-year $900,000 contract before the season.
His stats against lefties aren't too shabby.
There is a risk; he just came off the DL due to back spasms.
6. Ryan Spilborghs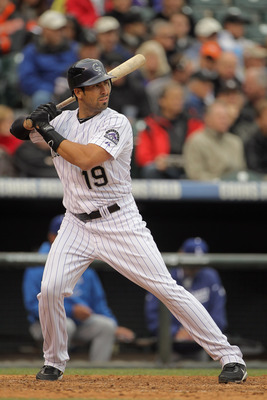 vs LHP 2011: 59 PA .250/.322/.404 1 HR 6 RBI
vs LHP career: 679 PA .280/.366/.453 18 HR 84 RBI
Ryan Spilborghs would be another relatively cheap right-handed outfield option. His name's been brought up by Ken Rosenthal.
The Rockies currently stand at 37-36, just 2.5 GB in the NL West.
They really don't have many other right-handed options off the bench, so I'd think they would keep him unless they fall off the cliff during the next month.
5. Matt Diaz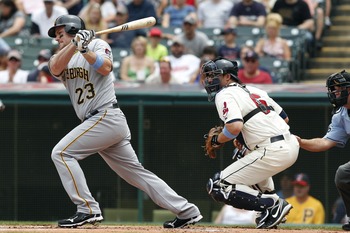 vs LHP 2011: 63 PA .233/.270/.267 0 HR 4 RBI
vs LHP career: 860 PA .327/.366/.513 29 HR 104 RBI
Matt Diaz has struggled this season against lefties, but his career numbers are much more telling.
Diaz has experience as a platoon player. He stands tall at the plate and can drive the ball to all parts of the field.
4. Jeff Francoeur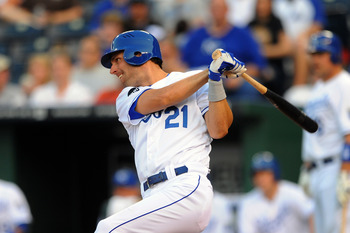 vs LHP 2011: 76 PA .329/.355/.600 5 HR 17 RBI
vs LHP career: 1058 PA .301/.344/.489 39 HR 159 RBI
Jeff Francoeur hasn't played this well since his second and third years in the bigs. In 2006, he hit .260 with 29 home runs and 103 RBI. He upped his average to .293 a year later, to go along with 19 roundtrippers and 105 RBI.
For whatever reason, he went into a free-fall after the 2007 season.
Currently he's hitting .260 with nine home runs and 43 RBI.
If the Phillies weren't interested in him during the offseason, I wouldn't expect them to be interested in him now.
3. Ryan Ludwick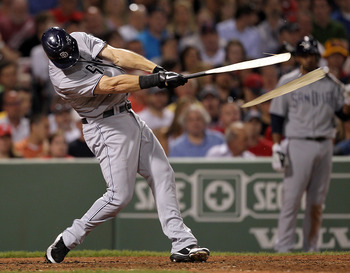 vs LHP 2011: 65 PA .271/.338/.339 1 HR 9 RBI
vs LHP Career: 869 PA .235/.312/.431 36 HR 118 RBI
Ryan Ludwick excelled most in St. Louis hitting behind Albert Pujols.
As the clean-up hitter for most of the season in 2008, Ludwick hit .299 with 37 HR and 113 RBI.
So far with the Padres this year, Ludwick is hitting .255 with nine HR and 45 RBI.
He doesn't have a great career average against lefties, but Ludwick's career didn't get going until he was 28 in 2007. He struggled to find his swing during his first four years in the league for Texas and Cleveland.
2. Michael Cuddyer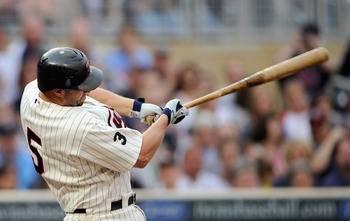 vs LHP 2011: 79 PA .388/.481/.731 6 HR 12 RBI
vs LHP career: 1353 PA .293/.381/.492 46 HR 160 RBI
As much as I'd like to see Michael Cuddyer in a Phillies uniform, I don't think it will happen. At least, not right now.
Like I stated in my benchwarmers slideshow, the Twins have found their winning ways. Does anyone really trust Cleveland to stay a top that division? Detroit has solid starting pitching, but they're a team that has yet to fulfill expectations over the years.
As crazy as it sounds, I still like the Twins to win that division; they're currently 6.5 games back of the Indians.
1. Josh Willingham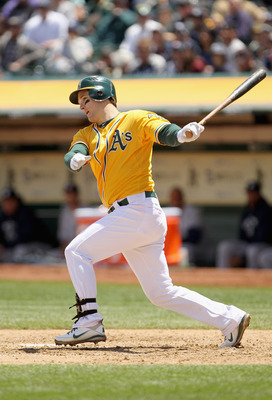 vs LHP 2011: 79 PA .211/.291/.465 5 HR 16 RBI
vs LHP career: 740 PA .261/.378/.493 37 HR 106 RBI
Josh Willingham will not get a chance to audition his talents in front of Ruben Amaro this weekend as the A's come to town for a three-game series. He's on the DL with an achilles injury.
I wouldn't read too much into his struggles so far this season. Remember what happened to Matt Holliday's numbers when he went over to Oakland?
He's not going to hit for a high average, but he'll give you pop. On a team that lacks power, Willingham seems like the perfect fit. The dilemma… do the Phillies have the money? And this goes for the top four names on this list.
If the Phillies want a cheap option, then they should consider Spilborghs or Johnson.
About the Author
Subscribe to author's RSS feed
Written by Adrian Fedkiw
I currently work for the Sports Network. It's the best job ever! I am a 2010 graduate of Temple University where I majored in broadcast journalism, I LOVE SPORTS! That's why I am here. I have a vast knowledge and want to share my athletic intelligence with the world. Some people like to spend their time shooting down aliens in Halo; I like to spend my time watching sports, current and old. It's my passion! I got asked one time how I can watch a game over again when I already know the outcome. 5 minutes later, he's watching Happy Gilmore reciting all of the lines from the movie. Hypocrite! As for my favorite sports teams, I've been a lifelong Philadelphia sports fan. My favorite athlete is Allen Iverson. He didn't like practice that much, but when it came to gametime, no one let it all out on the floor like Iverson. He is absolutely beloved in the city of Brotherly Love. For college athletics, obviously I pay close attention to Temple. (Yes, football too) Even before I stepped foot on Temple's campus for the 1st time in 2005, I was a fan. Oh the good old days of John Chaney! Some other tidbits about myself, I love cheesesteaks, I hydrate myself with Welch's Grape Juice and Snapple. I love the HBO show Entourage. Also, when is Kenny Powers making his much anticipated return in Eastbound and Down!