One of the main reasons why the Phillies won the World Series in 2008 was due to theirhome grown talent hey had during 2007; Jimmy Rollins, Chase Utley, Pat Burrell, Ryan Howard and Cole Hamels in particular.
After their World Series title in 2008, the philosophy changed. Before, the club never signed a free-agent pitcher to more than three years. Due to the money they had, they were able to accomplish this with Cliff Lee. They signed him to a five-year deal!
Out of the "four aces" Cole Hamels is the only home grown product.
Don't worry, there is talent in the farm. Keith Law of ESPN has the Phillies farm system ranked fifth in all of baseball, and most of that has to do with their starting pitching.
So, who will become the next ace in Philadelphia?
Then again, will Ruben Amaro Jr. use one of these "Baby Aces" to acquire a much needed right-handed bat?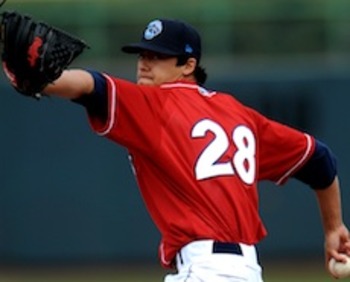 Garrett Claypool began his career in Williamsport in the bullpen. He was named to the 2nd Team All-Freshman team during his tenure at UCLA.
Claypool is currently third in the organization in strikeouts (104), and fourth in WHIP (1.13).
His fastball isn't overpowering, but he hides the ball well. He also possesses an above average curveball and changeup.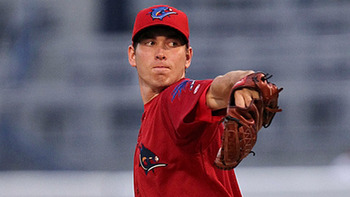 Let's face it, Austin Hyatt is 25-years old. He was selected in the 15th round of the 2009 Draft.
He excelled in the Florida State League in Clearwater in the start of 2010 when he went 11-5 with a 3.04 ERA.
He even had a start where he struck out 14 while allowing just one-hit over eight innings.
When he got moved up to Double-A Reading this season, his statistics rose substantially. In 18 games started, Hyatt is 7-5 with a 4.44 ERA.
The scouting reports can't figure out wheter he'll be a reliever or starter. He's known to have solid control with an above average changeup and slider.
But again…he's already 25!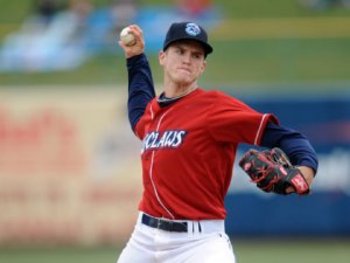 David Buchanan was originally drafted as a sixth round pick by the New York Mets in the 2009 Amateur Draft. Instead of signing with the Mets, Buchanan went to go pitch for Georgia State.
The Phillies signed Buchanan in June of 2009. His peculiar delivery leads to control problems, but he tends to snap off some solid sliders.
The good sign is that he throws about twice as many ground balls as fly balls.
So far in Lakewood, Buchanan is 9-5 in 104 innings pitched with a 3.88 ERA.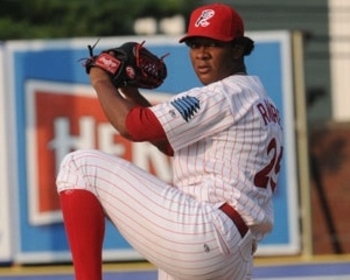 J.C. Ramirez, along with RP Phillippe Aumont and OF Tyson Gillies was acquired in the Cliff Lee deal in Seattle.
Ramirez was remarkable in April posting a 4-0 record with a 1.13 ERA. That was good enough to be named the Phillies' Minor League pitcher of the month.
Since then, Ramirez has had his struggles. In 92 innings pitched for Reading, his record stands at 7-8 and his ERA has risen to 3.70.
This causes concern because since he's been a member with the Phillies, his ERA has never been below four.
Ramirez has a solid fastball to go along with a nice slider and changeup. He needs to improve his control.
6. Jonathan Pettibone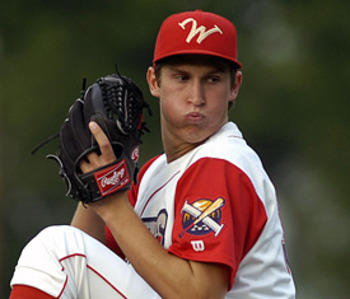 The Phillies selected Jonathan Pettibone in the third round of the 2008 Amateur Draft.
He's a groundball pitcher who's had his finest seasons as a 20-year old in Clearwater this season. He doesn't throw hard, and has fringe out pitches.
He missed time during his first two years due to arm and shoulder issues.
In 103 innings pitched this season, Pettibone is 8-5 with a 2.60 ERA, a 1.17 WHIP and 75 strikeouts.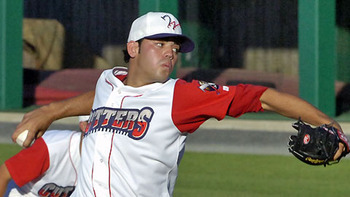 Julio Rodriguez has a long a loose delivery. The Phillies took Rodriguez in the eighth round of the 2008 Amateur Draft.
There seems to be a lot of discrepancies with his fastball. Some scouts have him clocked in the 80′s, while others have him in the low 90′s.
In 17 starts with Clearwater this year, Rodriguez is 10-6 with 90 strikeouts in 96 innings pitched.
He had a much better season last year as a 19-year old year old with Lakewood when he posted a 1.44 ERA and 90 strikeouts in 56 innings pitched.
His big, looping curve has a lot to do with his high strikeout rate.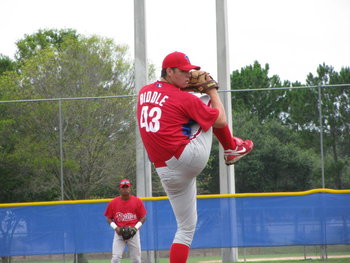 The Phillies selected the 6'6 left-hander Jessie Biddle in the first round of the 2010 MLB Draft.
He doesn't throw particularly hard, low-90′s, but he has good movement on his pitches and the velocity should go up as he moves through the system and gets stronger.
He has a clear and easy delivery like Barry Zito (not sure whether this is a good or bad thing, he throws smoothly and downhill.
He has a big loopy curveball and a changeup which needs to be worked on.
So far in 88 innings pitched in Lakewood, Biddle has a a 4-6 record with a 3.35 ERA and 86 strikeouts.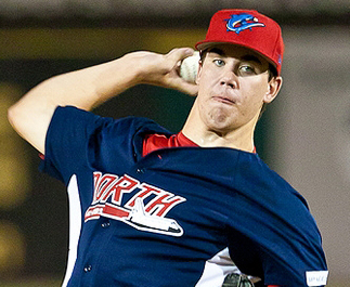 I'm not going to lie, I was a bit skeptical about Trevor May because of his walk rate.
He threw 61 walks in 70 innings pitched last season, but he's already reduced that number this season. At just 21-years of age, he's walked 44 in 95 innings pitched.
In those 95-innings he's also struck out 123 batters.
Just three days ago, May three a one-hit two nothing shut-out against the Jupiter Hammerheads.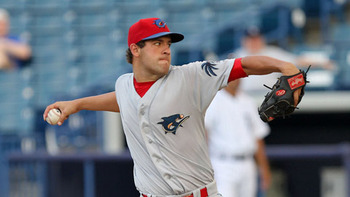 Brody Colvin hasn't had his best year as he's been dealing with a tight back since the beginning of Spring Training.
Colvin seems like he's gotten it together; he's allowed just one earned run in his past 14 innings pitched.
In his last outing against Jupiter, Colvin struck out a career nine-hitters while allowing just one run in eight innings. The Threshers won the game 4-2.
So far this season for Clearwater, Colvin has a 3.39 ERA to go along with 120 strikeouts, fourth in the farm system.
He's still just 20 and has time to develop. He knows how to pitch.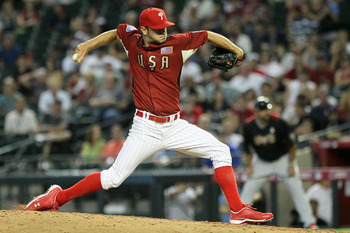 If you've read my pieces in the past, you should know about my mammoth man-crush on Jarred Cosart.
In 16 starts before the Futures Game Cosart threw 92 innings posting a 7-6 record with a 3.23 ERA and 68 strikeouts.
He was the only Phillies starting pitching representative in the 2011 Futures Game. I kept a keen, close eye on his limited one-inning performance.
In his outing he was simply magnificent. Let me take you through how he got through the side
Marte- FB6 98 Foul 0-1, FB4 98 Foul 0-2, FB3 97 Foul, CB7 76 SOS (filthy pitch), 1 out
Silverio- FB2 99 pop out to right field, 2 outs
Chiang- FB9 97 0-1, FB6 96 1-1, FB3 97 SS 1-2, FB7 96 2-2, CH6 85 SOS (Chased) 
Earning the win in the game was just a bonus.
He threw 8-of-his-10 pitches for strikes.
The worry I do have about him are all of the moving parts he has in his delivery. In my opinion, he has the best stuff in the system.
About the Author
Subscribe to author's RSS feed
Written by Adrian Fedkiw
I currently work for the Sports Network. It's the best job ever! I am a 2010 graduate of Temple University where I majored in broadcast journalism, I LOVE SPORTS! That's why I am here. I have a vast knowledge and want to share my athletic intelligence with the world. Some people like to spend their time shooting down aliens in Halo; I like to spend my time watching sports, current and old. It's my passion! I got asked one time how I can watch a game over again when I already know the outcome. 5 minutes later, he's watching Happy Gilmore reciting all of the lines from the movie. Hypocrite! As for my favorite sports teams, I've been a lifelong Philadelphia sports fan. My favorite athlete is Allen Iverson. He didn't like practice that much, but when it came to gametime, no one let it all out on the floor like Iverson. He is absolutely beloved in the city of Brotherly Love. For college athletics, obviously I pay close attention to Temple. (Yes, football too) Even before I stepped foot on Temple's campus for the 1st time in 2005, I was a fan. Oh the good old days of John Chaney! Some other tidbits about myself, I love cheesesteaks, I hydrate myself with Welch's Grape Juice and Snapple. I love the HBO show Entourage. Also, when is Kenny Powers making his much anticipated return in Eastbound and Down!