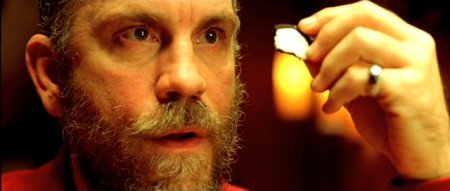 That was the phrase chillingly uttered by Teddy K.G.B, underground poker champ in Rounders, (so brilliantly played by John Malkovich) to one of his henchman after he was taken down by Matt Damon's Mike McDermott in a big money poker game.
That same phrase should be uttered collectively by all members of the Yankee Universe to New York GM Brian Cashman, regarding one Carsten Charles Sabathia.  You see, Sabathia negotiated a little opt out clause in his contract after the first 3 years when he signed his mega deal with the Yankees prior to the 2009 season.  It was supposed to act as a security blanket against what he heard was a toxic clubhouse environment in the Bronx, the threat of constant media scrutiny, and just in case his family didn't like the Tri-State Area.   Instead, it will be like hitting the lottery a second time because 3 years is up at the end of this 2011 baseball season.   Sabathia will not hesitate to cash in, so the Yankees best pay him now. 
Yes, the Sabathias' have loved New York just fine, none more so than C.C.  After his dominant complete game shutout over the Rays on Sunday in which he struck out 9 and walked just 1 while scattering 4 hits in NYY's 1-0 victory, Sabathia improved to 53-19 as a Yankee in 88 starts.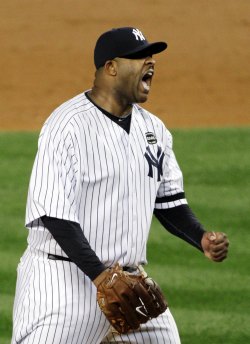 That 7 Year, $161 million deal, C.C. signed with New York to make him the highest paid pitcher in history, may go down as the best free agent signing ever.   It may also go down as a bargain compared to what Sabathia will get upon opting out on the open market. 
Sabathia has been a true ace in every sense of the word since coming to New York – and a workhorse to boot.  He has pitched a phenomenal 613.1 innings in pinstripes to date.  He delivered a World Championship in 2009, winning 3 games that postseason.   He is a team leader on and off the field – and at just 30 years old has flat out filthy stuff.  Just ask the Rays Elliot Johnson who got blown away by a 98 mph heater on Sabathia's 113th pitch of the day for the final out on Sunday.  The guy has it all working.
That is why it behooves Cashman to act now.  While he has his policy of not negotiating with players during the season, that is just foolish pride and ego in this case.  Cashman has never had a prime-aged, ace starting pitcher with the potential to sign elsewhere in his entire tenure as Yankees GM.   He cannot mess this up because of some business guideline.
Losing Sabathia would be disastrous to the entire Yankee organization for years to come.   He is now the team's most valuable player – not just pitcher.  A-Rod is 36 and is out after knee surgery.  Derek Jeter is clearly in decline, even with his magical 5 for 5 effort in getting his 3000th hit on Saturday.  Mariano Rivera will not pitch forever, especially if he doesn't add another pitch.   Even the prime aged Yankees all have major flaws.  Mark Teixeira is "pull" crazy with his lousy .244 average.  Robinson Cano is all about his stats and has zero plate discipline.  Curtis Granderson strikes out too much, and Nick Swisher is …well Nick Swisher.  Sabathia must be re-signed at all costs.
The Yankees start the second half with 8 games on the road.  They return home on July 22 for 10 games.  Cashman should quietly schedule meetings with Sabathia's agent during that home stand and get a deal done quickly and quietly.  He was prepared to offer Cliff Lee 6 years and $24 million last offseason to join the Yankee rotation.  He should just give CC 5 years and $25 million and call it a day.  Sabathia has earned every penny to date and in my opinion will continue to do so.  If he doesn't sign this deal every Yankee player, employee and fan will regret it for a very long time
About the Author
Subscribe to author's RSS feed
Written by Brendan Sennott
I was born in the heart of the AL East in the late 70's and am a huge Yankees fan. (Don't hate) I have moved around to a lot of solid baseball markets in my life(Boston, Chicago, Detroit) and was a part-time reporter, producer, blogger, and on air personality for WDFN Radio Sportsradio 1130 The Fan in Detroit. I still live in the "D" and am married with one beautiful 9 month old daughter. My girls are my life. In my media career I've interviewed players, managers and executives in the sport and would love to get back in the business full time. Baseball is my passion. I look forward to shooting straight about the Yanks and M.L.B in my new blog and getting your feedback.