During his magnificent 18-year career, Mike Schmidt played mostly third base, and some shortstop.
In 1985, the Phillies moved him to first base to give 23-year old Rick Schu an opportunity to start at third. The experiment didn't last a full season, and Philadelphia traded him to Baltimore in 1988.
Pat Burrell started his career at first base due to an injury to opening day starter Rico Brogna.
"Mr. Five for One" Von Hayes played the outfield mostly during his tenure with the Phils, but from 1986-1988 he started a majority of his games at first base.
Some other notable names who played some part-time first base include Dick Allen, Ed Delahanty, Nap Lajoie, Willie Montanez and Dave Hollins.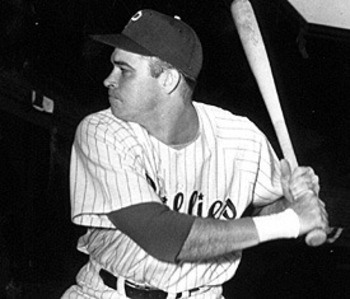 Years:
1948-1951
Phillies Career: .287/.352/.421 39 HR 241 RBI 227 R 3 SB
Best Year 1950: .296/.373/.442 13 HR 83 RBI 79 R 1 SB
Dick Sisler played both the outfield and first base, but because he had more career starts at first base I decided to put him on the first base list.
The Phillies battled with the Dodgers all-season long for the 1950 NL Pennant, and they met in the final game of the regular season in a de facto playoff game.
After Richie Ashburn threw Cal Abrams out at home in the bottom of the ninth to save the season, Sisler hit the go-ahead three-run home run in the 10th to give the "Whiz Kids" the eventual 4-1 win and the NL Pennant.
Years:
1966-1968
Phillies Career: .258/.341/.402 39 HR 176 RBI 148 R 22 SB
Best Year 1966: .276/.352/.451 22 HR 103 RBI 85 R 16 SB
After the historic collapse of the 1964 Phillies, the organization was looking for a quick fix by trading for veterans.
Bill White spent eight spectacular seasons in St. Louis before he arrived to Philadelphia.
In 1966, White became the first, first baseman to drive in over 100 runs since Dolph Camilli in 1936.
Unfortunately, White tore his achilles during Spring Training in 1967 and was never the same player again. 
8. Jim Thome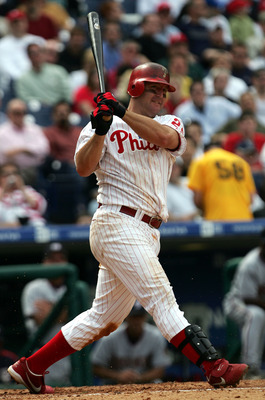 Years:
2003-2005
Phillies Career: .260/.386/.543 96 HR 266 RBI 234 R 0 SB
Best Year 2003: .266/.385/.573 47 HR 131 RBI 111 R 0 SB
In retrospect, the Jim Thome signing was a big mistake.
He held Ryan Howard back, but Thome did put up monster numbers in just three years with the Phillies.
Howard finally got his chance when Thome injured his elbow in 2005. Philadelphia placed Thome on the DL on July 1, and Howard's three month rampage garnered him the NL Rookie of the Year Award.
After the season, the Phillies dealt Thome to Chicago for Aaron Rowand, Gio Gonzalez and Daniel Haigwood.
Just like the Phillies are doing with Clearwater first baseman Jonathan Singleton now, the Phillies experimented with Howard in the outfield during 2005 Spring Training.
In a tidbit, Thome became the first Phillie to participate in the Home Run Derby. This led to six straight seasons of Phillies who took part in the exhibition; Bobby Abreu (2005), Ryan Howard (2006,2007, 2009), and Chase Utley (2008).
Years:
1969-1972
Phillies Career: .251/.333/.442 88 HR 304 RBI 213 R 4 SB
Best Year 1971: .265/.347/.490 34 HR 95 RBI 74 R 0 SB
Greg Luzinski was primarily a first-baseman when he was drafted, but with Deron Johnson at first, Luzinski converted to the outfield so he could get to the Bigs quicker.
Johnson was a very free-swinger and finished in the top 10 in strikeouts in three of his four seasons in Philadelphia.
Pete Rose, a teammate of Johnson's from 1963-1967, claimed that he never saw a player hit the ball harder than Deron Johnson. He finished fourth in the NL with the 34 long balls he hit in 1971.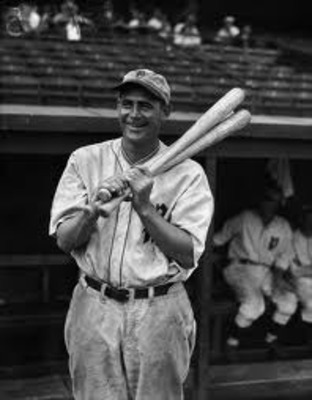 Years:
1928-1933
Phillies Career: .303/.382/.488 115 HR 610 RBI 510 RBI 41 SB
Best Year 1932: .339/.412/.547 24 HR 143 RBI 109 R 10 SB
In 1932, many sports writers compared the tandem of Chuck Klein and Don Hurst to the Yankees duo of Babe Ruth and Lou Gehrig.
The Phillies duo combined for 737 total bases oppossed to the Yankee legends 672.
That year, the Phillies scored the most runs in the league, but also gave up the most. They finished at 78-76.
Years:
1934-1937
Phillies Career: .295/.395/.510 92 HR 333 RBI 347 R 23 SB
Best Year 1937: .339/.446/.587 27 HR 80 RBI 101 R 6 SB
During the 1930′s the Phillies were well known for selling their players for cash. Dolph Camilli was a throw-in in a deal that sent Don Hurst to the Cubs for $30,000 and the aforementioned Camilli.
Camilli turned out to be a "diamond in the rough."
Before the start of the 1938 season, Phillies Club President Gerry Nugent sold Camilli to the Brooklyn Dodgers for $50,000 and Eddie Morgan. Morgan never played for the Phillies.
Camilli wound up winning the NL MVP Award in 1941 hitting .285 with 34 home runs and 120 RBI.
Due to the Phillies ownership continually shipping away players for cash, from 1918-1948, the Phillies finished above .500 just once.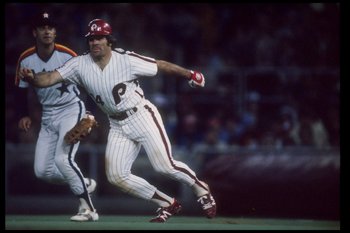 Years:
1979-1983
Phillies Career: .291/.365/.361 8 HR 255 RBI 51 SB 390 R
Best Year 1979: .331/.418/.430 4 HR 59 RBI 103 R 20 SB
After three consecutive losses in the NLCS from 1976-1978, General Manager Paul Owens felt that the window towards winning a World Championship was closing.
After a bidding war, Owens acquired Pete Rose in 1979.
Rose didn't have much athletic ability, but he was called "Charlie Hustle" for a reason.
He had outstanding hand-eye coordination. As a switch hitter, he sprayed the ball around. He rarely struck out and had a great knack of fouling balls off to keep at-bats alive. 
He possessed amazing and aggressive instincts on the bases, and often ran to first base when drew a walk. Rose inspired his teammates by his style of play, and many have stated that he was the missing link to ultimately led the Phillies to a World Series crown in 1980.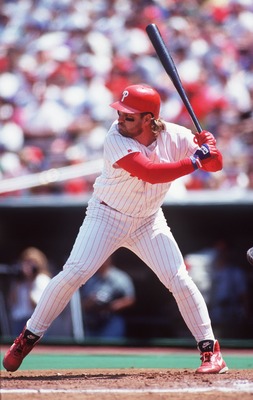 Years:
1989-1994
Phillies Career: .309/.400/.461 62 HR 390 RBI 403 33 SB
Best Year 1993: .316/.430/.475 14 HR 85 RBI 100 R 6 SB
This coming August 12th, John Kruk will become the second Phillies Wall-of-Fame member of the memorable 1993 National League Championship winning team. Darren Daulton earned the honor last year.
In Kruk's book, there's a funny story of when Kruk ate a big meal at a restauraunt, guzzled a couple beers and smoked a few cigarettes.
A lady recognized Kruk and laid into him. She said that he should be taking better of his body.
Kruk responded, ""I ain't an athlete, lady. I'm a baseball player."
That's just the way he was, he ate what he wanted, drank what he wanted, and grew his hair how he wanted.
It never affected his play.
His patience, love of the game and clutch-hitting made him one of the most beloved Phillies of all-time.
2. Fred Luderus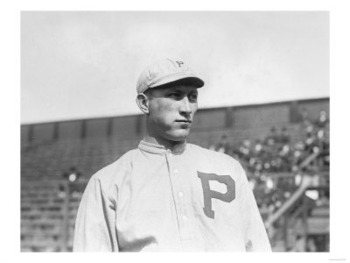 Years:
1910-1919
Phillies Career: .278/.340/.404 83 HR 630 RBI 557 R 55 SB
Best Year 1915: .315/.376/.457 7 HR 62 RBI 55 R 9 SB
Fred Luderus wasn't the best of fielders as he pulled his fair share of Bill Buckner mishaps, but he made up for his lack of defense with his bat.
The Boston Red Sox defeated the Phillies in the 1915 World Series 4-1.
As a team the Phillies struggled to hit as they averaged just .182 as a team. Their premier power-hitter Gavvy Cravath hit just .125.
Luderus hit a team high .442 in the series.

Years: 2004-Current
Phillies Career: .277/.370/.563 271 HR 820 RBI 599 R 19 SB
Best Year 2006: .313/.425/.659 58 HR 149 RBI NL MVP
Ryan Howard is the most overrated and underrated player in Phillies history.
Howard quickly bursted onto the scene and became a victim of his own success.
He's one of three MLB players to win the Rookie of the Year Award and MVP Award the following season. Cal Ripken did it in 1982 and then 1983, while Dustin Pedroia did it in 2007 and 2008. It should also be noted that Fred Lynn (1975) and Ichiro Suzuki (2001) won both awards in the same season.
He reached 100, 150, and 200 homers in fewer at-bats than any player in baseball history. His four straight seasons of at least 45 home runs and 135 RBI (2006-2009) and matched by just two sluggers in MLB history…Sammy Sosa and Babe Ruth.
Does he strike out too much, yes… but so did Mike Schmidt.
Did the Phillies overpay for him, yes…but locking up a premier power hitter is crucial to the middle of a line-up. Not only does he rack up the RBI, he gives the no. 3 and 5 hole hitters better pitches to hit. Jayson Werth is a perfect example, at least so far.
Once his extension kicks in, only Alex Rodriguez will be making more money than him.
I'll say this about the guy, he hasn't gotten overweight and lazy since he signed the extension. He's shed a lot of weight and has really improved his defense. He does need to give Lester Hayes a call so he could put some stick-em in his first base mit.
Whether you're a fan of his or not, he's the best first baseman in Phillies history.
Just be glad that then Toronto GM J.P. Ricciardi didn't pull the trigger on a Howard for Ted Lilly!
About the Author
Subscribe to author's RSS feed
Written by Adrian Fedkiw
I currently work for the Sports Network. It's the best job ever! I am a 2010 graduate of Temple University where I majored in broadcast journalism, I LOVE SPORTS! That's why I am here. I have a vast knowledge and want to share my athletic intelligence with the world. Some people like to spend their time shooting down aliens in Halo; I like to spend my time watching sports, current and old. It's my passion! I got asked one time how I can watch a game over again when I already know the outcome. 5 minutes later, he's watching Happy Gilmore reciting all of the lines from the movie. Hypocrite! As for my favorite sports teams, I've been a lifelong Philadelphia sports fan. My favorite athlete is Allen Iverson. He didn't like practice that much, but when it came to gametime, no one let it all out on the floor like Iverson. He is absolutely beloved in the city of Brotherly Love. For college athletics, obviously I pay close attention to Temple. (Yes, football too) Even before I stepped foot on Temple's campus for the 1st time in 2005, I was a fan. Oh the good old days of John Chaney! Some other tidbits about myself, I love cheesesteaks, I hydrate myself with Welch's Grape Juice and Snapple. I love the HBO show Entourage. Also, when is Kenny Powers making his much anticipated return in Eastbound and Down!