He's gotten a lot of slack from Philadelphia fans throughout the season, but Michael Martinez is starting to pick up the slack.
Martinez is a utility player who can play a multitude of positions, and if he can keep his batting average up, at least he'll maintain a higher career average than Steve Jeltz (.210).
Speaking of Jeltz, he had just one home run in his first six seasons in Philadelphia. Then, in 1989, Jeltz had a power surge and hit FOUR!
Let's get back to Martinez.
He's having a nice July, hitting .276 (8-for-29). Nine of his 13 RBI have come this month.
He's even picked his average up above the "Mendoza line" to .215.
4. Michael Martinez (July 17, 2011)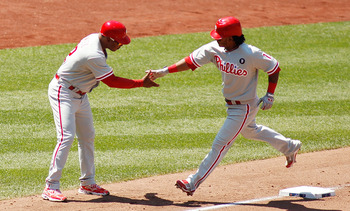 The Phillies faithful can no longer say that Michael Martinez has only warning track power. He now has wall-scraping power.
It took 92 at-bats for Martinez to hit the first home run of his career. Now with 93 career at-bats, his home run percentage stands at 1.08 percent.
Ok, so it may not have been one of the four most improbable home runs of all-time, but let's finally show the man some love!
3. Person Goes for Two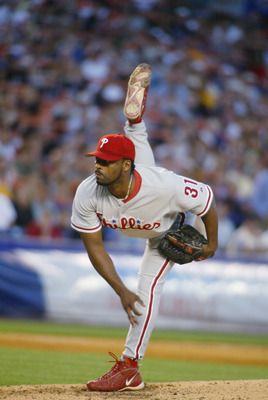 In one of my personal favorite games growing up, Robert Person had himself a ball-game.
Britt Reames started the game, and lasted just six batters while recording just one out. He walked three, gave up a double to Marlon Anderson and Pat Burrell hit a bomb to make it 3-0.
Bruce Chen entered the game with men on first and second. Tomas Perez popped out for out number two. They intentionally walked Todd Pratt to bring up Robert Person with the bases jacked. And go figure, he jacks it out for a grand slam to make it 7-0. The Phillies tacked on three more in the inning to take a 10-0 advantage after the first frame.
Person became the first Phillies pitcher to hit a grand slam since Jeff Juden in a game against the Dodgers on August 25, 1995; but wait it gets better!
In Person's third at-bat in the bottom of the fifth with the Phils up 14-1, he stepped up with two on and one out. This time off of Masahito Yoshii, Person goes yard for the second time.
He became the first Phillies pitcher to hit two home runs in a game since Randy Learch in 1978!
In between the first and third at-bat, Person had the juices full again but just hooked one foul which had home run distance. He wound up striking out.
So, on the day, Person went 2-for-3 with two home runs seven RBI and two runs scored. The Phillies won the game 18-3.
2. The Walk-off Inside-the-Park Home Run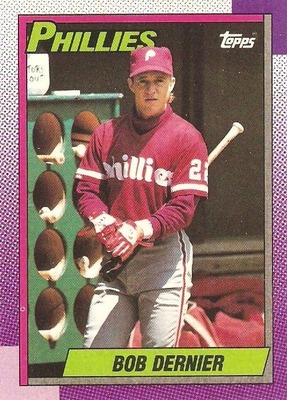 If you want to talk about improbable circumstances, check this out.
On May 15, 1989, the San Francisco Giants and Philadelphia Phillies played 11 innings of shutout baseball.
Don Carman for the Phillies and Scott Garrelts of the Giants each pitched nine scoreless frames.
In the top of the 12th the Giants Will Clark and Kevin Mitchell hit back-to-back home runs to give the San Francisco a 2-0 lead heading into the bottom of the 12th.
With two outs, and two men on base up stepped Bob Dernier.
Dernier was a 10-year journeyman outfielder who had just 22 round-trippers under his belt. In a double-switch, he came into the game in the tenth replacing Von Hayes in right field.
On a 1-1 pitch Giants closer Craig Lefferts threw a slider down and in which Dernier hooked down the left field line. The ball took a precarious carom off the left field wall and just kept rolling as Dernier kept circling the bases.
Dernier could scoot, he stole 45 bases for the Cubs in 1984.
Mitchell finally got a hold of the baseball as Dernier ran through third base coach Larry Bowa's stop sign.
The throw was off-line and Dernier slid safely as the Phillies won the game 3-2. It was the highlight of an abysmal 67-95.
The Giants lost to the Oakland Athletics in the World Series.
1. Joe Blanton Goes Yard in the World Series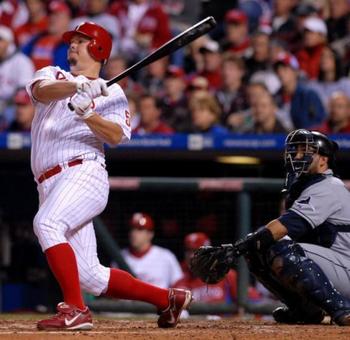 Entering the bottom of the fifth inning, the Phillies held a comfortable 5-2 lead. With two outs Joe Blanton stepped up to the plate.
I thought to myself, "this is great, we're up 5-2, 2-1 in the series, we have the top of the lineup due up in the sixth." And then…
WHAM!
Edwin Jackson leaves Blanton a fastball on the inner-half and he lines it out to left to give the Phillies a 6-2 lead.
He became the 13th pitcher to hit a home run in a World Series Game and the first to do so since Ken Holtzman in 1974.
The Phillies won the game 10-2, and clinched the World Series with a 4-3 Game Five win.
About the Author
Subscribe to author's RSS feed
Written by Adrian Fedkiw
I currently work for the Sports Network. It's the best job ever! I am a 2010 graduate of Temple University where I majored in broadcast journalism, I LOVE SPORTS! That's why I am here. I have a vast knowledge and want to share my athletic intelligence with the world. Some people like to spend their time shooting down aliens in Halo; I like to spend my time watching sports, current and old. It's my passion! I got asked one time how I can watch a game over again when I already know the outcome. 5 minutes later, he's watching Happy Gilmore reciting all of the lines from the movie. Hypocrite! As for my favorite sports teams, I've been a lifelong Philadelphia sports fan. My favorite athlete is Allen Iverson. He didn't like practice that much, but when it came to gametime, no one let it all out on the floor like Iverson. He is absolutely beloved in the city of Brotherly Love. For college athletics, obviously I pay close attention to Temple. (Yes, football too) Even before I stepped foot on Temple's campus for the 1st time in 2005, I was a fan. Oh the good old days of John Chaney! Some other tidbits about myself, I love cheesesteaks, I hydrate myself with Welch's Grape Juice and Snapple. I love the HBO show Entourage. Also, when is Kenny Powers making his much anticipated return in Eastbound and Down!