The Indians have been struggling recently.  They have lost 6 of their last 7 and lost 2 straight series' at home to sub .500 teams.  The Indians have been a good home team too, which makes this stretch more dire when it comes to what needs to be done.  The problem is that the offense is just putrid over this stretch and the lineup is starting to feel like its decimated by injuries.  Sizemore has not been all that great when healthy this year, but he finally started to seem like he was turning it around before he got injured.  He was having a really nice July and while its hard to say if it would have continued, the Indians are now forced to start guys like Austin Kearns (who has cooled off).
The Offense has scored only 13 runs in the last 7 games.  Even with the best pitching staff in baseball, teams will struggle to wins games.  The pitching staff has been doing really well too which makes this more frustrating.  The Indians' starters have averaged 6 2/3 innings a start over this stretch with an ERA of 2.12, unfortunately that doesn't helpwhen your offense scores 0 or 1 runs in 5 of 7 games.  Its disappointing, because these starters have been dominant but neither the offense nor the defense can help them.  The fielding has been just as bad, with 4 unearned runs in 7 games including an outright awful defensive performance in Sunday's game.  Its unfair to blame some of these losses on the pitchers because they have given up at times enough unearned runs to win, even with lousy hitting.
The only players who have been able to hit this past week have been rookies Lonnie Chisnehall and Ezequiel Carrerra.  Even Hafner and Asdrubal have struggled and the team is hitting .196 in the past week .  Even though Asdrubal and Hafner will not keep this up and Choo will be back eventually, but the situation is starting to look dire if the Indians seriously think they have a shot at the division.  The trade deadline is coming up and making a move will be a must, especially a move for a hitter in the outfield.  Carerra has been a nice hitter, but he is a 3rd or 4th OF at this point, not the 2nd.  They need a serious offensive spark.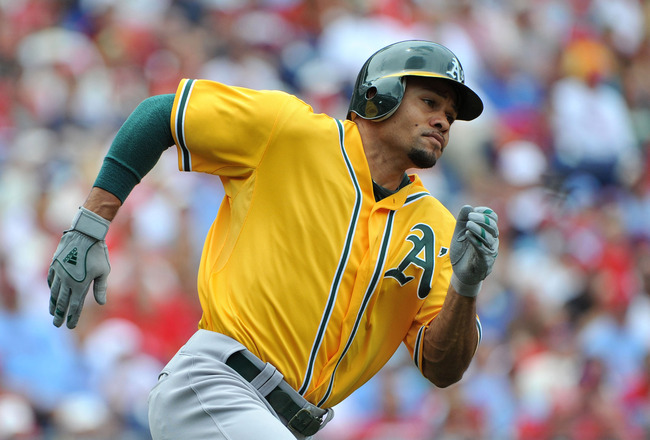 A couple guys thrown around in rumors to go to the Indians are Ryan Ludwick and Coco Crisp.  Both are nice options for the Indians to go after and ironically, both are former Indians.  Ludwick is having a bit of a down year, but is playing in the worst hitters park.  He has nice power and can be a plus hitter in the outfield, though his defense is average at best.  The Defense is personally why I prefer Crisp, who is a plus fielder at Center and Left (though he hasn't played in Left Field since he was with the Indians).  He in a way is kinda similar to Brantley.  Plus glove, good average, gap power, and good speed.  While Crisp won't hit the homers that ludwick can, he gets doubles, moves runners along, and swipes bases at a nice rate.  He also would come for cheaper because Billy Beane and Shapiro have always had a good business relationship and Shapiro was one of the earliest General Managers after Beane to subscribe to the Sabermetrics theory.
The Indians seem like they may be going after other players (Ubaldo Jimenez, BJ Upton), those are guys they are hoping to get a good steal on and aren't as feasible scenarios.  They are still rumored to be looking at crisp and he may be just a fallback option.  If so, It would be a solid move.  Crisp and Ludwick both would cost maybe just one prospect (like a Zach McCallister or a Nick Hagadone).  While Crisp or Ludwick are not world beaters and won't make a dynamic impact, they are certainly better offensive options than Austin Kearns and when your starters have a 2.12 ERA over a period but are losing almost every game, you need some offense.
About the Author
Subscribe to author's RSS feed [1]