The Indians have won 2 straight series, one of which was against Detroit.  In doing so, they have moved from 4 games back to 2.5 games back in the span of a week, a very sizable jump.  What helped is winning 2 out of 3 against the Tigers.  I knew that would be a key series going in and the team showed up.  Starting pitching, hitting, bullpen, it was all there.  They carried that momentum into a series against the Twins where they won 2 in a row and the 3rd game was postponed.  It may sound like a broken record, but the next week will be key but in August all the weeks are key weeks.  You are constantly facing divisional rivals this late in the year and the Indians go on the road to red hot Chicago and then to Detroit, though thankfully they will not have to face Verlander.
The offense hasn't been dominant, but has been enough to win games.  Only once did the offense score more than 4 runs.  The problem has been more execution than hitting as the team is hitting quite well as of late.  Kipnis is the obvious player who has been hitting well but quietly, Fukudome and Chisenhall have been decent as of late.  Santana and Laporta have also been working their batting averages up to more acceptable levels.  Its been a team effort this last week, everyone in the lineup is just doing their job.
For a fan, an important factor is thrilling baseball and the Indians have given all that.  Even though the 14 inning game ended in an anti-climactic fashion and wasn't the greatest game played, it was a suspenseful game.  The Indians come back from that and score 10 runs the next game and their 3rd win was a come from behind victory, unfortunately after Justin masterson was replaced.  Another nice tidbit for the fans is how Asdrubal Cabrera seems to have taken on the leadership role that Orlando Cabrera held.  When Santana made a couple bad plays at first, Cabrera got in his face about it.  He is still a very young player, only 25, but this team is so green that he is one of the most veteran players on it.
Choo is also back and while he hasn't gotten his rhythm back, he will.  Hopefully he can find it a bit on this 6 game road trip.  If the Indians struggle on this road trip, they will fall farther out of it and if they do well or at least stay competitive, they will keep their place and move up.  They are closing in, but you can never afford to lose any ground in August because there is so little time to make it up.  The way the teams are playing recently, Chicago may actually be more of a threat and the Indians have their top 3 starters going in that series.  Tuesday Jimenez will pitch again and if he keeps up the way he has pitched so far (especially considering Chicago has a poor offense), that could be a pitching gem.
The Indians may have a problem looming that teams want to have: too many starting pitchers.  They have 6 starting pitchers that have performed well enough recently to deserve a spot in the rotation, so who do they move?  This won't be settled until Carrasco comes off the DL and serves his suspension, but its an important one nonetheless.  The top 2 are set and it would be a travesty to kick out Tomlin the way he has been pitching, so that leaves Carmona and Huff (or else move Carrasco to the bullpen).  As of late, its been pretty clear that Huff has earned it more.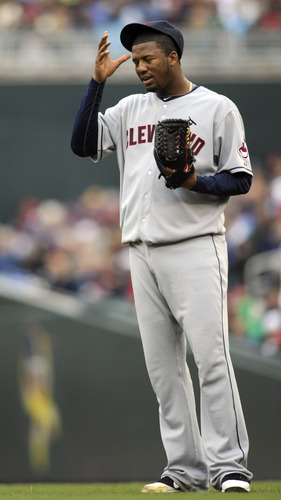 While Carmona has been good fairly recently, he is very streaky and unreliable.  Even with Carrasco's control issues, he still has a significantly better K/BB rate and has the 2nd worst K/BB rate among current players on the roster.  He also has experience in long relief, where he started (whereas Huff in AAA and the pros has only once appeared in relief.  You also have to consider the volatile psyche of your younger players.  David Huff is pitching well and he could get frustrated and struggle if forced into long relief, and Carrasco is even more likely too.  I know Carmona is volatile himself and could struggle in long relief, but he gets frustrated and struggles at times in a starting role too.
About the Author
Subscribe to author's RSS feed [1]