There are firsts that many people remember.  Their first love, their first sports game, their first job and their first sports crush.  For me, it was Jim Thome.  The year was 1995 and it was the first time I ever paid attention to what teams were playing or who was playing on those teams.  It was a good year to be an Indians fan.  The team was young, but they were still winning games and winning them in an entertaining fashion with a juggernaut offense - but Thome was always the player that caught my eye.
It wasn't just the production that caught my eye, but his personality.  I have always been enamored with the players who seem like your classic "country boys".  When you look at a list of some of the athletes I have been fans of (Brett Favre, Jim Thome, Joe Thomas, Peyton Manning), they always had that persona.  Like Favre, Jim Thome still lives in his hometown in the off-season.  Everything you hear about the guy paints the picture of a good guy who has a kind heart and that is something that always causes me to like a person.  Thome has been voted multiple times as one of the nicest players in baseball (2nd in 2007 and 1st in 2009) by Sports Illustrated and he is paying for his nieces and nephews to go to college.
 Jim Thome is a stark contrast to the sluggers of his generation.  McGwire, Bonds, Manny, Sosa…these were all loud personalities and always had an air of arrogance around them.  You never got that with Thome.  They weren't arrogant specifically because they used PEDs, but maybe that had to do with why they took them.  According to award-winning journalist Joe Posnanski, Thome's legacy could be hurt because he wasn't that arrogant guy and that in this generation, the fans prefer tabloid generators rather than "nice guys."
While some people respect his reserved personality, others actually think of him less in the scope of history because of it.  In this article at Sportable, the writer is critical of Thome saying that he wasn't a "benchmark."  
However, if you are talking about his pure production on the field as a player – he was clearly a benchmark. Ask any of his teammates. The difference is that Thome was just quiet about doing it.  The argument of this article is one that is often heard regarding the qualifications for the Hall of Fame - of which Thome is a prime example.  Because he is not famous and was never the best player in the league, he is not as deserving as his numbers would suggest.  I only need to throw out one number, 1.  Thats the amount of clean players with a full career who have hit more at-bats at a higher clip, and that player is none other than Babe Ruth.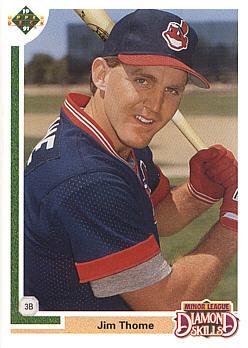 Jim Thome's career has now come in full circle.  He started as a fresh-faced rookie in 1991 without amazing power.  He blossomed into one of the greatest power hitters of all time and now in the twilight of his career, he is back on the Indians for a final hurrah.  This team mirrors in many ways the 1994 team that was his first full season: A lot of young talent with a ton of promise.  The chance to see my favorite baseball player, play again for the Indians is something I never thought I would have a chance of witnessing.
CPR 8-30-2011
About the Author
Subscribe to author's RSS feed
Written by Bradley Ross
Bradley Ross was born and lived most of his life in Shaker Heights, Ohio, a suburb of Cleveland. He grew up with a passion for sports and Cleveland teams, instilled in him by his father. He is currently studying Business/Journalism at Cuyahoga Community College and plans on transferring to the Ohio State University in the winter with an expected graduation date of 2013. He is currently a Staff Writer for the Tri-C Voice Newspaper, which was a recipient of an award for the best non-daily newspaper at a 2 year college (northeast region). He runs multiple blogs off of the blogger platform including The Take By The Lake, a sports blog. Sports is his passion and he enjoys being able to write about them and cover them. He also enjoys improvisational humor, long walks on the beach, and writing in the 3rd person. Follow him on Twitter @BRoss_Voice.