Most times I love when I am right, but not in the case of the 2011 New York Yankees.  I hate that I was dead on in my assessment of this team.  As we all know the Yankees were eliminated by the inferior Detroit Tigers in game 5 of the ALDS.  I said all year they were going to lose in the first round of the playoffs, and sure enough they did.  The thing that plagued the Yankees all year was their inability to hit in the clutch.  That was on display in game 5 as they went 2 for 9 with RISP and runs did not score on either of one of those hits.(Thanks Rob Thompson).  Some high paid Yankees were the main culprits in the choking department.  A Rod, Nick Swisher, and Mark Teixeira were a combined 9-55 in the series.  Those numbers won't get it done against a little league team.   I just know, based on seeing the Tigers all season (unfortunately I live in Detroit) the Yankees should not have lost this series.  There are many questions for this club as it heads into the offseason that need to be answered.  The most important will be C.C. Sabathia's opt out clause and if he really wants to be in New York until he retires.(He was very cryptic about it after the game 5 loss)  To conclude the season I thought I would give an assessment of the 25 man roster, the coaching staff, and GM Brian Cashman.  Yankee fans are all anxious to reload this offseason after such a horrendous loss.  They want the team to get to spring training in order to prepare to do the only acceptable thing in their eyes, win the World Series.
GM-Brian Cashman:  His contract is up and despite striking gold with Freddie Garcia and Bartolo Colon his regime is played out.  It's time for a change in organizational structure. Let him walk.
Manager-Joe Girardi:  I have never been a fan because I think he is a huge hypocrite in his conversations with the media.  Girardi did not have the guts to pull A.J. Burnett from the rotation, and used 6 starters in August and September.  I believe that caused Sabathia's late season struggles.  His man crush on Derek Jeter is an old bit.  He also did not bench Teixeira and use Jesus Montero against the Tigers when he had the opportunity.  I could go on so I will just say fire the bum.
Bench Coach – Tony Pena:  Pena is obviously a candidate to manage if Girardi gets the boot.  I would like to have him back in some capacity.
First Base Coach-Mick Kelleher:  Kelleher does great with the infielders and is a great guy.  Bring him back.
Third Base Coach- Robby Thompson:  Nice stop sign on A-Rod you numbskull.  Pack your bags.
Hitting Coach-Kevin Long:  I have always thought Long was a total buffoon.  I don't think a team of stars like the Yankees should have a guy who never played in the big leagues as their hitting coach. To me the best Yankee offensive team of the decade was when Don Mattingly was the hitting coach.  Everyone around the Yankees acts like Long invented hitting.  I think he has only truly improved one Yankee player in Curtis Granderson, while countless others have regressed.  He has the team way too pull conscious and home run obsessed.  Please if nothing else get rid of this chump.
Bullpen Coach- Mike Harkey:  Sure he can stay.  He is one hell of a towel waiver.  Who cares anyway?
Catcher-Russell Martin:  Martin is a great defender with a great arm, but is a bum at the plate.  This was illustrated by his 2 choke job at bats in game 5, where he seemed to be trying to hit an 8 run homer.  Ironically Sabathia had far better numbers pitching to Francisco Cervelli than Martin.  I think he is a national league player. Decline his arbitration and let him walk.
First Baseman-Mark Teixeira:  Teixeira is a total scrub with a bad contract and a full no trade clause. He makes the pre 2009 A Rod we all hated look like Babe Ruth.  A .248 average is unacceptable for a guy making $22.5 million a year.  I am sick of hearing about the 39 homers and the gold glove first base.  We are sadly stuck with him.  He better improve as a hitter from the left side or give up switch hitting.  He should hit no higher than 5th in the Yanks lineup moving forward if his average doesn't improve.   He is one of the main guys I feel Kevin Long has ruined.
Second Baseman-Robinson Cano:  Cano is now, by far the best player on the team.  He batted .302 with 28 homers, and 118 RBI's.  The scary thing is that he had a better year in 2010.  He often takes games and at bats off which hurts his overall numbers.  He needs to learn show up every night if he wants to be the perennial MVP candidate that he should be.
Third Baseman-Alex Rodriguez: A Rod will get a lot of the blame for the loss to the Tigers.  I feel like he gets immunity from that because he delivered the championship in 2009 and was playing hurt.  A-Rod played in just 99 games this year due to knee surgery and a sprained thumb.  Rodriguez hit a career low 16 homers.  He needs to become the Yankee version of Big Papi and DH the majority of games.  That is the only way he is going to return to being the run producer and power threat that the Yankees need him to be.
Shortstop-Derek Jeter:  Jeter is clearly not the same player.   2 years ago his 8th inning fly ball off Joaquin Benoit in game 5 probably gets out of the park, and the Yanks win the series.  Yes he hit .297 but it was a soft .297.  Much like Tex the Yankees are stuck with him, but at least for only 2 more years.  He needs to bat in the bottom of the lineup from here on out.
Left Field-Brett Gardner:   Brett Gardner was the only Yankee in the post season who hit in the clutch.  He is coming into his prime, is phenomenal on defense, has incredible speed, and is solid at the plate.  Gardner should be moved to centerfield and the leadoff spot to set the table for Cano.  He needs to improve on his bunting to help him get out of slumps quicker.  He will be around for many years to come.
Centerfield-Curtis Granderson:  Granderson had a career year with 41 homers, 119 rbi's, and 136 runs scored in 2011.   However he batted just .262.  The problem is he strikes out way too much.(169 k's)  He also occasionally misjudges some balls in center.  He needs to be moved to left and put into an RBI position in the lineup where his strikeouts aren't so killer.
Rightfield-Nick Swisher: Swisher continues to be awful in the postseason with a career .169 average.  He has a rag arm and often seems focused on kids' albums and his celebrity wife.  The Yankees hold a $12 million option on him which they should quickly decline.  He just doesn't fit into the Yankee culture.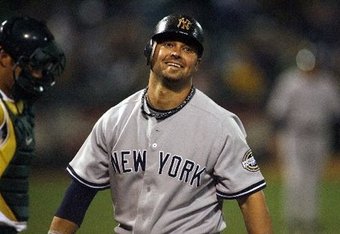 DH-Jorge Posada: Posada is a legendary Yankee and one of my all-time favorites.  Despite an incredible post season it is time to call it a career at age 40.  He just can't catch up to overpowering fastballs, or nasty off-speed pitches any more.  The next big moment for him will be the unveiling of his plaque in Monument Park.
Bench- Andruw Jones, Eduardo Nunez, Francisco Cervelli, and Eric Chavez: Jones, after some advice from his mother about his stance was a beast in the second half and should be brought back.  Nunez needs to learn how to field but has a lot of tools and will certainly return.  Cervelli is a huge question mark after suffering the 4th concussion of his career.  Chavez did a great job despite breaking his foot in May. He needs to be replaced by a younger, right-handed version of himself who can play 3rd every day to help keep A Rod healthy.
Starting Rotation- CC Sabathia, AJ Burnett, Bartolo Colon, Freddie Garcia, Ivan Nova, and Phil Hughes:  We all know about CC's opt out and he must be retained at all costs.  If he leaves New York the Yankees suddenly become the Blue Jays.  He has won 59 games in three seasons in pinstripes.  If he had a little more of a nasty side he might be the best pitcher in baseball.  The Yankees are stuck with AJ for 2 more years at $16.5 million so forget about another team taking that contract in a trade. Colon ran out of gas and might be finished, again.  Garcia was solid and would be worth having back on a cheap, incentive laden deal.  Nova is a stud who went over 2 months without a loss during the season.  He must be protected innings wise to keep him healthy.  Thankfully his game 5 injury was a minor forearm strain and he will be ready to go in the spring.  He needs to work on his slider or develop a splitter to have as a strikeout pitch.  If he does that he becomes an annual CY Young Award candidate.  Hughes should be moved to the bullpen where he dominates or traded to a National League team like former Yankee Ian Kennedy.  I just don't think he has what it takes to be a front line starter in the AL East.
Bullpen- Mariano Rivera, David Robertson, Rafael Soriano, Boone Logan, Corey Wade, Luis Ayala.  Mariano is still the best in the business even at age 41.  Next year will probably be his last season so you know the Yankees will go all out to improve this team in order to win 1 more title with him.  Robertson made huge strides this year, and is the closer in waiting.  Soriano is a guy with another bad contract.  He was just so-so this season and does have an opt-out clause in his contract.  The Yankees will sign up in a heartbeat if he leaves.  Logan needs another lefty to work with. He throws hard so he is worth keeping despite being an occasional gas can.  Wade and especially Ayala stink and should already have left New York.
There you have it.  Cashman or the new GM will have to work hard in the winter to fix the flaws of this club, but a strong nucleus is in place.  With a few key moves starting with reupping with Sabathia this team can be the favorites on paper to win championship number 28 in 2012.
About the Author
Subscribe to author's RSS feed
Written by Brendan Sennott
I was born in the heart of the AL East in the late 70's and am a huge Yankees fan. (Don't hate) I have moved around to a lot of solid baseball markets in my life(Boston, Chicago, Detroit) and was a part-time reporter, producer, blogger, and on air personality for WDFN Radio Sportsradio 1130 The Fan in Detroit. I still live in the "D" and am married with one beautiful 9 month old daughter. My girls are my life. In my media career I've interviewed players, managers and executives in the sport and would love to get back in the business full time. Baseball is my passion. I look forward to shooting straight about the Yanks and M.L.B in my new blog and getting your feedback.