The Browns travel to San Francisco to face the 49ers and hope to move above .500.  They will not have an easy time of it however.  The 49ers are 5-1 and coming off a bye week.  Though the Browns may struggle, the game will still be fairly close.  The 49ers only have 1 blowout on the year because their offense isn't particularly good.  To counter the 49ers mediocre offense, the Browns have a mediocre offense of their own.  On the other side of the ball, both teams have good defenses and both have rookie head coaches.  How these teams do may depend a lot on what injured players will be playing.  The Browns have 4 starters, Joe Haden, Tony Pashos, Shawn Lauvao, and Ben Watson, who were limited in practice and Peyton Hillis has not yet practiced this week.  For the 49ers, Braylon Edwards may or may not play.
On offense, both teams struggle to score and move the ball, but are some of the best in the league at protecting the ball.  They are tied for 4th in the league in turnovers but both are in the bottom 25% in terms of yards.  The 49ers do have one thing that gives them an edge: Frank Gore.  That's a pretty big edge right there.  Hardesty had a very average game last week and there is still doubt as to whether Hillis will be able to play.  The passing games are about even because neither QB is likely going to win the game for his team.  While Colt mcCoy won't have mohamed massaquoi, Alex Smith may not have Edwards and Crabtree is likely not going to be at 100%.
On Defense, these teams are fairly even with a slight edge to San Francisco.  The 49ers get a big edge in their ability to create turnovers, which is a big reason why they are 5-1.  They are 3rd in the league in turnovers and when you can force turnovers, you get more chances to score.  The 49ers have been dominant against the run, but they haven't faced many tough tests.  The Browns on the other hand have faced a bit tougher challenges for their rush D.  Its the reverse for pass D.  The Browns are a bit better statistically but also more untested.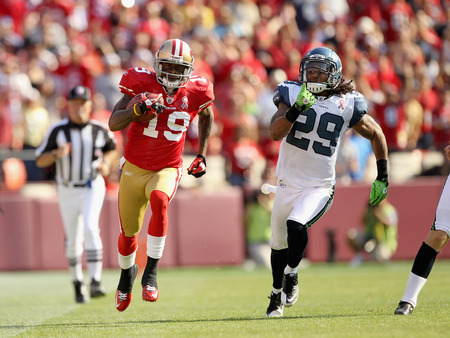 The 49ers do have a clear edge in special teams and coaching.  So far, Harbaugh has looked like a very good coach while its hard to say what Shurmur is as a coach.  He is not bad, but he is not particularly great.  The 49ers have the Browns' old special teams coach, Brad Seely.  Ted Ginn Jr. is having a career year returning kicks and punts and the coverage teams have been dynamite.  The Browns on the other hand have let up a return for a TD, almost let up another one last week, and the return team has not given Josh Cribbs a lot to work with.
This game will likely come down to who can be the most efficient on offense and who can force the most turnovers. The 49ers have been a benefit of teams that turn the ball over a lot.  the average team they faced the first 5 games ranked 21st in the league in turnovers.  San Francisco have been the beneficiaries of highly penalized teams and commit a good deal of penalties themselves and the Browns are solid at limiting penalties.  The Browns can have a legitimate chance if they force a lot of 3rd downs.  San Francisco gets into very few 3rd down situations, but when they do they are one of the worst teams in the league at converting them.  If its a battle of 3rd and long's, the Browns win because of how they can convert.
Prediction: 49ers 24, Browns 16
I have seen predictions in places of the Browns losing 31-0 or bigger, but that's just ridiculous.  Seattle was able to put up 17 points.  The two games where they kept their opponent under 10 points was when the QB had multiple interceptions and Colt only has 4 on the season.
About the Author
Subscribe to author's RSS feed
Written by Bradley Ross
Bradley Ross was born and lived most of his life in Shaker Heights, Ohio, a suburb of Cleveland. He grew up with a passion for sports and Cleveland teams, instilled in him by his father. He is currently studying Business/Journalism at Cuyahoga Community College and plans on transferring to the Ohio State University in the winter with an expected graduation date of 2013. He is currently a Staff Writer for the Tri-C Voice Newspaper, which was a recipient of an award for the best non-daily newspaper at a 2 year college (northeast region). He runs multiple blogs off of the blogger platform including The Take By The Lake, a sports blog. Sports is his passion and he enjoys being able to write about them and cover them. He also enjoys improvisational humor, long walks on the beach, and writing in the 3rd person. Follow him on Twitter @BRoss_Voice.