For those who haven't followed the Browns closely and seen Pat Shurmur's press conferences, he really like the word battle.  A lot.  Some people have phrases they use over and over again and like how people try to force "name drops", Shurmur seems to force "battle" drops or "it is my understanding" drops (another common phrase).  Shurmur seems to be learning on the fly, but press conferences are never easy for a new coach, but this inexperience and confusion is just a symptom of what is wrong with the Browns.  The Browns just look inexperience, overwhelmed, and confused at times.  They have had their moments, but their relative youth (they are one of the youngest teams in the league) has been showing recently.  The Jaguars are also in a similar boat.
This is going to be another low scoring game for the Browns as they again face a team with a solid D, but who is inept on offense (similar to the Seahawks in that way).  The Jaguars are completely one dimensional on offense.  If you can load up the box and stop maurice Jones-Drew, you have stopped their offense.  Their passing game under Blaine Gabbert has struggled mightily.  They are dead last in the league in net yards per attempt and total passing yards, and 31st in passing TDs.  They only have one good receiver threat and Haden can shut him down.  The bigger question is can the front seven shut down Jones-Drew.  They have struggled at times against good running backs and need to step up their game to win.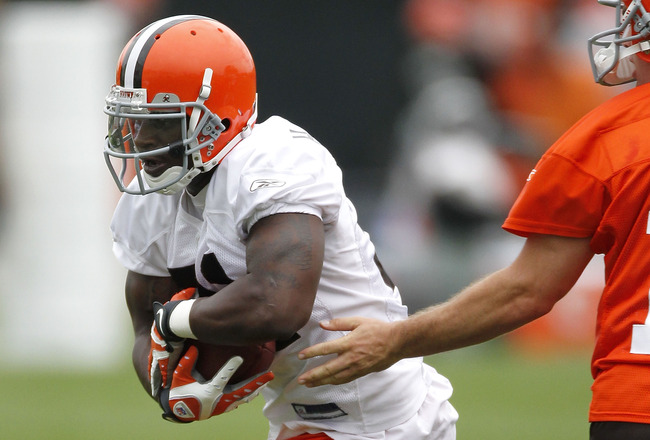 The Browns are going to have to play well on D cause they aren't going to be scoring a lot of points in this one.  In fact, it wouldn't be a surprise if both teams scored under 10 points.  The Browns have maybe a worse offense than the Jaguars and the Jags have a better D.  The Browns score more points and are better overall at moving the ball, but they don't have that weapon like mjd that teams constantly have to worry about.  Chris Ogbonnaya had a good game last week, but that was a good deal because the Rams rushing D is flat out awful.  He didn't always hit the hole and a decent running back could have done better.  There are rumors montario Hardesty could be healthy, but Hardesty not at 100% still isn't going to add much. It's most likely going to be up to Colt mccoy to move the ball and score points against a stingy pass D.
These teams in general are pretty even.  They both have poor offenses with mediocre (at best) QB play, but defense that have won them games.  Their turnover differential is exactly the same (zero) and they have almost the same point differential (Jags are 1 point better).  Both teams are severely limited in their playmakers on offense.  The Browns best hope to win is to pressure Gabbert and force him to make mistakes, and to stuff jones drew.
Prediction: Jaguars 13, Browns 9
About the Author
Subscribe to author's RSS feed [1]