It's been a couple months, but it's time to look back on the Indians season and review how they did and by doing so, be able to figure out what this team can do in the future.  Sometimes its nice to take a little while to let the results sink in.  If you set your expectations in the first couple months in the season, this was a disappointment, but no one was predicting this team getting this close to .500.  The more optimistic predictions were something around 76-86.  Despite long injuries to Shin-Soo Choo, Grady Sizemore, and Travis Hafner, this team was able to compete in the division for most of the season.
The Indians had a lot of questions coming into the season involving many players such as Asdrubal Caberera, Justin masterson, matt LaPorta, and Carlos Santana.  Overall, there were some very mixed results, but there is a lot of room for optimism around this team.
Between Cabrera and Choo, the Indians have a pair of legitimate sluggers for the middle of the order.  They both hit 25 home runs and answered questions about their ability to come back from recent injuries.  They are going to be staples of Indians line-ups to come, but the same will not be said about LaPorta.  This was LaPorta's breakout year and like the others, he was supposed to be healthy.  He was banged up a lot this year and even when healthy, he struggled at the plate.
The Indians' biggest problem on offense was injuries.  They lost their top 4 outfielders (michael Brantley, Choo, Sizemore, and Trevor Crowe) all missed significant time due to injury.  Sizemore will always be a question mark, but an outfield of Brantley, Choo, and Kosuke Fukudome with Crowe as the 4th OF would be acceptable.   Injuries also took the season of Travis Hafner.  The offense seemed to have more of a spark when he was in and he gave the Indians a bat pitchers respected.  The Indians desperately need offense from the corner infield, because Hanahan and LaPorta just don't cut it.  Lonnie Chisenhall showed a lot of promise late in the year, but the Indians are going to need more than relying on a 23 year old who is essentially a rookie.
The Indians pitching staff also so a lot of turnover due to injuries.  Fausto Carmona, Josh Tomlin, mitch Talbot, and Carlos Carrasco all were injured at some point.  Through all this turmoil, the Indians bullpen stayed strong and Justin masterson proved he could be a front of the rotation arm.  Bullpens are very hard to predict, but the young arms the Indians have look good and a few (Tony Sipp and Chris Perez) had success in 2010 too.  Carrasco will miss all of 2012 with Tommy John surgery, but the Indians fortunately were able to find solid back of the rotation guys in David Huff and Jeanmar Gomez.  They both stepped up nicely when the starting pitchers started to fall.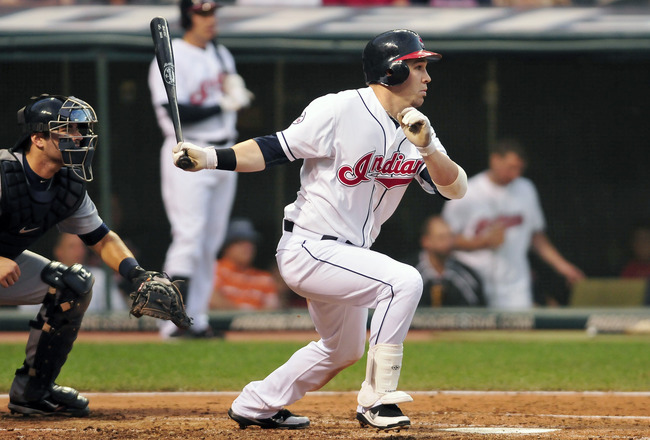 The reason injuries hurt the Indians more than any other team really is their lack of depth.  They had nice players on the major league roster, but your margin of error is low when you have little depth.  Huff and Gomez stepped up in the rotation, but the depth hitters such as Travis Buck and Austin Kearns provided little.  The only depth hitter who showed something was 2B Jason Kipnis who came up to the majors with a spark and was knocking balls out of the park.  He quickly was another victim of the injury bug, though he  will likely start alongside Cabrera in the infield in 2012.
The Indians figured out a lot of things that worked and some things that didn't.  They figured out a healthy Asdrubal was a great offensive weapon now that he translated his gap power into big bombs.  They also found good players for 2012 at catcher, 2nd, 3rd, and in the corner OF (Brantley).  masterson showed he could be an ace and Tomlin proved he deserved to be in the rotation.  Considering the situation, manny Acta also did a heck of a job keeping this team together.
Part 2 will go over Free Agent acquisitions and hash out the roster & maybe a prediction or two…
About the Author
Subscribe to author's RSS feed [1]