The Yankees opened the 2012 season with a bad taste in their respective mouths.  In 2011 they won the American League East by winning 97 games – then lost to Detroit in 5 ALDS games - looking inept while bowing out.  In the off season the pitching staff was improved with the additions of Hiroki Kuroda and Michael Pineda and the subtraction of AJ Burnett.  Raul Ibanez was signed to replace Jorge Posada as the DH against right handed starters (4 RBI in his debut).
Suffice to say the 2012 Yankees are loaded on paper and are all but guaranteed to make the post season.    This is especially true with the addition of a second wild card in each league.  The problem is, what will they do when they get there again without having addressed some serious underlying flaws?
The Yankees lost their season opener to the Rays yesterday in shocking fashion with Mariano Rivera blowing a 6-5 9th inning lead.  Ace C.C. Sabathia was not sharp in allowing 5 earned runs over 6 IP including a first inning grand slam.  I'm not at all worried about C.C. and Mo.  The troubling things  I saw yesterday pertaining to this ball club were the same things I saw against the Tigers last October.
First off Joe Girardi managed horribly.  You don't intentionally walk Sean Rodriguez with your ace on the mound in the 1st inning of game 1 of 162.  It's Sean Rodriguez.  Make him beat you with 2nd and 3rd and 2 out.  If he does you tip your cap and let the best offense in baseball come back from an early deficit with 8 innings to go.
The pitch selection was atrocious.  I don't know if that falls on Girardi, Bench Coach Tony Pena, Pitching Coach Larry Rothschild or Catcher Russell Martin.  After walking the mighty Rodriguez you don't call a 3-2 fastball to Carlos Pena with the bases loaded.  Pena was 4 for 35 against Sabathia coming into the at bat.  He is the real life version of Pedro Cerrano (from Major League).  He can't hit a breaking ball to save his life.  That was clear when Sabathia struck him out in his next 2 ab's with sliders away.
The poor pitch selection was again on display in the 9th with Rivera pitching.  He quickly got ahead of leadoff batter Desmond Jennings 0-2.  After hoping to get a called 3rd strike with a waste pitch the Yankees came middle in.  Mo missed his spot leaving the pitch out over the plate  and Jennings slashed it for a single.
Why not throw a high rising 4 seamer out of the zone and hope Jennings will chase?  Jorge Posada and Rivera have done it a million times to righty batters with 2 strikes.  That strategy seems to have gone away during the Girardi regime.  When Mo is a little off he seems to get hurt by righties.   The poor pitch selectiom plays to their strengths leaving pitches over the plate when missing his location instead of getting them to chase his pitch.

The biggest achilles heel for the Yankees continues to be its lack of clutch hitting.  The Yankees left 12 runners on base yesterday and were 2 for 11 with RISP.  Mark Teixeira and Nick Swisher continue to be putrid in key at bats.
The Yankees have no shot at championship number 28 if they continue to fail with runners on base.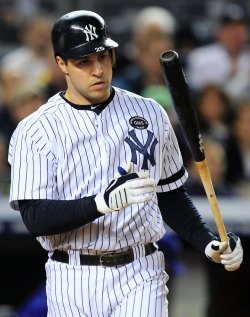 Its one loss of roughly 60 to 65 on the season.  You chalk it up and give the Rays their due.  Its just upsetting that it would have been an easy win had the same factors that crippled this team last year against Detroit not shown themselves again.
About the Author
Subscribe to author's RSS feed [1]