The Yankees saw their modest 4 game winning streak come to an end this afternoon losing to the Angels 7 to 1 at the Stadium.  The loss put them at 4-4 through their first 8 games.  Not bad considering they have not hit in the clutch and have just 2 quality starts from their rotation in those 8 games.  April is all about keeping your head above water in terms of the standings as your ball club tries to find its identity.  A season is not defined from a team standpoint in April but you often learn early in the season about some key players.  April baseball can sometime show an organization what guys are headed for huge years and what guys may struggle for the duration of the season.  Saturday the Yankees may have started to see that Phil Hughes may be in for a very long year.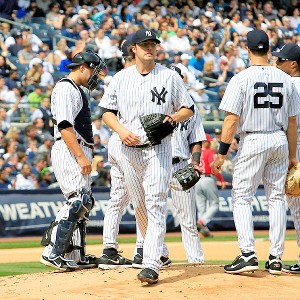 Hughes was bombed by the Angels Saturday giving up 6 earned runs in 3.1 innings of work allowing 8 hits with 6 strikeouts and 2 walks.  He allowed 2 long homers.  A 2 run shot to the light hitting catcher Chris Ianetta in the 2nd, and a 3 run shot to lifelong Yankee killer Howie Kendrick in the 4th.  Hughes saw his record drop to 0-2 and his e.r.a. is an even 9.00 early in this 2012 campaign.  He has pitched just 8 innings combined in his 2 starts.  The velocity Hughes had during his 18-8 season in 2010 has returned as his fastball was topping out at 94 mph Saturday.  The problem is his offspeed stuff seems uncrisp and Hughes seems to be lacking confidence in those pitches. He seems to be in love with his heater now that the missing gas has returned to it and he is getting hit especially hard as a result.
The Yankees are a win at all costs franchise.  GM Brian Cashman and Manager Joe Girardi will not keep sending Hughes out to start games if his performance does not improve quickly.  Andy Pettitte is down in Tampa building up arm strength and is expected to return to his guaranteed spot in the rotation in early May.  That gives Hughes 3 to 4 more starts to get his act together.  If he doesn't he will be sent to the bullpen, a place he flourished during the 2009 championship season.  Because of that success the Yankees will not hesitate to move him.  Many thought Freddy Garcia would be the odd man out when Pettitte returns to New York.  If he doesn't get it going immediately it will be Phil Hughes.
About the Author
Subscribe to author's RSS feed [1]