The January blockbuster trade between the Yankees and Mariners that sent top hitting prospect Jesus Montero and righthander Hector Noesi from New York to Seattle for righties Michael Pineda and Jose Campos is looking like a huge loss for the Bombers. 
Pineda struggled all spring to find the power fastball he displayed last year in Seattle where he consistently threw 96 to 97 mph.  He was shut down after another horrible spring training outing on March 30 where his fastball could barely reach 90 mph.   After the game an MRI revealed minor shoulder tendonitis.  This afternoon Pineda suffered a setback during his rehab in his attempt to join the Yankee rotation in Mid-May.  He managed to throw just 15 pitches in an extended spring training game and left with similar pain in the back of his shoulder.  Pineda will return to NewYork and undergo a more extensive dye-contrast MRI.  Obviously the Yankees are greatly concerned by this latest development especially with how horrible their starting pitching has been outside of Ivan Nova.
Meanwhile in Seattle Montero is hitting a solid .261 with 2 homers and 7 Rbi.  He has cooled off after a blistering start where he hit well over .300 initially.  Noesi has been less than spectacular posting a 1-2 record with a 9.49 era but in his one victory he did pitch 8 shutout innings.  The Yankees did not believe in Montero's ability to catch consistently and felt he was a liability defensively.  They felt he was simply a DH which would clog up their roster.  New York felt they needed to keep the DH spot open to rotate aging players into it like Derek Jeter, A-Rod, and Mark Teixeira.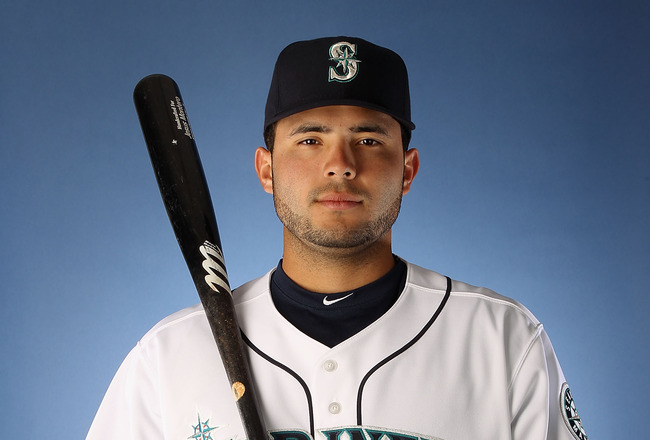 I'm in the minority with that line of thought because the Yankees Won 5 pennants and 2 World Series with Jorge Posada, a supposed defensive liability as their starting catcher.  Yes, current Yankee backstop Russell Martin has a great arm and is phenomenal at blocking balls in the dirt.   However, his game calling is horrible compared to Posada's and he quite frankly stinks at the plate.  Couldn't Montero have succeeded the recently retired Posada as the Yankee backstop in a similar mold?
The one saving grace for the Yankees in this trade could be Campos.  The 6ft 4 195 lb righthander has thrown the consistent heat New York hoped to find in Pineda while posting a 3-0 record with a miniscule 0.56 era at single "A" Charleston.  He has stuck out 18 batters in just 16 IP.  Reports are Campos has a smoothe, natural delivery he easily repeats that should not tax his arm.  He might he the ace Yankee GM Brian Cashman has been so desperate to develope.
My theory is that because the trade happened so late in the winter Michael Pineda did not workout hard enough in preparation for the season thinking he was going to be the guaranteed # 2 starter for the Mariners.  He showed up to camp in Tampa over 20 lbs overweight after the unexpected trade to the Yanks.  The poor conditioning obviously put extra strain on his arm.   It also probably didn't help that he was trying to "muscle up" for the Yankee braintrust in an attempt to impress them with his velocity so they would be convinced they won the trade with Seattle.
Let's be honest if Monday's MRI reveals Pineda has extensive shoulder damage than the Yankees should fire their entire medical staff.  As with most trades he was given an extensive physical.  Let's hope it is just the tendonitis the initial MRI found and he can be shut down until he properly recovers.  This way he could still help the Yankees in the second half of the season.  Lord knows with the current rotation they are going to need it.  If it is something more serious the trade will go down as an epic fail for the Yankees.
About the Author
Subscribe to author's RSS feed
Written by Brendan Sennott
I was born in the heart of the AL East in the late 70's and am a huge Yankees fan. (Don't hate) I have moved around to a lot of solid baseball markets in my life(Boston, Chicago, Detroit) and was a part-time reporter, producer, blogger, and on air personality for WDFN Radio Sportsradio 1130 The Fan in Detroit. I still live in the "D" and am married with one beautiful 9 month old daughter. My girls are my life. In my media career I've interviewed players, managers and executives in the sport and would love to get back in the business full time. Baseball is my passion. I look forward to shooting straight about the Yanks and M.L.B in my new blog and getting your feedback.