The Yankees swept away a subway series against the Mets this weekend thanks to Russell Martin's unlikely walkoff homerun on Sunday afternoon.  The Bombers have won 8 of 10 and sit just a 1/2 game behind the Rays for first place in the ultra-competitive A.L. East.  The 2012 Yankees will never be considered great or dominant.  They do deserve credit for being at less than full strength since the day spring training ended, and for playing quite decent baseball with such a flawed and undermanned roster. We all know about the injury to Michael Pineda that changed the shape of the projected starting rotation.   Losing the greatest relief pitcher of all time in Mariano Rivera for the season to a torn ACL is brutal.  Losing his fill-in, David Robertson to a ribcage injury made the bullpen even thinner.  Thankfully Robertson will be back soon and Joba Chamberlain and David Aardsma should provide late season reinforcements to the pen.  One injury in particular has been especially fustrating to Yankee brass as it seems to have no end in sight.  Brett Gardner's right elbow strain.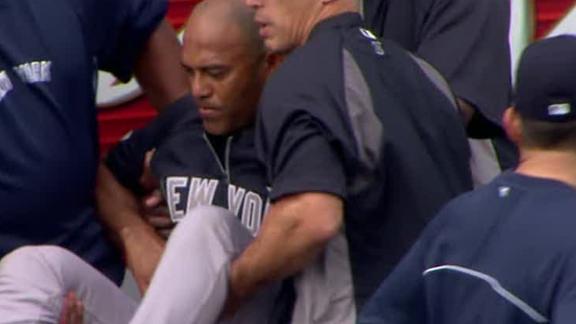 Gardner had yet another setback on Friday morning after playing in a minor league rehad game in Charleston on Thursday.  It was his second attempt at a return from an injury that occured innocently enough and certainly did not look this serious at first glance.  On  April 17th Gardner made a nice sliding catch to get C.C. Sabathia out of a jam in an 8-3 Yankee win against the Twins.  The Yankee leftfielder and speed burner has not played since.  He will see noted orthopedist James Andrews on Monday or Tuesday and at the request of his agent will visit Cincinnati Reds team physician Timothy Kremchek.
The 2-headed monster of Raul Ibanez and Andruw Jones has been decent filling in for Gardner in leftfield.  However, it is not an ideal combination for a team with a championship or bust mantra.  Gardner brings a dimension to the Yankee offense that few people recognize.  He is basically Kevin Long proof.  He is not a pull hitter.  He hits for contact and does not hit homeruns.  With his great speed and decent bunting ability he can avoid prolonged slumps.  That speed has made his one of the games best base stealers.  The running game is an offensive weapon this Yankee club really lacks in with Gardy out.  He also is strong in tough situations at the plate.  I can guarantee you that the Yankees would not be hitting .221 as team with RISP if Gardner were healthy as he is as clutch as they come.
Hopefully the doctors don't find anything this week.  Perhaps Gardner is mistaking soreness for pain and he can return to the Yankees soon.  With this latest setback the earliest we might see him is after the All-Star Break.  If the injury is more serious than initially thought Brian Cashman will need to take the old iPhone out of the holster and get an outfielder in here quickly.  Brett Gardner is very underrated piece on this ballclub.  You can see the offensive struggles of this team get magnified with him out of the lineup.  This is a Yankee team I already don't feel good about.  I feel worse about it without Brett Gardner.
About the Author
Subscribe to author's RSS feed [1]