After Thursday night's announcement that 2011-2012 NBA champion Miami Heat will host the Boston Celtics on Tuesday, Oct. 30, basketball fans can finally mark the beginning of the league's 67th season on their calendars. For the Minnesota Timberwolves franchise, this season will be one of the most important in its 24 years of existence. The pressure is on this young team to reach the playoffs after showing a lot of promise for the majority of last season before fading into the shadows after star point guard Ricky Rubio tore his ACL. If the team fails to reach the playoffs, Kevin Love may be the next small market All-Star to publicly demand a trade.
"My patience is not high," Love said in an interview with Yahoo Sports. "Would yours be, especially when I'm a big proponent of greatness surrounding itself with greatness?"
"I don't know if we will blow up the team again, if I'll be moved," the T-Wolves 2008 first-round draft pick said. "I don't know…But something has to happen in Minnesota."
Timberwolves management has assembled a good amount of talented players this off-season, but how they will play together will be seen first in November.
Schedule Highlights
Opening Night: Minnesota will host the Sacramento Kings at the Target Center on Friday, Nov. 2. The Wolves begin their season at home for 12th straight year. Last year, Minnesota lost to the 2011-2012 Western Conference Champion Oklahoma City Thunder at home, 104-100.
First Nationally Televised Games: The Toronto Raptors (Sunday, Nov. 4) and Brooklyn Nets (Monday, Nov. 5) will host the Timberwolves for their first back-to-back road trip of the season. Both games will be aired on NBATV.
Minnesota will play 14 times on national television, which is the most since the 2005-2006 season.
Minnesota will play on NBATV eight times and three times each on TNT and on ESPN. The Timberwolves' three games on TNT are the most they have played on the network since the team played six during the 2004-05 season.
Televised games against 2012 playoff teams: Nov. 28 at LAC (NBATV), Dec. 20 vs. OKC (TNT), Jan. 17 vs. LAC (TNT), Feb. 1 vs. LAL (ESPN), Feb. 6 vs. SA (ESPN), Feb. 22 at OKC (ESPN), Feb. 28 vs. LAL (TNT), Mar. 4 vs. MIA (NBATV), Mar. 10 vs. DAL (NBATV).
Roy's "Rip City" Return: Brandon Roy, the Portland Trail Blazers's former three-time All-Star guard, is expected to take his first steps onto the Rose Garden's hardwood as a visiting player on Friday, Nov. 23. This game will also mark the first time Minnesota plays against Nicolas Batum since he spurned the Timberwolves' offer sheet this summer to rejoin Portland.
Longest stint on the road – two four-game trips: Nov 23-28 (POR, GS, SAC, LAC) and Jan. 9-14 (OKC, NO, SA, DAL).
Longest homestand – six games: Jan. 30 – Feb. 8 (LAC, LAL, NO, POR, SA, NYK).
Wolves play 22 back-to-backs. They will play zero back-to-back-to-backs.
Minnesota will play each Western Conference team four times except Sacramento (3), L.A. Lakers (3), Memphis (2), and Houston (2).
52 games are against Western Conference teams compared to 30 games versus the Eastern Conference.
Final regular season game: @ San Antonio on Wednesday, Apr. 17.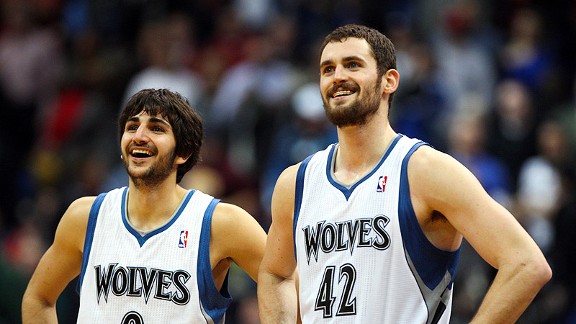 About the Author
Subscribe to author's RSS feed
Written by Jourdan Shepard
New York born. New Jersey bred. Earned my degree on a Georgia clay hill. "Rooting for my rival is like wanting the house to win in blackjack...."