Last game vs. the Patriots: (7-8) vs (11-4) at 4:25 pm.
The game was supposed to be a 1:00 pm, but the NFL changed it. Here is why:
With one week left in the NFL season, the Texans (12-3), Broncos (12-3) and Patriots (11-4) are all alive for the two first-round byes, but none of the top three seeds have been determined yet.
The Texans and Broncos clinch the bye with a win or a Patriots loss, and the Patriots can still get the bye with a win and a loss by either Houston or Denver. The Patriots would own the tiebreaker over the Texans and Broncos based on having a better conference record, but the Texans own the tiebreaker over the Broncos for the same reason.
To that end, the NFL announced last night that this Sunday's Dolphins-Patriots game in Foxborough, originally scheduled to kickoff at 1 p.m., will instead start at 4:25 p.m. The Broncos-Chiefs game also kicks off at 4:25, and the schedule change ensures that all three teams will have to give their best effort on Sunday and won't be able to rest their starters. The Texans-Colts game starts at 1.
If the Patriots-Dolphins game kicked off at 1, and the Dolphins won the game, it would eliminate the Patriots from contention for a bye before the Broncos even kicked off, and the Broncos-Chiefs game would turn into a dud. But now, even if the Texans lose, the Broncos and Patriots still have to win to lock up the first-round bye.
Does that all make sense? Good. http://blogs.palmbeachpost.com/thedailydolphin/2012/12/24/dolphins-patriots-game-moved-to-425-p-m/
A month ago, when the Dolphins faced the Patriots, the Patriots won. With the loss, it allowed the Patriots to win its' 4th consecutive division title.
It was a game that the Dolphins almost had, but lost 23-16!!!!
They held Tom Brady and their offense to 238 yards passing and did what I called for: GET AN INTERCEPTION!!!
The Patriots finished with a season-low 321 yards, and Brady went 24 for 40 for 238 yards, TD, INT with four sacks. http://sports.yahoo.com/news/pats-clinch-afc-east-title-211732541–nfl.html.
Tannehill's line: 13-29, 186 yards, 0TD's, 0INT's, 1 fumble lost; 5 carries, 19 yards, TD.
So, what do the Dolphins have to play for?? PRIDE!!! A NON-LOSING SEASON!!!! Those are very IMPORTANT things for players.
Check out this article: http://www.sun-sentinel.com/sports/other/fl-miami-dolphins-end-of-season-1230-20121228,0,6927040.story
Miami Dolphins linebacker Kevin Burnett isn't motivated by the possibility of finishing 8-8 instead of 7-9.
"Who cares?" he said. "You're sitting at home. At this point you play to win, but the difference between the two, when it's all said and done, is nothing. You're sitting at home when it matters, in January."
He's wrong. Winning on Sunday makes a big difference for the Dolphins. I agree with that.
Here's a scary thought for a once-proud franchise:
If the Dolphins (7-8) lose at New England on Sunday and finish with a losing record, they'd join Buffalo and Cleveland as the NFL's only franchises with a current streak of at least four consecutive losing seasons.
St. Louis could squeeze in that group, too. The Rams (7-7-1) have to beat Seattle to avoid a sixth consecutive losing season.
You don't want to keep company with Buffalo, Cleveland and St. Louis.
Even dregs such as Jacksonville, Kansas City and Oakland aren't working on a fourth consecutive losing season.
So as you can see, although the Dolphins are out of playoff contention they have a lot at stake against New England.
But look closer to home.
A victory, and an 8-8 finish, avoids a fourth consecutive losing season, something this franchise hasn't seen since its first four seasons of existence (1966-69). Four consecutive losing seasons might qualify this as the worst-ever stretch of Dolphins football. When it happened previously the franchise was being birthed. That's a legitimate excuse.
Coach Joe Philbin, who completes his first season in charge on Sunday, isn't looking at things from that perspective. He sees the here and now. He sees his first season as a head coach, a season which could finish with a road victory against one of the best teams in the NFL, and certainly the best team in the AFC East for the last decade or so.
The Dolphins have a chance to make a late-season statement by beating the Patriots.
"There's a difference between 8-8 and 7-9, absolutely," Philbin said.
Look at it this way, if the Dolphins finish 8-8, they'd close the season on a three-game winning streak. They'd be 4-2 in their last six games with victories over New England (on the road) and Seattle, a pair of playoff teams. The only losses in that span would be against New England and at San Francisco, also a pair of playoff teams.
That would do wonders for the team's confidence, and the team's perception.
"We know that winning this game could carry over into next season," said running back Reggie Bush, who needs 40 yards to have back-to-back 1,000-yard rushing seasons.
On the other hand, a loss, and a 7-9 finish, could mean the Dolphins didn't accomplish much this season. Sure, they found a quarterback in rookie Ryan Tannehill. That can't be diminished. And they found a head coach and had some quality performances from some guys.
But in the grand scheme of things they'd be in roughly the same place as they've been after the previous three seasons, heading into the off-season without much momentum and very little buzz.
One game, this game, can make a big difference.
Players who have been on the Dolphins since 2010 have never had a winning season or beaten the Patriots. That group includes players such as Burnett, fellow linebackers Karlos Dansby and Koa Misi, guards Richie Incognito and John Jerry, and safety Reshad Jones, to name a few.
Cornerback Sean Smith understands. The Dolphins are 1-6 against New England since Smith joined the NFL in 2009; that was a 22-21 victory in December of his rookie season. He's lost five consecutive games to the Patriots.
"Personally, I don't care what the record is it would just feel really good to get a victory against them," he said. "This team has been dominating the division for a long time…Plus, I don't think I've ever been 8-8. That's crazy."
So, what can Mr. Tannehill do accomplish this feat???
From: http://bleacherreport.com/articles/1457834-how-miami-dolphins-can-set-tone-for-offseason-in-week-17-vs-new-england-patriots.
This article talks about how Tannehill can be effective against the Patriots. I couldn't agree more.
The Miami Dolphins have grown a lot this year, and they have one more chance to prove just how much with a road game against the New England Patriots to close out the season.
Mainly, if the defense turns in a solid performance against Patriots quarterback Tom Brady, and if Dolphins quarterback Ryan Tannehill continues to play efficiently with the football, the Dolphins will have a lot to be excited for headed into the 2013 offseason.
Not just the players, though; the Dolphins coaching staff has grown, too, and has finally begun using Tannehill to his strengths. If they make sound adjustments based off their last game against the Patriots, Dolphins fans can get excited not just for the players, but for the ability of the coaching staff to maximize the skill set of those players—an important component in the growth
of any team.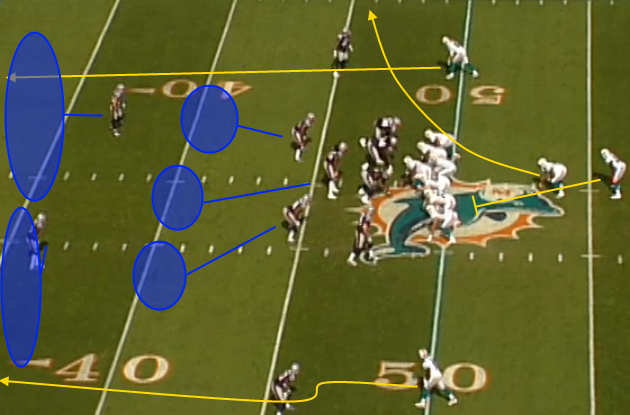 Will the Dolphins ask Tannehill to hang in the pocket, read the defense and make a throw as he did against the Patriots in the previous meeting?
I've been beating this drum for weeks, but they'd be much better off using his athleticism and running ability to their advantage and letting him move around and throw on the run. Granted, he will never improve as a pocket passer unless he practices, but their best chance to take down the Patriots is to do what they're good at.
Too often, we've seen Tannehill struggle to hit open receivers when throwing from the pocket.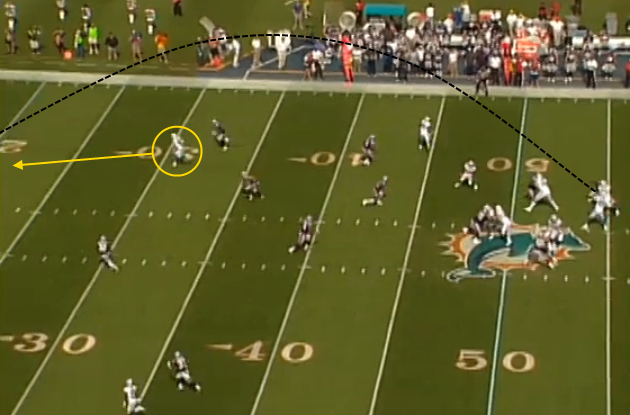 Take this deep throw to wide receiver Brian Hartline in Week 13 against the Patriots. Everything was executed to perfection; the play-action fake to running back Reggie Bush caught Patriots
safety Steve Gregory by surprise, and he vacated his responsibility in Cover 2.
That allowed Hartline to break free through the secondary, and gave Tannehill all the time he needed in the pocket.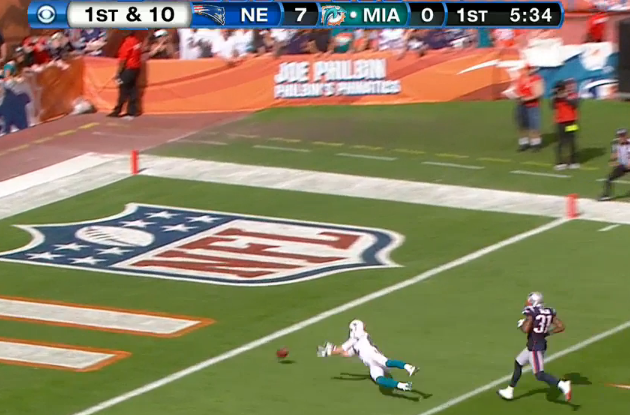 The throw was simply off-target. Quarterbacks can't afford to miss open throws like that in the NFL, and that's certainly an area Tannehill has to improve. If he can hit a throw or two like this on Sunday, it will go a long way in showing just how much he's grown.
If not, there are other ways to create big plays. Tannehill should try to extend plays to get the
receivers open.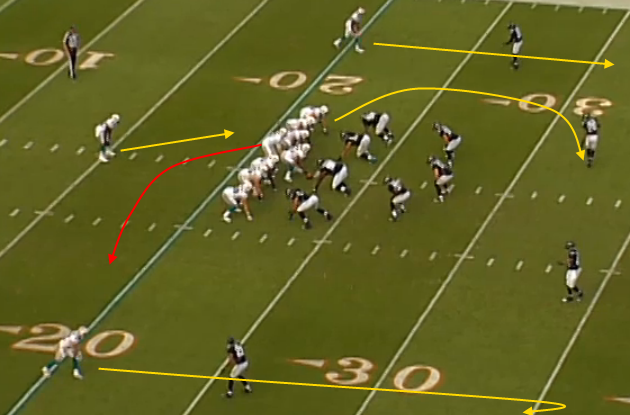 That's exactly what he did against the Jaguars on multiple occasions, but specifically on one play when he hit Hartline for a 17-yard completion.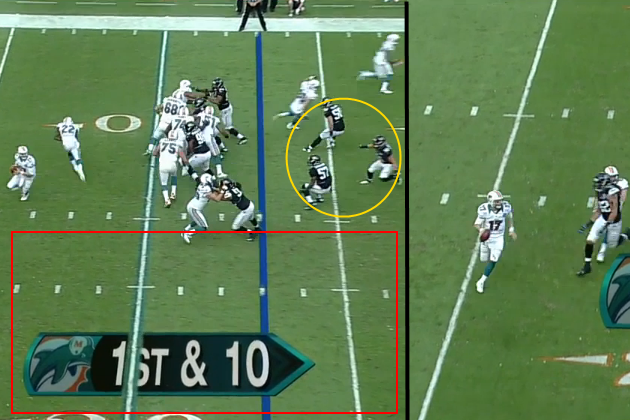 The play was a designed bootleg for Tannehill, but he couldn't find a receiver open initially.
Thus, he extended the play with his legs, and kept extending…and extending…all the way to the sideline, before he finally found Hartline settled into a soft spot in zone coverage.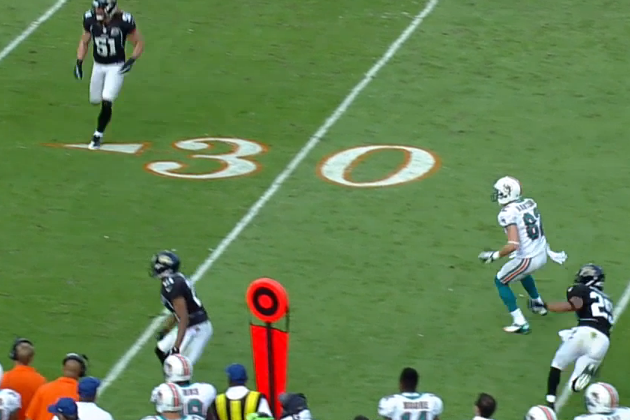 For all intents and purposes, Hartline was triple-covered on the play, but Tannehill fit the ball into the open window and Hartline rewarded his quarterback for keeping the play alive.
It took awhile, but at least the Dolphins have finally begun utilizing those strengths of Tannehill's.
A big performance from the Dolphins' pass defense would also be a huge boost to their offseason confidence level.
The Dolphins pass defense has played well all year, but there has been a trade-off from the first half to the second half of the season. In the first eight games, they were efficient but for their inability to stop big plays against them through the air.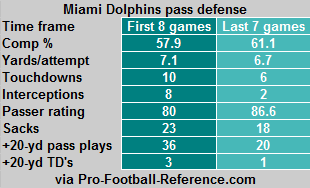 In the last seven games, they've mitigated the damage on deep passes, but have allowed a higher completion percentage and haven't disrupted quarterbacks with sacks and interceptions quite like they did earlier.
The Patriots are not a big-play offense, and if you let Brady hang in the pocket and pick you apart, it's going to be a long day. The Dolphins would be better off to rediscover the style of defense that made them an underrated unit earlier in the season.
If they can prevent Brady from being as efficient as he's been all year, and as efficient as they've allowed quarterbacks to be recently, they could pull off an upset that would send the whole team smiling into the offseason.
Erik Frenz is the AFC East lead blogger for Bleacher Report. Be sure to follow Erik on Twitter and "like" the AFC East blog on Facebook to keep up with all the updates. Unless specified otherwise, all quotes are obtained firsthand or via team press releases.
From: http://www.sun-sentinel.com/sports/miami-dolphins/fl-dolphins-notebook-1224-20121223,0,1166862.story
In his last two games, Tannehill is 35-for-53 passing for 350 yards, four touchdowns and no interceptions. He has an impressive passer rating of 109.8.
In his last four games, Tannehill has five touchdowns and no interceptions. He's gone a span of 137 passes without an interception.
In his last six games Tannehill has thrown seven touchdowns and three interceptions.
And on the ground, in the last two weeks he's had runs of 30 and 31 yards. The latter is the second-longest rush by a quarterback in franchise history, and the former is tied for third.
How IMPRESSIVE is that!!!! You want a quarterback to not make mistakes, and he is certainly proving it. For the season: 262-449 (58.4%), 3059 yards (203.9 yards/gm), 12 TD's, 12 INT's, 8 fumbles, 3 fumbles lost, 76.9 QBR; 47 carries, 203 yards, 2 TD's. http://sports.yahoo.com/nfl/players/25718;_ylt=A2KJ3CTpkOBQgAQAiJNNbK5_
In my eyes, it not how you start, but how you finish. Tannehill is certainly finishing the year strong.
On offense:
1) The 5 R's = RUN REGGIE, RUN REGGIE RUN!! Give him the ball, and TURN HIM LOOSE!!!
One thing Bush would like to accomplish is to reach 1,000 rushing yards for the second straight season. He has 960 entering Sunday's season finale at New England. If he gains 40 yards, he will join Larry Csonka and Ricky Williams as the only Dolphins to rush for 1,000 yards in consecutive seasons.
But regardless of whether he reaches that benchmark, Bush said he wants to stay in Miami for continuity and because he believes in new coach Joe Philbin's program.
"I don't want to keep bouncing around from team to team. I'd like to have a home base," Bush said. "I talked about wanting to build or bring back the passion about Miami football here in the city and building a franchise, a winning franchise here."
Bush said he's "very encouraged' by the team's direction. The Dolphins are 7-8, one game better than last year despite playing with a rookie quarterback.
"(Philbin's attitude) has been really positive for a lot of guys and for the people here, and I think we've been feeding off of that," Bush said. "The direction of this organization is going in the right place." http://www.palmbeachpost.com/news/sports/football/rb-reggie-bush-soon-to-be-a-free-agent-wants-to-re/nTg3s/
2) Take shots downfield. The Patriots' pass defense can be shredded. The play-calling has to be open to anything. Play-Action fakes, flea-flickers, roll-outs.
For the 3rd week in a row, Davone Bess is out with a back injury. The Dolphins have played well in his absence. Reggie Bush, Anthony Fasano, Rishard Matthews and Armon Binns have all stepped up in his absence.
3) Use Bush more in the passing game: Bush caught 2 TD's last week for the 1st time this year. God knows why, they didn't use him in the passing game this season.
Catching passes is nothing new for Bush, of course. He had 88 and 73 in his first two NFL seasons with the Saints, added 52 in just 10 games the next year and overall averaged 58.8 catches in five seasons with New Orleans before coming to Miami last year.
But the Dolphins haven't utilized him nearly as much as a receiver. He had 43 catches last year, and only 33 this season. He's averaging a healthy 8.2 yards per reception this year, but has seven games with zero or one catch.
Why aren't the Dolphins using him more as a receiver?
"I don't know," Bush said after Sunday's win. "You have to ask the offensive coordinator. I just make the plays when I get them."
Sherman was asked about his usage of both players on Monday. As for Bush, he said, "I don't believe he ran any more routes than he normally does." But in terms of finding creative ways to use Bush and Miller, Sherman said he was a bit limited in that regard early in the season as they taught their new offensive system to the players.
Even Bush, Sherman said, needed to first learn how to play tailback in their system before they felt comfortable using him as a slot receiver.
"Reggie is our featured tailback, and that in itself takes a lot of reps, a lot of teaching," Sherman said. "He has been a part of our passing game. A lot of times, he's made some big plays for us on third down, but I don't feel like we did any more with him than we've done in the past." http://blogs.palmbeachpost.com/thedailydolphin/2012/12/26/miami-dolphins-talking-points-why-hasnt-reggie-bush-been-used-more-as-a-receiver/.
4) Use Lamar Miller more: Miller, last week had 10 carries for 73 yards. Including a 28 yard run.
Using Bush as a receiver also meant getting more action for rookie Lamar Miller, who finished with 10 carries for 73 yards and impressed the coaches.
"Lamar is a very smooth back, and he's more powerful than you'd think," offensive coordinator Mike Sherman said.
Or, for that matter, why didn't they use Miller more often earlier this season? He's been inactive three times, and got all of four carries between weeks 5-13 before finally seeing some action the last few weeks.
"You would have liked to do some things earlier but maybe we weren't quite ready for that step," Sherman said. "You can understand and see talent that guys have, but there is a certain process you have to go through from a learning standpoint and a teaching standpoint. There is no question that Reggie Bush is a talented young man, Lamar Miller is a talented young man, but as you go through the journey of a season and you put more and more on their plate and they are able to handle it, you can end up doing more with them."
"As we go into this (final) game and next season, we have a better feel and understanding of where we are at." http://blogs.palmbeachpost.com/thedailydolphin/2012/12/26/miami-dolphins-talking-points-why-hasnt-reggie-bush-been-used-more-as-a-receiver/
5) No Turnovers!!!!!!!  The numbers are clear for Tannehill as he wraps up a mostly successful rookie season: The Dolphins are 1-5 when he throws at least one interception and 5-1 when he completes at least 60 percent of his passes. He has an impressive streak going right now – 136 consecutive passes without an interception over five games, a span during which the Dolphins are 3-2. The Dolphins are 2-8 when losing or tying the turnover battle, so they can't afford mistakes. http://blogs.palmbeachpost.com/thedailydolphin/2012/12/28/game-preview-5-keys-for-the-miami-dolphins-vs-new-england-patriots/
4) Protection, Protection, Protection. Got to keep him upright.
Defense:
1) Get to BRADY!! The front-seven needs to make Brady UNCOMFORTABLE in the pocket, so that way turnovers can be forced, which can happen. Brady has thrown ONLY 8 INT's, but 4 times in the last 2 games. So, maybe they can get 1 or 2.
The Patriots' offensive line have to deal with Pro Bowl Sackmaster Cameron Wake, who has a career-high 15 sacks. Good Luck. 4 sacks by the Dolphins a month ago on Brady.
2) The secondary need to not give up big plays. Brady is a MASTER SURGEON. If these guys are not FOCUSED, Brady will shred them like a paper-shredder. They need to cover these guys and not miss any tackles. The Dolphins' defense has 16 takeaways this season. The franchise record for fewest in a season is 19, set in 2010 and '11. http://blogs.palmbeachpost.com/thedailydolphin/2012/12/28/game-preview-5-keys-for-the-miami-dolphins-vs-new-england-patriots/
S Reshad Jones, who missed out of the Pro Bowl is having a FANTASTIC YEAR. He picked Brady off the last time, they faced each other. His line: An interception, a sack, 11 tackles, and a pass deflection.
TE Rob Gronkowski will be joining the party after breaking his arm. He may not play much, but Miami still has to keep an eye on him.
It was the Wes Welker and Aaron Hernandez show last time. Welker: 12 catches, 103 yards, TD. Hernandez went for: 8 catches, 97 yards, 4 drops. Brady's game-plan was simple: Quick passes to Welker and Hernandez and they made the most of them.
3) STOP STEVAN RIDLEY. The run-defense did very well last week against C.J. Spiller; even though, he busted one for 62 yards. Ridley is a solid runningback, and the Dolphins know they have stop him.
On Special Teams:
1) Punter Brandon Fields, if forced to punt; must pin the Patriots deep in their own territory. No fumbling punts like in the 1st game.
2) Kicker Nate Kiedling, has to make his FIELD GOALS. He made 1 of 2 last week in his debut.
3) Marcus Thigpen has to the give the Dolphins' good field position.
To me, the biggest KEY TO THE GAME is COACHING. Can Joe Philbin OUTCOACH the master in Bill Belichick?? We know all the game is won by the players on the field, but it is the coaches who put their plan in motion and make decisions to benefit their team.
All week long, articles have been written about the possible new logo. What the Dolphins' will do in the offseason. The announcement of the Pro Bowl rosters.
Only Cameron Wake made it, despite great years from Mike Pouncey, Karlos Dansby, Brian Hartline, Reshad Jones, Kevin Burnett and Brandon Fields.
Several players can still go to Hawaii if players at their position withdraw because of injury, including first alternates Pouncey and Fields. But Pouncey said going as a replacement wouldn't be the same.
"I felt like I was the best center in the NFL," he said. "I'd go out there and play and give it my all, but it doesn't mean as much to me now that I'm an alternate."
Several media outlets tabbed Pouncey as one of the biggest Pro Bowl snubs this year.
"It's hard to take, but I'm just blessed that I came out of this season healthy and I gave it my all," he said. "It was disappointing to hear the news, but I'll come back next year and I'll be in. Trust me, it just adds fuel to the fire." http://www.palmbeachpost.com/news/sports/football/rb-reggie-bush-soon-to-be-a-free-agent-wants-to-re/nTg3s/
Uh? There still is a game to be played. Will this be Bush's, Brian Hartline, Jake Long, Sean Smith, Randy Starks, Nolan Carroll, Anthony Fasano's last game in a Dolphins' uniform are legitmate questions for after the season?
They are all FREE-AGENTS in the offseason. I will MOST CERTAINLY write a blog about  the Dolphins' plans; but right now, the focus should be on the Patriots and rightfully should.
The offseason is the offseason. Week 17 is upon us.
The Patriots have won five in a row against the Dolphins, six of their last seven and eight of their last 10. The Dolphins' last win in Foxborough was the Wildcat game in 2008. http://blogs.palmbeachpost.com/thedailydolphin/2012/12/28/game-preview-5-keys-for-the-miami-dolphins-vs-new-england-patriots/
As always, I believe the Dolphins will win this week and make a STATEMENT, that they can hang with the best. They win in a close one (24-14) and get to (8-8) and finish the year off strong. UPSET OF THE WEEK!!!!!!
The Dolphins do pick Brady off again; and the Patriots can't contain Tannehill and Bush. Brady gets sacked 3 times and throws 2 INT's.
I believe Tannehill will do AWESOME (26-36, 250 yards, 3TD's, 0INT's; 5 carries, 50 yards); Bush goes off (20 carries, 100 yards, TD; 5 catches, 40 yards, TD).
Go Dolphins!!!
About the Author
Subscribe to author's RSS feed
Written by Daniel Saviuk
My name is Daniel. I love the Miami Dolphins (been a fan since I was 10)...