How about getting a solid road win to start your season in a tough environment, like the Dolphins did last week, when they beat the Browns in Cleveland 23-10 to start the season. Ryan Tannehill, Brian Hartline, Brandon Gibson, Cameron Wake, Dmitri Patterson, and Caleb Sturgis had the big games for the Dolphins.
That was last week because this week, the Dolphins get to go back to Indianapolis and face the Colts to hopefully get revenge. Both teams are 1-0. Last year, the Dolphins lost in a tight battle 23-20. Both Ryan Tannehill (8th pick), and 1st pick in last year draft Andrew Luck really put on a show for the fans.
Luck was ABSOLUTELY UNFREAKING BELIEVEABLE. He torched Miami's secondary for this line (ALL CAREER-HIGHS): 30-48, 433 YARDS (ROOKIE RECORD), 2TD's, 0INT's.
On 3rd down, FORGET IT: It was LIGHTS OUT!!
Entering today's matchup, Miami was the No. 1 defense on third down, allowing offenses to convert a league-low 26 percent (via Ben Volin), but you could not tell watching today's game.
Luck's was surgical on the money down, completing 13 of 17 passes for 206 yards and one TD. His record-breaking 433 passing yards was assisted by a quick start—an astonishing 273 yards in the first half that made him the second player to throw for over 270 yards before halftime this
season (via ESPN stats and info).
This was Luck's fourth game with at least 300 yards—tying the rookie record set by none other than Peyton Manning.
I sat in AMAZEMENT, as he PICKED APART THE SECONDARY. He was in such a RHYTHM with Reggie Wayne (7 catches, 78 yards, TD), Donnie Avery (5 catches, 108 yards), and Rookie T.Y. Hilton (6 catches, 102 yards, TD; which he caught in the end zone surrounded by 2 defenders). He even dropped a POTENTIAL long TD pass as well. Luck's PASSER RATING was 105.6.
As I watched him due this: I was SCREAMING, "Where is the DEFENSE??" Dolphins couldn't get a pass rush all day. 1 sack all day and by who: Cameron Wake.
Luck was a BULLY to Cornerback Sean Smith. He PICKED on him ALL DAY. Luck was that kid, who would come to you everyday, take your lunch money and dare you to do something about it. Smith, almost had the last laugh in the 4th quarter; when he PRACTICALLY picked off Luck. He went down to his knees to catch it; had it for a moment, but he tried to get up with it and lost control. He should have just STAYED DOWN. The Dolphins would have been in Field Goal range.
So, the Colts punted, and on the last drive for Tannehill and co with a chance to win the game; They went 4 and out with a holding penalty of the final play. Ball Game!!!
Here is the last drive: http://www.sun-sentinel.com/sports/miami-dolphins/fl-hyde-miami-dolphins-1105-20121104,0,5715231.column
From the Miami 17, Tannehill opened with completions of 8, 7 and 18 yards to three different receivers to reach midfield. There was two minutes left now. They needed about 15 yards to try a game-tying field goal.
"I missed Daniel (Thomas) on a check-down, missed Davone (Bess) against thee sideline," Tannehill said.
On third down, center Mike Pouncey was called for an illegal procedure penalty. So 10 yards became 15 for the first down. On fourth down, Tannehill rolled out right and was flattened by Indianapolis' Cory Redding while throwing across the field to Thomas.
Needing 15 yards, Thomas got 14
The Colts looked GREAT. They played their hearts out, with their head coach Chuck Pagano, who was in attendance today as he battles luekemia.
He delivered this statement after the game: http://sports.yahoo.com/news/colts-lucks-lead-past-miami-213109994–nfl.html
"I mentioned before the game that you guys were living in a vision, and you weren't living in circumstances," Pagano said Sunday, surrounded by his players and with interim Bruce Arians at his side after the Colts' third straight win. "You know where they had us in the beginning, every last one of them. But you refused to live in circumstances and you decided consciously as a team and as a family to live in a vision, and that's why you bring things home like what you bring home today. That's why you're already champions and well on your way.
"I've got circumstances. You guys understand it, I understand it," Pagano told them. "It's already beat. It's already beat. My vision that I'm living is to see two more daughters get married, dance at their weddings and then lift the Lombardi Trophy several times. I'm dancing at two more weddings and we're hoisting that trophy together, men. Congratulations, I love all of you."
Even though Luck was won and had great numbers; Tannehill was EQUALLY up to the challenge. He played GREAT, despite LIMITED practice time with his injury to his left knee and thigh.
He was VICTIMIZED by his offensive line and some dropped balls, but still CAME AWAY WITH THIS LINE: 22-38, 290 yards, 1TD', 0 INT's.
He was sacked twice today. His OL was OVERMATCHED today. Dwight Freeney and Robert Mathis were in Tannehill's face all day. Jake Long and Richie Incognito looked like DEERS WITH HEADLIGHTS ON!!
That was last year. This year hopefully will be a different story. Tannehill came up a little short of his playoff aspirations and Luck got his team into the playoffs.
Last year's stats for Luck: 339-627 (54.1%), 4374 yards (Rookie Record), 23 TD's, 18 INT's, 76.5 QB Rating. 62 carries, 255 yards, 5 TD's. http://espn.go.com/nfl/team/stats/_/name/ind/year/2012
I think those are impressive stats. He played pretty decent in his 1st playoff game, but was brought down to size by the Super Bowl Champion Ravens 24-9.
For the Dolphins, the Browns were a nice win, but these are the Colts. I totally agree with Armando Salguero the feature writer of the Miami Dolphins for the Miami Herald.
If the Dolphins can beat the Colts, they suddenly seem a believable playoff contender because they will have beaten a playoff contender.
If the Dolphins can do that, they can argue they have a chance against the coming entourage of franchise quarterbacks they will face the rest of this season because Indy's Andrew Luck is the first in that excellent line.
If the Dolphins can beat the Colts, it will suggest they're turning the tide on what has been a consistently troubling inability to beat good teams the past five seasons.
Consider that the past five years, including the 2008 playoff season, the Dolphins have a very good 29-16 record (.640 winning percentage) against teams with records of .500 or worse.
That means the Dolphins have feasted on poor-to-mediocre teams the past five seasons. They've had little trouble, in other words, against teams like the same Cleveland Browns they just beat.
But against better-than-average teams, the Dolphins have been horrible. They've been outclassed against teams with records better than .500 the past five years to the tune of a 9-26 record (.250 winning percentage).
The past two years have been particularly bad, with Miami going 2-9 (.181 winning percentage) against such teams. Even in 2008, when the Dolphins gave their fan base hope of a turnaround with an 11-5 record and an AFC East championship, the team managed to win only two of six regular-season games against teams with records better than .500.
In other words, the Dolphins have been losing a lot of games against teams like Sunday's opponent for at least five years.
That's what makes this game against the Colts so interesting.
A victory would give hope the Dolphins have changed course. It would suggest Miami can indeed win upcoming games against Atlanta and Baltimore — also 2012 playoff teams like the Colts — because the gulf between Miami and playoff-caliber competition has shrunk.
Even though the Dolphins did win last week, their star player and major free-agent signee Mike Wallace was very unhappy because he had 1 catch for 15 yards and was targeted only 5 times (None in the 1st half). I understand that he was upset because he wanted to prove he is worth the money. The team did win, but I can understand his point. He is a player who wants to show his game to the world.
Miami and Wallace did the right thing to quickly take the high road and move on. It was a "Victory Monday" for the Dolphins — and we all know there haven't been many for this team in the past four seasons.Miami needed to savor this win and put an end to distractions. The Dolphins did that when the coaching staff publicly backed Wallace and communicated with him in private. Wallace, in turn, showed up to address the media and clear the air.
"I'm mad at myself just because I didn't have a good game," Wallace said Monday. "That's all to it."
On Sunday, when a reporter asked Wallace by about the game plan, the receiver reportedly said, "I don't feel like talking about it. Ask Coach."
"I was upset with myself. It wasn't really anything else to do with anything," Wallace explained Monday. "I would've told you the same thing regardless. If you ask me about the plays, I don't really have the answer. That's all I meant by that."
Wallace spoke with Dolphins coach Joe Philbin and offensive coordinator Mike Sherman behind closed doors on Monday.
"Mike's a competitor. He wants to feel a part of the game, as I hope that he would," Sherman said. "He came here to be a factor in our season and our success. The fact that he's disappointed he only caught one ball, that's expected. I have no problem with that."
In the grand scheme of the 16-game season, this could turn out to be a blip on the radar. It's easier to move on after a victory.
It's never good when a high-priced free-agent fails to make an impact, but it's even worse when that player seems disgruntled about his personal performance following a win—the team's first opening-day win since 2010, and only their second opening-day win in the past seven years.
Wallace's struggles on the stat sheet should come as little surprise if you know his recent history against the Browns. He was held to two catches for 20 yards in his past two meetings with the Browns, logging one reception in each game. He was once again held to just one catch, this time for 15 yards, against the Browns.
In the previous games, he spent much of the day covered by Browns cornerback Joe Haden. That trend would continue on Sunday.
If Wallace had paid attention to the words coming out of Dolphins head coach Joe Philbin's mouth earlier last week, he might have seen this coming.
It's very important as we put together the passing game. Obviously, the passing game again starts with protection number one. But then number two, what kind of pass concepts are you going to use, and number three, how are they going to match up to your formations, your personnel groupings and how we could potentially take advantage of that. It's a very big part of it. Obviously Haden is an excellent player.
The keys there are the Browns matching up to the Dolphins formations and personnel groupings, and also the bit about Haden being an excellent player.
With Haden covering Wallace, the Dolphins receiver was not targeted at all in the first half, and only five times in the entire game, according to the NFL official game book.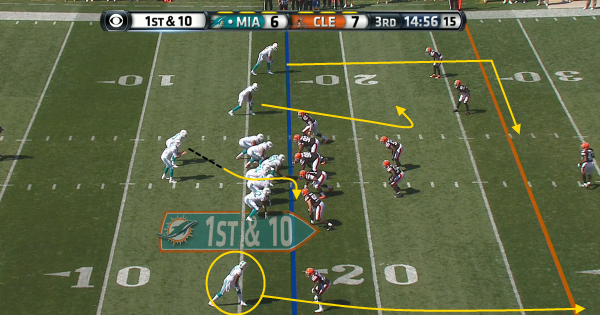 The Dolphins clearly knew they needed to try to get the ball into Wallace's hands after their offense struggled in the first half. They came out of the half and immediately went downfield to Wallace.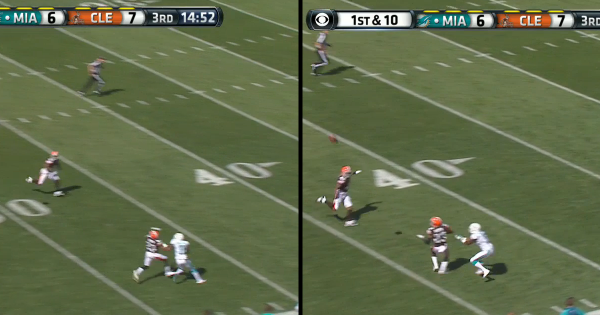 One problem: He was well-covered on the play by Haden, and safety T.J. Ward rolled to Wallace's side of the field to provide deep help.
In fact, that was the tune of the day nearly every time Wallace ran a pattern. When Wallace wasn't singled up by the ultra-talented Haden, he would be shadowed by a corner, with a linebacker helping out underneath or a safety helping out over the top.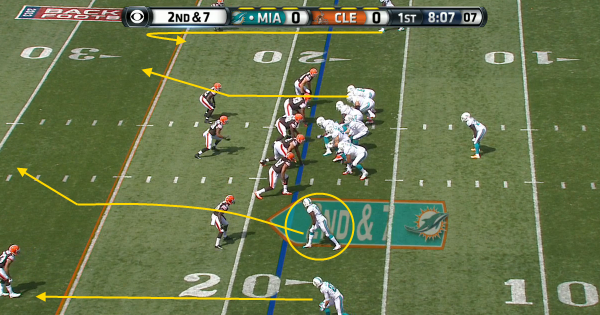 On this 2nd-and-7 in the first quarter, for example, Wallace lined up in the slot and ran a deep post.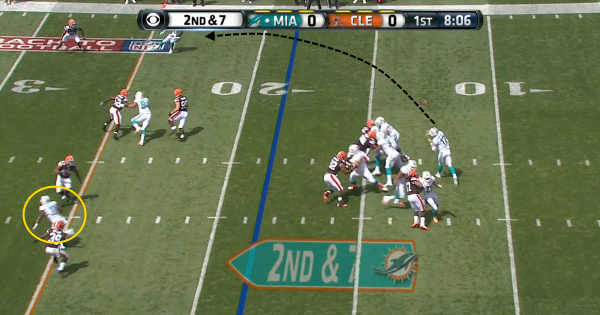 He was covered to the outside by safety Tashaun Gipson, and he was taken inside by linebacker Craig Robertson.
So, when he wasn't being singled up by one of the better corners in the game, he was being doubled wherever he went on the field.
Wallace's lack of targets should come as no surprise. Not only is Haden the best cornerback on the Browns roster and one of the better corners in the game, but there's a sizable drop-off from Haden to the other Browns cornerbacks: Buster Skrine, Leon McFadden and Chris Owens.
The Browns did what they needed to do in order to take him out of the game. It will be up to the Dolphins offense to make opponents pay by beating them other ways.
That's exactly what the Dolphins did, instead targeting the receivers that were open.
One of the overriding principles of the West Coast offense is that there is no No. 1, 2 or 3 receiver. That is dictated by the progression, which changes on every play. There will be times, even, when the same play can have a different set of progressions.
Should Mike Wallace be upset about his lack of targets and catches vs. the Browns?
            The Browns are stacking the box.
This was Miller's first run of the day. It also happened to be his best one, outside of the six-yard gain that was called back on a ticky-tack holding call.
As you see here, the Browns were clearly expecting the Dolphins to run the ball in the shadow of their own end zone. Because of the 22 personnel package on the field—two tight ends and two running backs—Miami telegraphed the play call, an outside zone run.
Miller made a good cut inside on the play that netted him those five yards, but that was by far the best running play of the day for the Dolphins. Could it have ended differently?
It might have been an early gamble, but Tannehill had an opportunity for a big play here. Cornerback Joe Haden and safety Tashaun Gipson were looking into the backfield before the play, and he broke toward the line once Tannehill handed the ball off.
Had Tannehill play-faked, Wallace would have been in single-coverage against Haden or Gipson, assuming Wallace ran a sluggo route. Perhaps this sort of thing was a reason why Wallace voiced his displeasure after the game.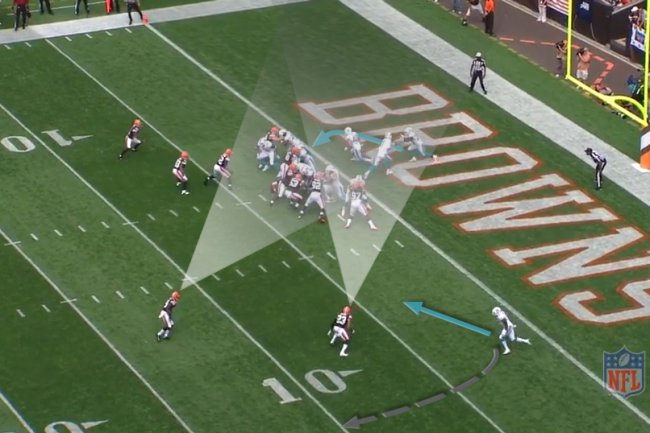 Haden and Gipson have eyes in the backfield. Wallace could have smoked them.
Of course, there are a lot of "what-ifs" in that case.
Hitting on a play like that might have opened up the run, though the Browns were pretty disciplined even after Tannehill heated up in the middle of the third quarter.
At any rate, this was one of the only running plays for the offense where the Browns did not penetrate into the backfield. Unsurprisingly, it was the only real positive play for Miller.
It was all downhill from there.
The Colts' run defense is very suspect, so hopefully Lamar Miller and Daniel Thomas can find some lanes.
The offensive line was no where to be found. They couldn't open any lanes and got pushed around leaving Tannehill exposed to 4 sacks. They need to keep Tannehill upright.
3) Run Lamar Miller hard. Miller wants the ball early and often. He wants to prove that he can be an every down running back and make the fans of Miami chant his name. Hopefully last week of 10 carries, 3yards, was just an mirage and not something to worry about.
4) Let Tannehill use his legs. Tannehill is an effective runner and showed his ability to do so, more in the latter part of the season. Last week, Terrelle Pryor ran for 112 yards on 13 yards from the Quarterback spot. Tannehill had to have saw that, and thought to himself, "Hmmm, I could do that too!!"
5) Offensive Line needs to better. The guys up front have to protect Tannehill better than they did last week. 4 sacks is inexcusable. They need to stay at home and not let Colts' sack man Robert Maths work the edges. They need to create room for Miller and Thomas. A balanced game will give the Dolphins' a better chance to succeed.
Defense:
1) Get to Andrew Luck. The Colts don't have great offensive line, so Cameron Wake and rookie Dion Jordan should be for a field day. The defenders up front need to keep their hands up because Luck gets the ball out very quickly and if they can knocked some balls around, good things may happen for the Dolphins. Last week, Luck went 18-23, 177 yards, 2TD's; 6 carries, 38 yards, TD.
http://espn.go.com/nfl/boxscore?gameId=330908011
2) Stop Ahmad Bradshaw and Andrew Luck when they run the ball. The Colts' lost Vick Ballard to a season-ending knee-injury last week. He was a solid runner for them. The Dolphins are always stingy against the run. Ask Trent Richardson. Luck can scramble and the Dolphins will make sure they contain his scrambles.
3) Cornerbacks better be ready catch. Last week, they picked off Brandon Weeden 3 times. In last year's game, Sean Smith dropped a potential game-changing interception. So, if balls are thrown towards which most likely will happen = Make the play. Either catch it or knock it down if you can.
4) No big plays. Luck is a top 10 quarterback with Reggie Wayne and T.Y. Hilton at his disposal. Wayne torched Sean Smith last year. This year, Brent Grimes will more than likely have that assignment of stopping Wayne. Grimes is a much better player any way. Dmitri Patterson and Rookie Will Davis should be available due to some nagging injuries. Patterson had 2 picks in the 1st half before leaving with a groin injury.
5) Linebackers better not let Coby Fleener beat them. Last week, the Dolphins let Jordan Cameron of the Browns look like an All-Pro. That was ridiculous. The Dolphins had no answer. The linebackers need to stop Fleener from getting open. Thankfully, the Colts other tight-end, Dwyane Allen is out for the game with an injury.
Special Teams:
1) Caleb Sturgis. Caleb has to make his field goals and extra points, if they are presented which should happen. He went 3-3 last week with 2 extra points. He is incredible.
2) No big plays. T.Y. Hilton is a solid returner and guys like Olivier Vernon can't let him get by him for a big game.
3) Make a play. Either a block kick or block punt.
4) Marcus Thigpen. Thigpen needs to give Miami solid field position for Tannehill and company.
This is a winnable football game for Miami. They have a tough schedule, so a road victory to against a playoff contender would be huge.
As always, I predict the Dolphins to win and my prediction this week is: 27-21 Dolphins.
My predicted stats:
1) Tannehill = 25-38, 300 yards, 3 TD's; 7 carries, 45 yards
2) Wallace = 5 catches, 75 yards, TD
3) Hartline = 7 catches, 85 yards, TD
4) Gibson = 6 catches, 70 yards
5) Clay = 5 catches, 55 yards, TD
6) Miller = 20 carries, 80 yards; 4 catches, 25 yards
7) Wake = 3 sacks, 3 tackles
R. Jones =8 tackles, 1 interception
9) Grimes = 6 tackles, 1 Interception
10) Sturgis = 40, 45 yd FG, 3 extra points
GO DOLPHINS!!!!!!!
About the Author
Subscribe to author's RSS feed
Written by Daniel Saviuk
My name is Daniel. I love the Miami Dolphins (been a fan since I was 10)...